Podcasts By Year
2022, 2021, 2019, 2018, 2017, 2016, 2015, 2014, 2013, 2012, 2011, 2010, 2009, 2007, 2006, Upcoming Shows


Other Archives
Show #090: Mansuper
By: Darrin Snider (darrin at indyintune dot com)
Sunday, December 5, 2010 7:00:00 PM





Not quite sure what to do by way of a blog post for this week's guest. A critical analysis of his music, I'm sure he would agree, would be pointless. Some long-winded diatribe defending his validity as a musician, preemptively striking at potential letters of complaint that Indy In-Tune has suddenly started pandering to Bob and Tom-Style toilet humor, seems like unnecessary posturing. Likewise a diatribe about how the Indianapolis music scene needs and should embrace people like Mansuper would seem self-righteous and preachy. Instead, let me tell you what Mansuper's music means to me, and why I approached him to be on the show.
Wednesday night open mic night at Claude and Annie's has been a tradition of our for a couple of years now. Yeah, it's not the best group of musicians in town, it runs maybe 50/50 between covers and originals (though originals are encouraged by just about everyone), but hey the regulars are a tight knit bunch always looking to bring new players in, and the drinks are cheap. That said, we do have our little quibbles. We make fun of musicians who offhandedly bash open mic, saying that it's just a way to get free live music in a bar (yeah, maybe that's part of it, so what?). We also tend to snicker and moan when a performer isn't, shall we say, "all that and a bag of chips." We're still polite, friendly, and always encouraging, but I don't care who you are, if you are going to sing the same Carrie Underwood song every week and never get any closer to the notes you're supposed to be hitting, we're going to bang our heads on the table and grimace into our drinks.
But then comes someone like Kent "Mansuper" Clark. Once you spend some time talking to him -- and really, you don't want to approach him at first, because you're not quite sure if he'll attack you or follow you around like a lost puppy afterward -- you realize that he a guy with the exact same passion, drive, and love for music (possibly even more-so) than the best musicians in town. Yet, unlike a lot of those musicians, he doesn't have a bad thing to say about any of his peers, in fact he looks up to every last one of them, and he is willing to do just about anything to be a part of the scene he loves (yes, even if it means "lowering himself" to play for free for the man at an open mic). Is he the best singer/player/songwriter in town? No. But, as I said in the interview, on Thursday morning, if you asked me what everybody played the night before, I'll have to think about most of the acts, but I'll remember his set vividly. So if nothing else, he is a constant reminder to me that sometimes I take the whole music thing just a little seriously, a little too self-righteously, and I should worry more about whether or not I was entertained, instead of how technically proficient the performer was, or how many "fancy chords with numbers" the song had in it.
Links referenced in the show:
Mansuper can be found here: Web Site | MySpace
His albums, Mansuper I through Mansuper XIII, as well as his "Stan" DVD can be purchased at shows, or by contacting him via his website.
Though we didn't know each other back then, Mansuper and I both graduated from Warren Central sometime back in the 80's. Go warriors!
We have local drummer and fellow Warren graduate, Steve Prince (Chocolate George, Dane Clark Band, Five 'Til Dawn) for persuading Mansuper to join the music scene. You can meet Steve back on Show #083.
He started his career doing a cover version of Digital Underground's Humpty Dance.
He is a regular performer at Normstock.
Cory Davies, last seen on Show #061, is his frequently songwriting collaborator.
For those of you who are too young to remember, Spuds Makenzie, is the former Bud Light mascot who rose to prominence in the late 1980's.
You can also catch Mansuper on the third Monday of the month at the Melody Inn for their open stage, hosted by the incomparable Otto the Comic.
Permalink: http://www.indyintune.com/podcast/blogarchive.asp?article=244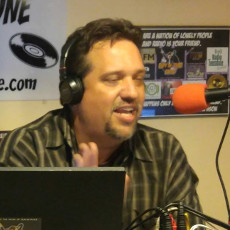 Darrin Snider is the OCD music nerd responsible for creating Indy In-Tune. By day he's a cloud engineer and business analyst, but he still hopes to someday be an overnight freeform disc jockey married to the local weathergirl who happens to be a former eastern-European supermodel.
Blog comments powered by

Disqus