Podcasts By Year
2021, 2019, 2018, 2017, 2016, 2015, 2014, 2013, 2012, 2011, 2010, 2009, 2007, 2006, Upcoming Shows


Other Archives
Show #101: Ben Myers
By: Darrin Snider (darrin at indyintune dot com)
Sunday, May 8, 2011 5:00:00 PM





Though they are still a matter of much controversy among musicians, the fact is that open mic nights are probably the largest and best resources I've found for catching new or relatively unheard talent and getting them spotlighted and introduced to the music scene through this show. Pres Maxson, Tonos Triad, Finer, Mansuper, Jethro Easyfields, and Coot Crabtree are just a few of the bands that I first heard at open mic night and have gone on to prominence in the Indianapolis music scene, and there are still at least a dozen others that I'm currently working on getting in front of the mic here on the show to introduce you, scheduling just hasn't worked out yet. Sure there are just as many bad acts as there are good, and sure it does mean that a musician is playing for free, or for the love of music depending on how you choose to look at it, but this is no reason to write off the format. I've seen plenty of acts at open mic that I wouldn't mind paying a few bucks at the door to hear play a longer, more extensive set -- just like I've paid money to hear bands that really aren't fit to be playing around other people.
Ben Myers is one of those that I've been trying to get on the show for months, having watched him develop a sound and style, steadily improving week after week, at our favorite open mic night. His constant evolution and refinement, as well as some of the conversations we've had about his music over the months were what initially made him stand out to me as a good candidate for a show. Various scheduling conflicts and the fact that he didn't even have a demo of any of his original material until two days before recording this show seemed to be only the major holdups. I'm thrilled to be able to introduce you to him now.
Links referenced in the show:
Ben Myers can really only be found here.
He is the former front-man of the metal band "Murder of Malloy."
He is a regular fixture at Kolo Bell's Wednesday Acoutic Open Mic Night at Claude and Annie's Fishers where he usually closes the night, so you have to stay late to hear him.
The highlight of his set usually consists of a couple of standards by comedian/musician Stephen Lynch.
He rose to prominence in our circle for his quick wit when being heckled, and for his class act defense of friend of the show Man-Super () during a near-altercation with an audience member.
The songs played this evening are from his new demo EP, recorded over the course of three hours at Strange Studios by friend of the show Tim Spainhower (MySpace | Web Site | Facebook | Twitter | Reverb Nation and appearing on Show #007, Show #050, and Show #100 as well as a guest and as a special back-up musician on Show #094) .
In addition to guitar, Ben is also a master of the Cajon Drum.
Permalink: http://www.indyintune.com/podcast/blogarchive.asp?article=258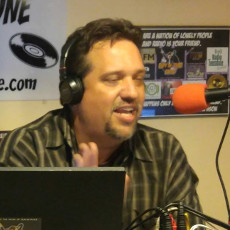 Darrin Snider is the OCD music nerd responsible for creating Indy In-Tune. By day he's a cloud engineer and business analyst, but he still hopes to someday be an overnight freeform disc jockey married to the local weathergirl who happens to be a former eastern-European supermodel.
Blog comments powered by

Disqus