Podcasts By Year
2022, 2021, 2019, 2018, 2017, 2016, 2015, 2014, 2013, 2012, 2011, 2010, 2009, 2007, 2006, Upcoming Shows


Other Archives
Show #134: Minute Details
By: Darrin Snider (darrin at indyintune dot com)
Monday, December 24, 2012 5:00:00 PM





Merry Christmas from all of us here at Indy In-Tune. Now, as I know my listeners, I'm sure you're all probably out doing last-minute shopping right about now, but I figured I'd throw this one out on the feed anyway, just so you'll have something in your download queue from me on Christmas morning. This episode features the unique stylings of Minute Details, who -- despite the fact that they've been around for years -- I first bumped into during the Battle of Birdy's last summer, and who have since been regular fixtures at that venue. I quickly became a fan of the band, not just because they're fun guys to hang out with, but because they have that "quirky" indie pop meets classic rock sound that you can't quite put your finger on, and quickly leads to hours of debate among people with a vocabulary in music who want to name two or three bands who, when combined, might compare to them.
In honor of what was at the time their upcoming performance at Indy In-Tune's Podconcert #2, and owing to the fact that the band had only a limited selection of studio-recorded tracks available, the music for tonight's episode was recorded live in Studio B and streamed to the audience who was listening to Indy In-Tune Radio at the time. They are admittedly of dubious quality. As I had forgotten to ask them to bring direct boxes and a suitable mixer to accommodate all of the channels required, you can see from the picture above, recording was done entirely with two mics placed in the center of the room. Up until now, four channels and five foot cables on the mics has worked fine for podcast recording. Naturally, we will be looking to improve our capability to record full bands in the near future, as this looks like it's going to be a trend going forward.
Links referenced in the show:
Minute Details can be found here Web Site | Facebook | ReverbNation
The music from tonight's episode is an uncharacteristic acoustic set from the band. For a more representative feel, check out their web site for some live video work of them "plugged in."
Those of you who caught the live web simulcast actually got to see a bit of the behind the scenes stuff with the Studio B sets ... for the rest of you, here's a pano showing the "Talk Show" and "Bar" sets we discussed. (Hey, there aren't many show notes this week, I had to come up with something to put here.)
Bass player, Caleb Spicer, also plays in a very cool band called Pick Up Park.
There was an in joke going on (that was lost in edits) where Minute details was determined to mention The Grinning Man eight times during the show, as The Grinning Man mentioned them seven times the week before.
They are currently recording their first full album with Victor Jobe, Mark Anthony (of the band Cabin Pressure) at Eleven Studios.
Mark Anthony is not to be confused with Michael Anthony, formerly of the band Van Halen.
Permalink: http://www.indyintune.com/podcast/blogarchive.asp?article=292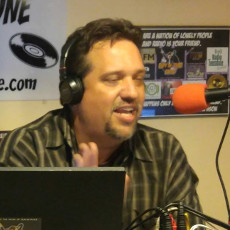 Darrin Snider is the OCD music nerd responsible for creating Indy In-Tune. By day he's a cloud engineer and business analyst, but he still hopes to someday be an overnight freeform disc jockey married to the local weathergirl who happens to be a former eastern-European supermodel.
Blog comments powered by

Disqus