For the most part, our artist database is curated by hand, so in the case of active bands, the information shown here is probably not very current. If you have inside knowledge on this artist, or if you are this artist, feel free to submit an updated entry (or use the discussion section below) to correct us on anything here that might be out of date or inaccurate.
Tax Brandywine
General Information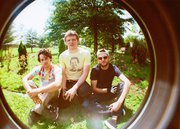 | | |
| --- | --- |
| Artist Name: | Tax Brandywine |
| Genre(s): | rock,alternative |
| Contact: | brent - at - flyonthewallmedia.com |
| Years Active: | - Present |
Band members:
(Bold indicates
current member.)
Related Bands:
(unavailable)
Bio
Tax Brandywine: Rock? Folk? Reggae? Pop? Ska? Punk? Dub? Yes.

Pierce Duncan recruited Johnny "Longboddi" Concannon and Nick "Laus" Weber in 2008 and 2009 to form Tax Brandywine, a three-piece rock band that describes it's sound as Last Wave Rock or Dub Rock. All three members had played in previous area bands before the Tax Brandywine project. Pierce's past bands had gone on to win notable competitions in the Indianapolis area while John played one full season on the Indianapolis Colts drumline and two seasons on the Indianapolis Pacers drumline. The band promptly released From Here to Navy Pier... in August of 2009 – an EP recorded at Helix Studios, a professional recording studio built from scratch by Pierce and his father, James Duncan, in the basement of their Noblesville, Indiana home.

The band played regular regional gigs around Indiana and the Midwest between recording sessions, but had their sights set on The Music City – Nashville, Tennessee. At a packed farewell concert in Noblesville, Indiana in February 2010, Pierce released a home recording of his acoustic songs called Nothing for Now. The next day, the band packed up for the Nashville move.

Tax Brandywine quickly made connections in Nashville and were invited to record at Studio 215 by Randy Peterson. While working on this project (later referred to as the Wonky Tonk sessions) the band also began the Atrocities on the Highway sessions at the end of 2010 in order to release their first full-length album by March 3rd, 2010. Atrocities was engineered and co-produced by Grant Husselman, a Belmont University student, Dubstep producer, and generally wonky fellow, in the living room of Tax Brandywine's downtown Nashville home. Following the independent release of Atrocities, the band embarked on a series of promotional tours through the Midwest and Southern United States.

Halfway through the first tour, all of the band's gear along with the Buckeye, a 1989 Chevy G20 Van, were stolen in Atlanta, Georgia. A couple tour dates were canceled while the band picked up the pieces, but they continued on and finished out the rest of the run in their home state of Indiana. Upon arrival in Nashville, the band was presented with the opportunity to record at the legendary RCA Studio B – the facility responsible for creating the "Nashville Sound" and hosting a star-studded list of recording artists since it's construction in 1956.

The future is bright for the young Tax Brandywine band. They've chosen to relocate back to Indiana in order to play for their home fans more often, cut expenses, and pursue a full-time schedule of touring and recording. The band hit a major milestone in their performing careers by landing an opening slot for the English 2 Tone Ska band, Bad Manners, in May of 2011. Following the debut success of Atrocities on the Highway, the sophomore full-length album Wonky Tonk will be released in Summer 2011. The band will continue recording at Studio B while touring the United States and reveling in a wonky lifestyle.
Pierce Duncan
Featured Releases
(unavailable)
Today on Indy In-Tune
Saturdays are Magical!

* Schedule subject to change without notice. Sorry, but that's rock and roll.