Participate
This isn't corporate-run radio. This is fan-run radio. Your participation is encouraged.
Studio Hotline: 317-489-4175
Twitter: @Indyintune
Facebook: indyintune
Email: Studio -at- IndyInTune.com
Skype: indypodcaster
Chat Room: - Offline -
Ping the Console: - Offline -
Archive of Monday Night Live Shows
Today on Indy In-Tune
It's Fresh Meat Tuesday!

* Schedule subject to change without notice. Sorry, but that's rock and roll.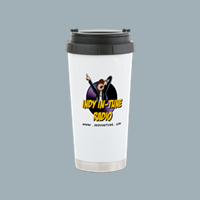 As seen on the webcam. Are you one of those people who can't survive without copious amounts of coffee in the morning? You definitely need one of our stainless steel travel mugs. Give your caffeine the gift of style...