The Tip Jar
Well, Aren't You a Special Sort of Person for Noticing ...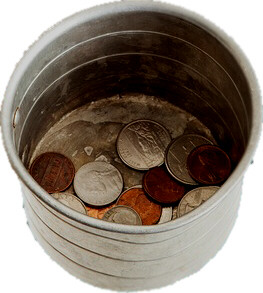 Indy In-Tune is a hobby, and a reasonably inexpensive one compared to golf ... or heroin. In general, we don't ask for money -- certainly not from musicians or music fans. We've got good day jobs that are very cool and supportive of what we do here. We now have sponsors that have gotten us to a break-even perspective (or thereabouts). So no, this isn't an NPR pledge drive. We don't need money to continue to bring you the types of quality programming you love. We won't kill kittens if we don't get 20 more pledges by 9:00, and we will happily continue to do what we do if this tip jar fails to see another dime.
On the other hand, this is a capitalistic society. Buying drinks for bands, admission to shows, mannequin grease, bail for Mia, and expanding/improving our services with new and better gear costs money. So, if you want to pretend we gave you a really convincing speech about the value of local music broadcasting, and that this speech really moved you, then by all means, click the button below and donate something ... any amount you want. Every penny, piece of fluff, and dead moth that we pull out of this tip jar will immediately go back into improving the quality of this service, be it the site, the podcast, the radio station, the studio setup, what have you. If we don't have a particular need, we promise it will go to buy beverages for a band the next time we are out and about.
Heck, if you want, we will even let you specify the manner in which we spend the money. If you tell us to take it to a trendy bar and buy the cookie-cutter cover band a round of shots, we will ... begrudgingly. If you tell us to give it to a stripper, we will ... happily. If you tell us to spend it on voice lessons so we sound less nasally and whiny, we will ... give it to a stripper. If you tell us to buy Coup d'Etat a round of Jagers, we will ... match your contribution dollar for dollar up to $50.
As an added bonus, if you donate generously enough, you'll learn the secret phrase that gets you all the free schwag and VIP treatment if you ever bump into us in public
Today on Indy In-Tune
It's Hard Rock Thursday!

* Schedule subject to change without notice. Sorry, but that's rock and roll.