Indy In-Tune Radio: New Format and Schedule -- Beginning August 16, 2016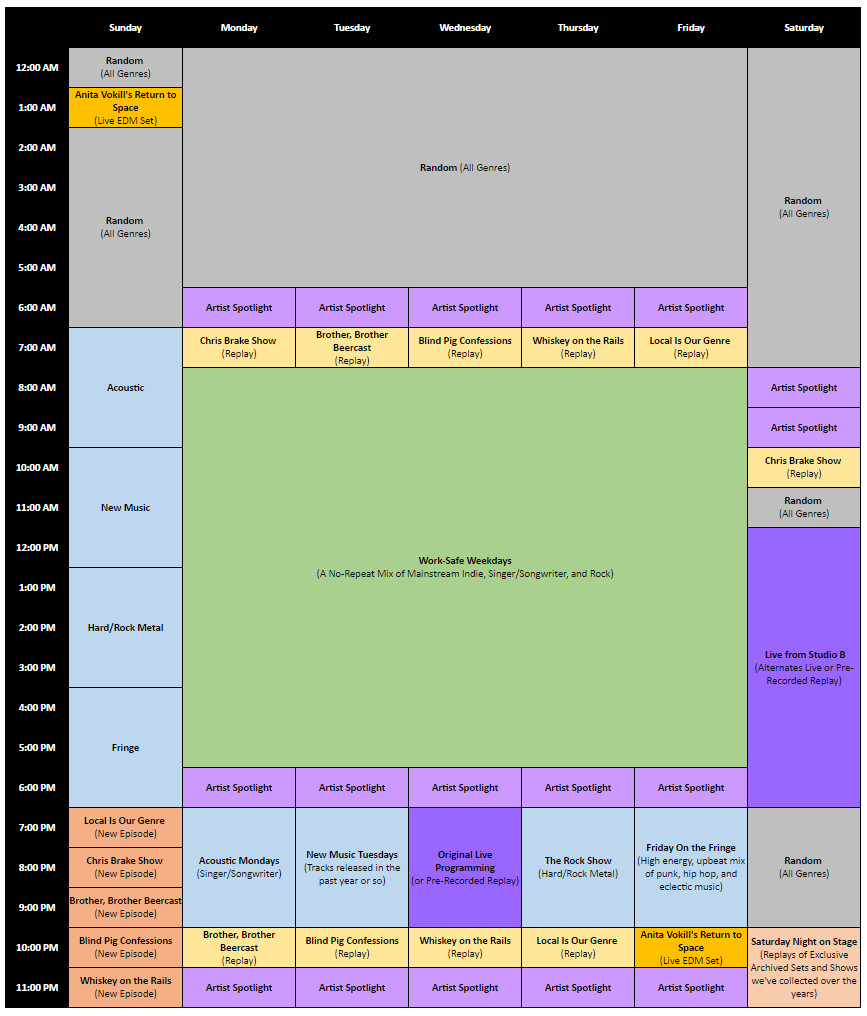 Note About Syndicated Shows
The views and opinions expressed in our various syndicated shows are those of the show writers, producers, and personalities. They and do not necessarily reflect those of Indy In-Tune or it's staff. As a medium of retransmission, Indy In-Tune practices a general no censorship policy and we ask that listeners respect this decision when listening to our programming. Exceptions to this policy are shows that advocate, promote, or condone racism, violence, or discrimination against any singular group of poeple. While we are certain that none of our programs fall into this category, we don't always get a chance to listen to content before it airs. If you feel this policy has been voilated by one of our programs, please bring it to our attention and we will take appropriate action as quickly as possible.
Many of our syndicated shows feature sponsorship in the form of underwriting and/or commercial messages. These are solicited and obtained by the producers of the individual shows. Indy In-Tune, as a medium of retransmission, receives absolutely no compensation (monetary or otherwise) for the airing of commercial messages during these shows. Additionally, in the airing of these messages, Indy In-Tune makes no statement or endorsement as to the quality of business practices, goods, and services of these companies, and no association between said companies and Indy In-Tune itself should be inferred.
Note About Live Programming
Live shows (shown in blue) generally rely on availability of guests, co-hosts, and other in-studio personnel. As such, these programs do not always begin on time, and on many occasions do not air at all. Please consult our Twitter or Facebook feeds for the latest updates or programming substitutions.
Are you a particular expert on one of our genres of music? Know of a genre we're not spotlighting? Have a show or idea for a show you think would fit in with our "Talk Sunday" lineup? We're always looking to change things up and add new blood to the roster. Assuming you can put a show together on your own -- and you can do it consistently, on time, and with a reasonable amount of quality -- we'd love to add you to our lineup. Drop us a note and give us your ideas.