Participate
This isn't corporate-run radio. This is fan-run radio. Your participation is encouraged.
Studio Hotline: 317-489-4175
Twitter: @Indyintune
Facebook: indyintune
Email: Studio -at- IndyInTune.com
Skype: indypodcaster
Chat Room: - Offline -
Ping the Console: - Offline -
Live Events
No, Really, We're Fun to Hang Out With In Person
From big events like PodConcerts and RadioThons, to low-key stuff like venue openings, red-carpet simulcasts, and Monday Night Live songwriter rounds, we love it when we get a chance to escape the studio and do something out in the real world. As we currently have nothing planned, these pages are largely under construction and will eventually showcase our past and future glories making a scene in Indianapolis.
Our Next Live Event?

Sorry, nothing official on the books, though we're always scheming to do something. In the meantime, we suggest you check out Spark Joy Music's Indy SkyLine Sessions, which we're doing occasional podcasts from.

How Can We Help?

General guidelines and information about how Indy In-Tune can help make your next live event special.

Radiothon

Informaiton about our annual charity radiothon, how you can get involved, and how you can submit your suggestions.

Archives

A fun trip down memory lane featuring stories and snapshots from our previous live showcases.

Mini Concerts

Exclusive recordings of select live shows taken from PodConcerts, Shine Local Music Spotlight, Shine on the Rocks, Monday Night Live, Radiothon, and more.
Today on Indy In-Tune
Saturdays are Magical!

* Schedule subject to change without notice. Sorry, but that's rock and roll.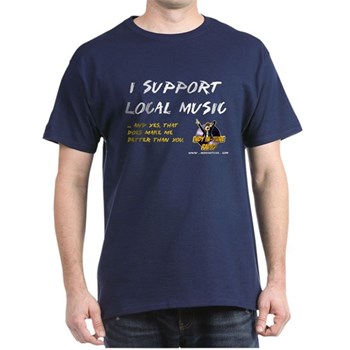 Back by popular demand for a limited time only, "I support local music ... and yes, that does make me better than you." Show the world that you, too, are a proud elitist music snob! Get yours before time runs out...