For the most part, our artist database is curated by hand, so in the case of active bands, the information shown here is probably not very current. If you have inside knowledge on this artist, or if you are this artist, feel free to submit an updated entry (or use the discussion section below) to correct us on anything here that might be out of date or inaccurate.
The Dudes of Lord
General Information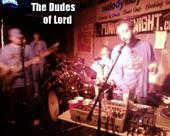 Artist Name:
The Dudes of Lord
Genre(s):
experimental,alternative,fusion
Contact:
inventfusion08 - at - hotmail.com
(317) 847-4755

Years Active:
2007 - Present
Band members:
(Bold indicates
current member.)
Brad Cummins -- bass, vocals
Mike Kaschack -- vocals, keyboards, percussion, electronics
Eddie Roodvoets -- drums
Paul Sherfick -- guitar, vocals

Related Bands:
High Tide Trio
Bio
The Dudes of Lord is an Indianapolis based band who has an eclectic spin on the rock style. They consider their sound to be Fusion-Rock. They dip their toes into about almost every genre of songwriting. (Punk,Dub Reggae,Trip-Hop,Progressive Rock,Psychedelic Blues,Metal & Live Electronics) They have been compared to Pink Floyd meets Mr. Bungle. The band formed in April 2007 and reformed in March 2009 when old Lead Guitarist (Andy McDonald) moved to Berlin, Germany to persue his passion of being a Euro-Dubstep DJ.
The band's Sound Engineer(Paul Sherfick)replaced Andy's Lead Guitar spot in March of 2009 and The Dudes have been gigging ever since. The Dudes of Lord have played both Locally and Regionally. The Dudes of Lord first gig was in Columbus, OH with fellow Invent Fusion Entertainment Artist Big Nasty (Columbus, OH) natives, @ Oldfield's on High St. & Later again at Ruby Tuesday in June of 2009.

The Dudes of Lord have been headlining (IFE) Shows around Indy with other Indianapolis Artist:(Goliathon, Doc Brown, High Treazon, DJ Jin-XS, No 1 Zero, Conga J., Groove Component & High Tide Trio [HT3]) to name a few.

Local places The Dudes of Lord have played: Lizard's Lounge, The Melody Inn, Local's Only, The Mousetrap, & The Vollrath Tavern.
Featured Releases
(unavailable)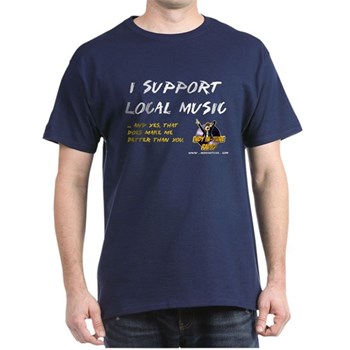 Back by popular demand for a limited time only, "I support local music ... and yes, that does make me better than you." Show the world that you, too, are a proud elitist music snob! Get yours before time runs out...