For the most part, our artist database is curated by hand, so in the case of active bands, the information shown here is probably not very current. If you have inside knowledge on this artist, or if you are this artist, feel free to submit an updated entry (or use the discussion section below) to correct us on anything here that might be out of date or inaccurate.
High Tide Trio
General Information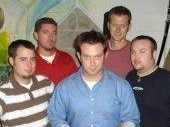 Artist Name:
High Tide Trio
Genre(s):
rock,fusion,alternative
Contact:
inventfusion08 - at - hotmail.com
(317) 847-4755

Years Active:
2004 - Present
Band members:
(Bold indicates
current member.)
Matt Browning -- guitar, vocals
Brad Cummins -- bass, vocals
Greg Fratzke -- vocals, guitar, keyboards
Rob Powers -- guitar
Ed Shaurette -- drums
Billy Adams -- guitar
Bob Allen -- bass
Troy Barnes -- bass
Kevin Simonelic -- bass

Related Bands:
The Dudes of Lord
Bio
High Tide Trio is a local Indianapolis band that has been apart of the scene for about five years.(Lead singer/guitarist) Greg Fratzke formed the group with now No1Zero(lead guitarists)Billy Adams in the spring of 2004. Greg started this project originally as a side project from his high school formed band Oswego Hi-Jinx.

The duo later added (drummer) Ed Shaurette & (guitarist) Matt Browning during their college years at Indiana University along with then (Bassist) Bob Allen currently (Prizzy Prizzy Please).
Bob Allen left the band to form (Prizzy Prizzy Please) in the fall of 2005 and was later replaced with Kevin Simonelic. Simonelic moved to Flordia in the spring of 2006. The band performed under the name The Fratzke-Adams Band until the Summer of 2006 when replacement bassists Troy Barnes joined after Simonelics departure.

The band then was named High Tide Trio because they wanted to add that beach rock kind of feel to there music.
Being heavily influenced by such artists as The Dave Matthews Band Jack Johnson & Incubus.

Billy left the band in the winter of 2006 to join current(bassists)
Brad Cummins old band No1Zero.
Brad had left N1Z due to creative differences in 2006 and started his own project VJSK which morphed into The Dudes of Lord in 2007.
In the winter of 2008 bassist Troy Barnes had left HT3 to join No1Zero after they had kicked out bassists Brian Coleman for lack of effort.
Greg then asked Brad to fill in for a show to cover for Troy's departure and has been their bassist ever since.
Brad is currently with The Dudes of Lord as well.

HT3 has been doing well this past year by finishing another Summer Deck Concert Series @ Champp's Americana Northside. As well as playing shows all over Indy.
The Band is currently working on their studio album "Time and Space Collide" and is working with local promotional advertising company/independent recording label (Invent Fusion Entertainment)

You can check out all of HT3 music on Myspace.com and download their (8-15-09 Live @ Lizard's) show through Archive.com
Featured Releases
(unavailable)

* Schedule subject to change without notice. Sorry, but that's rock and roll.