For the most part, our artist database is curated by hand, so in the case of active bands, the information shown here is probably not very current. If you have inside knowledge on this artist, or if you are this artist, feel free to submit an updated entry (or use the discussion section below) to correct us on anything here that might be out of date or inaccurate.
Amanda Shelly
General Information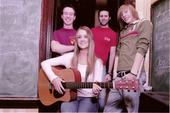 Artist Name:
Amanda Shelly
Genre(s):
singer/songwriter,folk,rock,pop
Contact:
bellalouisa - at - sbcglobal.net
(317) 698-7643

Years Active:
- Present
Band members:
(Bold indicates
current member.)
Related Bands:
(unavailable)
Bio
Why hello! I am a 20 year old singer/songwriter from Purdue University in Indiana. I am currently studying Forensic Science... because I have an interest in crime scene investigaion. So far, I love it!! My true passion, however, is music. I have been playing my guitar and writing songs for the past 4 years, and have a CD out called 'Midnight Thursday." This CD is a composite of eleven songs I have written over the past two years. Just recently, I have formed a band!! Clay, my manager/boyfriend, has helped me a great deal in brining these people together, scheduling my gigs, and playing back-up guitar for me! I wouldn't be where I am today without him! Tyler (bass) and Jeff (drums) are so very talented and have helped transform my solo career into something a lot more exciting!! ~~~~~~~~~~~~~~~~~~~~~~~~~~~~~~~~~~~~~~~~~~~~~~~~ **And hey, if you guys like what you hear and are interested in getting a copy of my CD, it's $13 and you can get one by clicking on the link to the right or from my website at www.amandashelly.com! :) ~~~~~~~~~~~~~~~~~~~~~~~~~~~~~~~~~~~~~~~~~~~~~~~~ **If you want to stay updated with where I'm playing and whats new with my music either sign up to my blogs or my email list...if you want to join the list just let me know at amandashelly@hotmail.com. Thanks :) ~~~~~~~~~~~~~~~~~~~~~~~~~~~~~~~~~~~~~~~~~~~~~~~~ **If you like my stuff and want to help spread the word, put a link to my profile on your myspace page, buddly profile, or write it on your forehead...everyone who does this will get a FREE official Amanda Shelly imaginary snowcone!! ~~~~~~~~~~
Featured Releases
(unavailable)
Handy places to visit if you are part of, or want to know more about, our music scene ...