For the most part, our artist database is curated by hand, so in the case of active bands, the information shown here is probably not very current. If you have inside knowledge on this artist, or if you are this artist, feel free to submit an updated entry (or use the discussion section below) to correct us on anything here that might be out of date or inaccurate.
The Mudkids
General Information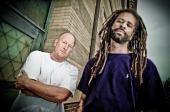 | | |
| --- | --- |
| Artist Name: | The Mudkids |
| Genre(s): | hip hop |
| Contact: | |
| Years Active: | - Present |
Band members:
(Bold indicates
current member.)
Related Bands:
(unavailable)
Bio
Indianapolis, Indiana's MUDKIDS have been a major part of the independent hip-hop scene in the Midwest for over a decade. MUDKIDS have released four albums, independently and are currently in the studio finishing their fifth, 'We Are Dynamic And People Like Us'. Elp-Mass and Rusty met years ago at a local hip-hop night in a reggae club, that ended up becoming a jazz club (while Rusty was in a rock band and Elp-Mass was a student at Indiana University) and they have been partners ever since. MUDKIDS are jazz cats that rock; they have never catered to trends and whims, they are determined to refine and perfect their craft and have maintained a consistency most hip-hop bands would envy. This is a band that hits the stage two men strong and plays like there are twenty. The live show is a celebration, a joyous affair.

Finally ready to step into a bigger world, the 'KIDS have returned better than ever with 'We Are Dynamic And People Like Us'. The new material from 'We Are Dynamic...' is getting great feedback. Lead single, 'Love' will have you singing the chorus by the second time it comes around in the song, while Rusty expounds on the many qualities and quirks of the 'L' word. The MUDKIDS have expanded their sound in the last few years, with Rusty bringing a new sense of Soul and Elp-Mass providing a whole new range of emotion, sound, and tempo. 'Swim' from 'We Are Dynamic...' is a great example of that. It is also a great example of how the band's sound has grown with each release. Everyone who hears 'Swim' for the first time asks 'Who is that?', even though they have been watching the band for years. It is truly an 'original' in every sense of the word.

DJ Helicon joining the group in '05 solidified what was already being recognized as one of the better live hip-hop shows in the Midwest. The interplay and chemistry between Rusty and Helicon became an undeniably, charismatic and energetic show. MUDKIDS decided to part ways with Helicon and strip back down to the original MUDKIDS duo that started it all... Rusty Redenbacher & Elp-Mass. The MUDKIDS are Dynamic and People Like Them. Watch for them in your city.
Featured Releases
(unavailable)
Today on Indy In-Tune
It's Acoustic Monday!

* Schedule subject to change without notice. Sorry, but that's rock and roll.