For the most part, our artist database is curated by hand, so in the case of active bands, the information shown here is probably not very current. If you have inside knowledge on this artist, or if you are this artist, feel free to submit an updated entry (or use the discussion section below) to correct us on anything here that might be out of date or inaccurate.
Deliver Us from Evil
General Information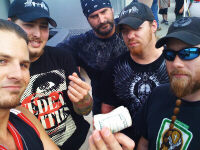 | | |
| --- | --- |
| Artist Name: | Deliver Us from Evil |
| Genre(s): | |
| Contact: | |
| Years Active: | - Present |
Band members:
(Bold indicates
current member.)
Related Bands:
(unavailable)
Bio
DELIVER US FROM EVIL, a metal band from Southern Indiana, has been destroying the Midwestern region for 5 years now. One listen and you'll realize the music speaks for itself. Armed with brutal guitar riffs, technical percussion, thick bass grooves, and throat shredding vocals, all at lightning speeds and stupifying precision, anyone will notice DELIVER US FROM EVIL is a force to be reckoned with. Breaking venue barriers in their local area, and having a significant role in solidifying their metal scene, DELIVER US FROM EVIL has been building momentum in other states as well. Recently, the band has opened for national acts such as, Obituary, DIECAST(century media), SWORN ENEMY (Century Media), IN THIS MOMENT (Century Media), DAATH (roadrunner), YAKUZA (prosthetic), ORIGIN, Goatwhore(metal blade), Destroy Destroy Destroy (metal blade), and DROWNING POOL, UNEARTH (metal blade), THE BLACK DAHLIA MURDER (metal blade). All of which have commented on how DELIVER US FROM EVIL was the best independent metal act that they had seen on their tours thus far. They also played Main Stage the 2007 Milwaukee Metal Fest w/God Forbid. And just recently Indianapolis Metal Fest w/ the likes of Obituary, Alabama Thunderpussy, and Daath. After touring in the Midwestern states and most of the South, the band has developed a die-hard fan base in Indiana, Kentucky, Illinois, Wisconsin,Michigan, Tennessee, Georgia, Florida, and North and South Carolina. DELIVER US FROM EVIL has also sold over 800 copies of their debut album BEHOLD A PALE HORSE and have recently recorded a three song EP at AUDIOHAMMER STUDIOS in Sanford Florida with the PRODUCER/ENGINEER MARK LEWIS. You can see the professionalism this band portrays with live videos, documentaries, and a full length OFFICIAL MUSIC VIDEO of the song ONLY ASHES REMAIN......directed and Co- Produced by MITCH MASSIE here in EVANSVILLE INDIANA. We are currently working on our second full length album.
Featured Releases
(unavailable)