For the most part, our artist database is curated by hand, so in the case of active bands, the information shown here is probably not very current. If you have inside knowledge on this artist, or if you are this artist, feel free to submit an updated entry (or use the discussion section below) to correct us on anything here that might be out of date or inaccurate.
The Delicious
General Information


| | |
| --- | --- |
| Artist Name: | The Delicious |
| Genre(s): | pop |
| Contact: | dan - at - transpanthergroup.com |
| Years Active: | 2005 - Present |
Band members:
(Bold indicates
current member.)
Ben, Nick, Matt, David
Related Bands:
(unavailable)
Bio
The Delicious sing of social and dietary anxiety. The Delicious spin yarns of dramatic resurrection: wooing and courting soul-affirmation, the threat of vacuous failure and its resulting commodification heel-nipping the voyage. The Delicious are sarcastic doomsday soothsayers - and their cachet has been illimitably enhanced by the lead-singer's Civil War era/Salvador Dali style mustache.

Originating in the isolated and strangely culturally-in-tune town of Bloomington, Indiana, The Delicious assembled in the fall of 2005, composed of a disillusioned art student and three students of jazz (singer/ guitarist David Woodruff, drummer Ben Fowler, bassist Julian Bransby, and keyboardist Matt Romy respectively). After self-releasing their first album The Delicious The Delicious, and supporting some of the best talent in North America (The Raconteurs, Gnarls Barkley, The Black Keys, Spoon, The Roots, Black Mountain, Sunset Rubdown, Mirah, Laura Veirs, Page France, Bishop Allen, Make Believe, Catfish Haven, Xiu Xiu, Richard Swift, David Vandervelde, Maps & Atlases, The Subjects, Bound Stems, The Ruby Sons, Le Loup, and Carol Bui, among others) The Delicious have released their highly-evolved next album with Joyful Noise, titled Postcard To My Sewing Circle. Recently Nick Romy replaced Bransby, providing blood harmonies and joining his brother in a venture besides their punk, folk, and jazz ensembles.

On the most fundamental level, the music of The Delicious is clever art-pop for cynics. Here is how the band itself describes their sound: "We're interested in sounds and vibrations that speak to their own nature in a monumental and spiritual sense. Imagine skeptics temporarily abandoning furrowed brows to revel in a landscape of pure bliss, rendered as an overwhelmingly brilliant light, which they do their best to emulate and perpetuate. Similar to when you feel an amazing sound is coming out of you but soon discover something else is making the sound - except in this case, you really are the source! We shoot for that. Terrific. Accessible suburban-folk quirk-pop for a good time."
Featured Releases
(unavailable)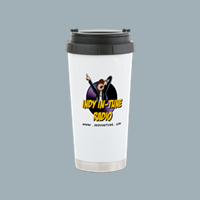 As seen on the webcam. Are you one of those people who can't survive without copious amounts of coffee in the morning? You definitely need one of our stainless steel travel mugs. Give your caffeine the gift of style...