For the most part, our artist database is curated by hand, so in the case of active bands, the information shown here is probably not very current. If you have inside knowledge on this artist, or if you are this artist, feel free to submit an updated entry (or use the discussion section below) to correct us on anything here that might be out of date or inaccurate.
Of Creations
General Information





| | |
| --- | --- |
| Artist Name: | Of Creations |
| Genre(s): | metal |
| Contact: | ofcreations - at - yahoo.com |
| Years Active: | 2011 - Present |
Band members:
(Bold indicates
current member.)
Chris Sloan - Vocals
Ian Stinson - Guitar
Spencer Phipps - Guitar
Brandon Reed - Bass
Scott Urban - Drums
Related Bands:
(unavailable)
Bio
Forming in the fall of 2011, Of Creations is a band that has been poised on to a path that deserves attention. With the release of Reinventing Yourself, the band brings to your iPod and to the stage a presence to be aware of.

Reinventing Yourself, produced by Brian "Bone" Thorburn (Abolisher/Ex-Amarna Reign), serves to be a blend of aggression and melody across eight tracks. Fusing elements of metalcore, deathcore, and even at times tech, the band presents it's own take on the metalcore general that keeps audience's attention. Showcasing that the band can write more than just simple breakdowns, Reinventing Yourself brings to the table the ability to have audience's singing along while at the same time staying heavy to keep the audience moving. With slick production, solid song writing, and the ability to bring an energetic performance, the band is destined on to the path of future success.

Comprised as a result of a simple plan to form a band, Of Creations features Ian Stinson and Spencer Phipps on guitar. Chris Sloan providing the shrieks and aggressive vocals. Scott Urban on drums and Brandon Reed on bass the band lists their influences as August Burns Red, Born Of Osiris, For Today, Underoath, and As I Lay Dying. More than just band members, Of Creations is a group of friends that share a bond that they follow amongst each other. Reinventing Yourself is a phrase that the band knows fairly well, with in fact the album's name itself poses a theme for both the lyrical content and their life together as a band. With several members coming and going, the band has solidified their lineup in March of 2012, and has countlessly reinvented their music with each member change. With the death of Chris's daughter shortly after her birth, the lyrical theme behind the album is Chris's own journey from sorrow to slowly becoming the man he has reinvented himself as. The album is more than just a collection of songs, but a story of lost, love and redemption that anyone can relate to.

In their short existence, the band has been blessed with the opportunity to open for many notable acts national, regional, and local including Chelsea Grin, Stick To Your Guns, Upon This Dawning, Corpus Christi, The Browning, These Hearts, King Conquer, The World We Knew, Ark Of The Covenant, Foreveratlast, Phinehas, The Orphan The Poet, and many more. Over time the band has developed a live show that is surely to keep many audiences entertained. With their own light show, stage scrims, and energetic attitude the band brings something new to every show.

Of Creations debut album "Reinventing Yourself" was self released by the band on May 18th 2013 and is available at all major online retailers. Look to see this band in your area soon.
Featured Releases
(unavailable)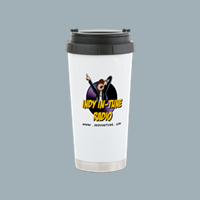 As seen on the webcam. Are you one of those people who can't survive without copious amounts of coffee in the morning? You definitely need one of our stainless steel travel mugs. Give your caffeine the gift of style...