For the most part, our artist database is curated by hand, so in the case of active bands, the information shown here is probably not very current. If you have inside knowledge on this artist, or if you are this artist, feel free to submit an updated entry (or use the discussion section below) to correct us on anything here that might be out of date or inaccurate.
Bleedingkeys
General Information




| | |
| --- | --- |
| Artist Name: | Bleedingkeys |
| Genre(s): | rock |
| Contact: | booking - at - bleedingkeys.com |
| Years Active: | 2010 - Present |
Band members:
(Bold indicates
current member.)
Jeremy Johnson - Lead Vox, Acoustic Guitar; Coty Leffingwell - Drums; Jon Beaty - Saxophone, Keys, BGV; Matt Obras - Bass Guitar
Related Bands:
(unavailable)
Bio
While singer/songwriter Jeremy Johnson spent four years in Alaska managing a small business, he was able to develop his songwriting skills away from the influence of the rat race. After picking up his first guitar well into his 20's, it was clear that life's traditional avenues could not satisfy his creativity and there he found his first true outlet for the labor of life. He started performing in local venues and broadening his musical talents. But the 49th state couldn't satisfy all of his ambitions, so he, along with his family, moved to Indiana, where he met the other three guys who now make up the 'bleedingkeys.' As a recently established band, bleedingkeys are building momentum fast - already garnering some amazing opportunities and a respectable fan base in a short amount of time.
Featured Releases
(unavailable)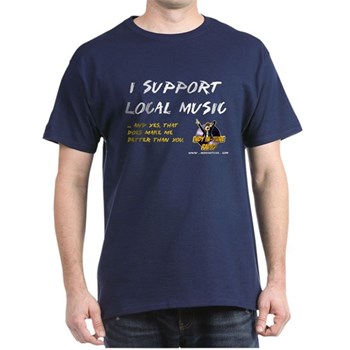 Back by popular demand for a limited time only, "I support local music ... and yes, that does make me better than you." Show the world that you, too, are a proud elitist music snob! Get yours before time runs out...