For the most part, our artist database is curated by hand, so in the case of active bands, the information shown here is probably not very current. If you have inside knowledge on this artist, or if you are this artist, feel free to submit an updated entry (or use the discussion section below) to correct us on anything here that might be out of date or inaccurate.
Downstait
General Information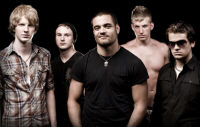 Artist Name:
Downstait
Genre(s):
hard rock
Contact:
managemusiq - at - aol.com
(646) 245-0461

Years Active:
- Present
Band members:
(Bold indicates
current member.)
Daren Call - Vocals
Justin Call - Guitar & Vocals
Isaiah Zwick - Guitar
Sean Arata - Bass & Vocals
Jethro McConnell - Drums
Related Bands:
(unavailable)
Bio
Young, powerful, and entertaining, Downstait is a band that holds nothing back, either in the studio or on the stage. Their songwriting reflects talent and ability beyond their years and is a unique blend of the best of modern hard rock... the thunder of Godsmack and Sevendust... the melodies of Linkin Park and Breaking Benjamin... all tied together by Daren Call and Sean Arata on vocals. With an average age of barely 20 yrs old, Downstait has been rumbling under the surface of Fort Wayne, Indiana's music scene since 2002. Always ahead of their age, it wasn't until 2006 when WBYR program director, Stiller, heard something special in lead singer, Daren Call's voice and reached out to producer/singer/composer, Sahaj from the Universal/Republic band Ra, to see if the band had potential.

Sahaj agreed and took the band under his wing to help develop the sound that we know as Downstait today. He was surprised to find that lead guitarist and songwriter, Justin Call, shared a love for the progressive 80's band Queensr˙che and was quick to include a dramatic element to Downstait's signature sound. As writing continued, Downstait had more surprises up their sleeves. Bass player, Sean Arata, proved himself to be quite the vocalist, adding rich harmonies or deep screams to an already rich vocal landscape. Jethro McConnell on drums reveals his secret in his ink. A tattoo of Miles Davis coats his skin but this young powerhouse's love for jazz is heard in the unique phrasing he uses in this hard rock context. Rhythm guitarist, Isaiah Zwick is the soul of the band onstage, raining energy from beginning to end. Smiles and ferocious intensity flow throughout the set. Their live show is explosive.

The band has become the opener of choice for national acts playing Fort Wayne's premier venue, Piere's. They have shared the stage and toured with- Ra, Rev Theory, Drowning Pool, Pop Evil, Queensr˙che, Saliva, Skid Row, 10 Years and others. They are the hometown favorite and rightfully so. Selling over 5000 CD's by themselves they are a band with real viability. WBYR even had the band play their "Bear On the Square" event as an unsigned act, normally reserved for national acts. The fan base continues to grow. It was only a matter of time before they got signed.

The music is powerful and even thoughtful at times. "Take It To the Line", "No One" and "Senseless" scream radio. "End of the Story", "This Is My Life" and "Best Day" show the bands diversity while "Walk Away" calls out with passion and beauty not normally found in bands so young. The songwriting and musicianship is top notch.

2009 is a big year for Downstait. Signed to Sahaj's label SMR and with 6 songs featured on ESPN's high school football season, they were poised to launch the record when Sahaj was approached by MTV to have the band re-record the theme song, "Beat You Down", for the hit show "Bully Beatdown". With this in place the band is now poised for a far more powerful launch. You can expect to hear quite a lot from this young group. They are great live, magnetic, hungry and just getting started...
Featured Releases
(unavailable)
Handy places to visit if you are part of, or want to know more about, our music scene ...