M.O.R. Episode 3 -- Michael Dryburgh
By: Ben Cannon, Bram Epstein, and Darrin Snider
Sunday, June 6, 2021
---
M.O.R. Episode 2 -- Ian Thomson
By: Ben Cannon, Bram Epstein, and Darrin Snider
Sunday, May 23, 2021
---
M.O.R. Episode 1 -- Mark Kelly
By: Ben Cannon, Bram Epstein, and Darrin Snider
Sunday, May 16, 2021
---
An In-Snide Look: I Think I Could Get Used to this Life Sometimes
By: Darrin Snider
Sunday, June 7, 2020
---
Getting Down to Earth with mOOnMen
By: Amy Foxworthy
Sunday, February 16, 2020
---
The Musical Journey of Jethro Easyfields
By: Amy Foxworthy
Tuesday, February 11, 2020
---
Monday Mixtape: Etwasprog
By: Darrin Snider
Monday, February 10, 2020
---
Monday Mixtape: Excerpts from the Summer of 2014
By: Darrin Snider
Monday, January 20, 2020
---
Mix Tape Monday: Mashin' it Up
By: Darrin Snider
Monday, January 13, 2020
---
Mix Tape Monday: Back to the Gym Workout
By: Darrin Snider
Monday, January 6, 2020
HOT SHOW ALERT! Shine Indy Studios Presents : Bashiri Asad Day!
By: Amy Foxworthy (foxy at indyintune dot com)
Tuesday, October 7, 2014 12:00:00 PM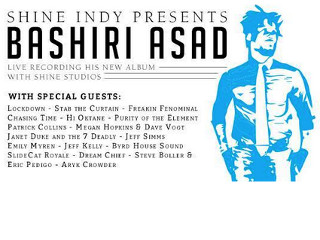 Disclosure: Sam Ash Music is a sponsor of Indy In-Tune, and Indy In-Tune is a sponsor of Shine Indy.
https://www.facebook.com/events/631945100252550
What: 17 local acts, starting with the teen bands of Sam Ash Music's Ash Rock Program leading up to the live recording of Bashiri Asad's new album. Bands and solo artists will be playing on the patio outside from 9 a.m. to 9 p.m. All ages and free until 9pm.
$5 cover for the inside portion featuring Chicago musician Aryk Crowder opening up for local great, Bashiri Asad. Shine Studios will be recording this event with live coverage from Indy In Tune Radio and Brother, Brother Beercast all day!
Price: Free till 9pm, $5 after
I recently spoke with one of the organizers of the event, Jamie Jackson from Shine Indy, and Sam Ash Music about how this all came to be and what we can expect to see on Saturday at Sabbatical.
Foxy: Tell me what you have to do with this, and how this all came about? How did the pieces of this all fall into place?
Jamie: Shine was already doing the recording with Bashiri that night. I was wanting to have an all day show on the patio before it became too cold and before Sabbatical shuts down next year. I polled a few bands and everyone was like, LETS DO THIS!
Foxy: Who/what are some of the other players involved; who are your cohorts and partners in crime in the big picture of putting something this fantastic together.I mean, you're a pretty cool guy and all, but surely you couldn't pull this off single-handedly?
Jamie: I contacted all the bands and it really did come together quite easily. Ryan Gibbons and Ben Cannon put the initial event together and I put the build on the patio in play.
Foxy: Talk to me a little bit about Shine and who you guys are and what you're about and what you do, and the meaning of life and all that.
Jamie: Shine is all about the music. We wanted to find a way to contribute to the local scene without taking anything away from anyone. We have shows going every week in typical and atypical venues. Our artists are taken care of and we are very happy to help in any manner. We specialize in album releases. We are multi-genre and we even dabble with non music shows from time to time. But our aim to to help build this scene into an unstoppable source of great music and all are welcome to join.
Foxy: Tell us a little bit about some of the artists well see Saturday. Tell me who you are looking forward to seeing, or who you think the crowd is going to enjoy?
Jamie: We have so many great acts on this bill. Purity of the Element is quickly becoming one of my favorites. Young kids making great rock and roll. And Dream Chief is new to Shine Indy show. They have the potential to be great. We also have Janet Duke and the 7 Deadly. ZIZI WILL MELT YOUR FACE! and SlideCate Royale are a killer group that are about to drop their new album. I don't wanna give away too much, but that is just the tip.
Foxy: So can you tell us any details about this live recording going on inside Sabbatical at 9?
Jamie: NO! Be there and be ready to be amazed. Bashiri and his band are top shelf and words can not express how cool, amazing and honest that night will be.
Foxy: Thank you for your part in this, and making awesome things like this happen in our city. Were looking forward to Saturday, and everyone please GO SHOP AT SAM ASH!
Jamie: Thank you for your time and I appreciate you and what you do.
---
Lineup:
9:00 to 12:30 - We feature the bands of Ash Rock! (from your local Sam Ash Music Store)
Lockdown
Stab The Curtain
Freakin Fenominal
Chasing Time
Hi Oktane
Purity of the Element
12:30 to 1:00 - Patrick Collins
1:00 to 2:00 - Megan Hopkins with Dave Vogt
2:00 to 3:00 - Janet Duke & The Seven Deadly
3:00 to 3:30 - Jeff Simms
3:30 to 4:00 - Emily Myren
4:00 to 5:00 - Jeff Kelly
5:00 to 6:00 - Byrd House Sound
6:00 to 7:00 - SlideCat Royale
7:00 to 8:00 - Dream Chief
8:00 to 9:00 Eric Pedigo and Steve Boller
Then we move inside for the magic!
9:00 to 10:00 - Aryk Crowder (super special guest from Chicago)
10:00 to ? - an evening with the local legend Bashiri Asad. - Shine Indy Studios will be doing a live recording of this performance. You will not want to miss out on this legendary event, and there are more secrets in store. All bands and rock stars in the crowd will be interviewed for the on-air live broadcast from Darrin Snider of Indy In Tune Radio as well as Johnny Lyles and Brendan Douglas from Brother, Brother Beercast. Sabbatical will have great food and drink specials ALL-DAY-LONG!
Come out and support your local music scene, enjoy what might be the last outdoor music extravaganza of the year, and join us inside at 9:00 p.m. to be a part of the live recording of Bashiri Asad's new album.
---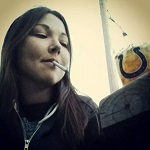 Amy Foxworthy is a writer, activist, music junkie, and professional hell-raiser. There is probably no truth to any other rumors you may have heard about her.
Blog comments powered by

Disqus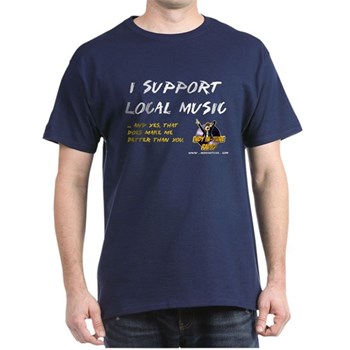 Back by popular demand for a limited time only, "I support local music ... and yes, that does make me better than you." Show the world that you, too, are a proud elitist music snob! Get yours before time runs out...
Solicitations and Submissions
Solicitations for blog posts can be made by sending and email to "blog -at- indyintune -dot- com" and should follow these guidelines:
Local (Indianapolis-based) acts always have priority.
Visisting acts playing a bill with one or more local acts are also considered.
We generally don't like to repeat content found on other sites. If your request already has a lot of coverage on other sites, it will be considered low-priority unless you can give us an exclusive angle.
For obvious reasons, we don't do solicited album reviews, though we do appreciate you letting us know when you have a new release. Consider coming in and talking about the album yourself live on the air or a podcast.
All of our staff writers are unpaid enthusiasts. All requests for blog posts are entirely at their descretion.
As such, they generally need a lot of lead-time to put something out -- we're talking weeks of lead time, not hours.
That said, individual authors have full authority to ignore the following guidelines and write whatever they want ... if you can convince them to.
In addition, feel free to write your own post and submit it for posting as a "guest blogger." Those almost always get accepted.
Finally, regional or national acts submitting without meeting the above guidelines are generally ignored. We're not trying to be dicks, but if you send us a generic form-letter with your press release, and it doesn't even remotely concern a local artist or event, then you're not part of our core focus.