M.O.R. Episode 3 -- Michael Dryburgh
By: Ben Cannon, Bram Epstein, and Darrin Snider
Sunday, June 6, 2021
---
M.O.R. Episode 2 -- Ian Thomson
By: Ben Cannon, Bram Epstein, and Darrin Snider
Sunday, May 23, 2021
---
M.O.R. Episode 1 -- Mark Kelly
By: Ben Cannon, Bram Epstein, and Darrin Snider
Sunday, May 16, 2021
---
An In-Snide Look: I Think I Could Get Used to this Life Sometimes
By: Darrin Snider
Sunday, June 7, 2020
---
Getting Down to Earth with mOOnMen
By: Amy Foxworthy
Sunday, February 16, 2020
---
The Musical Journey of Jethro Easyfields
By: Amy Foxworthy
Tuesday, February 11, 2020
---
Monday Mixtape: Etwasprog
By: Darrin Snider
Monday, February 10, 2020
---
Monday Mixtape: Excerpts from the Summer of 2014
By: Darrin Snider
Monday, January 20, 2020
---
Mix Tape Monday: Mashin' it Up
By: Darrin Snider
Monday, January 13, 2020
---
Mix Tape Monday: Back to the Gym Workout
By: Darrin Snider
Monday, January 6, 2020
An In-Snide Look #378: Holiday Challenge Update, Week 1
By: Darrin Snider (darrin at indyintune dot com)
Friday, December 12, 2014 5:00:00 PM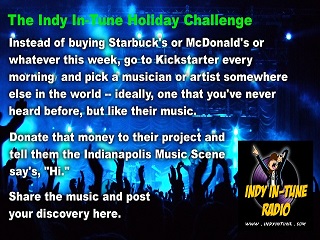 Okay, folks, we're nearing the end of the first week of the Indy In-Tune Holiday challenge, and I have to say, this whole "giving spirit" thing has been an absolute blast. When I think back to nine years ago or so when Indy In-Tune was a fermenting idea in my alcohol-soaked skull, one of the things that made it really appealing was the chance to meet new people, make a few friends, and hear some great music. What I've come to realize in the years since then is that ... well ... I've met all you people. This has been a real chance to connect with a few artists regionally, nationally, and internationally in order to spread the word that Indianapolis has a unified music scene, and we support our musical peers everywhere.
Just to recap, I previously posted about how all this got accidentally started. What I haven't done is get everyone updated as to how it's going. So, first off, let me say a big thank you to everyone who embraced, ran away with, or at least helped spread the word about this idea. Quite a few of you jumped on it -- not as many as I had hoped -- but I think everyone "gets" what we're trying to do here. Since it really was an impromptu idea on a Monday night, and not really announced until Tuesday, I know everyone kinda feels like it was sprung on them at the spur of the moment, so hopefully we can pull some more into the fold for a second week. Next, I had no idea this would become really friggin' addictive. I've had so much fun with this, and since not everything I've backed looks like it's going to get funded, I'm going to keep it going for at least another week, and maybe through the holiday itself. So, I invite everyone to jump in, even if it's just two or three bucks sporadically over the next few weeks. Honestly, it's all about the people, not so much the dollar amounts. You'll meet some very cool musicians who are thrilled that their music was heard by a stranger, and you'll gain a lot of paid-forward karma points if you're into such things.
Just to recap where I'm at, personally, and to inform everyone of some great projects, in case they want to boost my own humble efforts and make a more substantial contribution in the name of Indianapolis Music...
So that's where we are. How did you guys do? What did you find that you had to get behind? Who's up for another week? I know I am.
---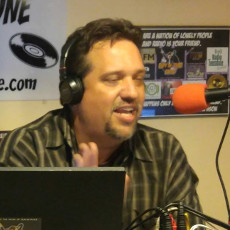 Darrin Snider is the OCD music nerd responsible for creating Indy In-Tune. By day he's a cloud engineer and business analyst, but he still hopes to someday be an overnight freeform disc jockey married to the local weathergirl who happens to be a former eastern-European supermodel.
Blog comments powered by

Disqus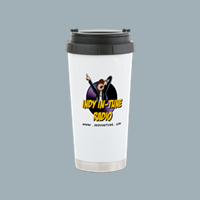 As seen on the webcam. Are you one of those people who can't survive without copious amounts of coffee in the morning? You definitely need one of our stainless steel travel mugs. Give your caffeine the gift of style...
Solicitations and Submissions
Solicitations for blog posts can be made by sending and email to "blog -at- indyintune -dot- com" and should follow these guidelines:
Local (Indianapolis-based) acts always have priority.
Visisting acts playing a bill with one or more local acts are also considered.
We generally don't like to repeat content found on other sites. If your request already has a lot of coverage on other sites, it will be considered low-priority unless you can give us an exclusive angle.
For obvious reasons, we don't do solicited album reviews, though we do appreciate you letting us know when you have a new release. Consider coming in and talking about the album yourself live on the air or a podcast.
All of our staff writers are unpaid enthusiasts. All requests for blog posts are entirely at their descretion.
As such, they generally need a lot of lead-time to put something out -- we're talking weeks of lead time, not hours.
That said, individual authors have full authority to ignore the following guidelines and write whatever they want ... if you can convince them to.
In addition, feel free to write your own post and submit it for posting as a "guest blogger." Those almost always get accepted.
Finally, regional or national acts submitting without meeting the above guidelines are generally ignored. We're not trying to be dicks, but if you send us a generic form-letter with your press release, and it doesn't even remotely concern a local artist or event, then you're not part of our core focus.