M.O.R. Episode 3 -- Michael Dryburgh
By: Ben Cannon, Bram Epstein, and Darrin Snider
Sunday, June 6, 2021
---
M.O.R. Episode 2 -- Ian Thomson
By: Ben Cannon, Bram Epstein, and Darrin Snider
Sunday, May 23, 2021
---
M.O.R. Episode 1 -- Mark Kelly
By: Ben Cannon, Bram Epstein, and Darrin Snider
Sunday, May 16, 2021
---
An In-Snide Look: I Think I Could Get Used to this Life Sometimes
By: Darrin Snider
Sunday, June 7, 2020
---
Getting Down to Earth with mOOnMen
By: Amy Foxworthy
Sunday, February 16, 2020
---
The Musical Journey of Jethro Easyfields
By: Amy Foxworthy
Tuesday, February 11, 2020
---
Monday Mixtape: Etwasprog
By: Darrin Snider
Monday, February 10, 2020
---
Monday Mixtape: Excerpts from the Summer of 2014
By: Darrin Snider
Monday, January 20, 2020
---
Mix Tape Monday: Mashin' it Up
By: Darrin Snider
Monday, January 13, 2020
---
Mix Tape Monday: Back to the Gym Workout
By: Darrin Snider
Monday, January 6, 2020
The Stick Arounds - "Ways To Hang On" Album Preview, Show Review and Interview
By: Amy Foxworthy (foxy at indyintune dot com)
Tuesday, October 23, 2018 7:00:00 PM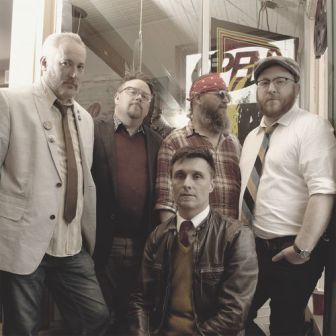 Lansing-based 5-piece Rock & Roll-Power-Pop outfit The Stick Arounds will release their sophomore album, "Ways to Hang On" on GTG Records this week, and, after ingesting it religiously for a while now, I can definitively say this is one that should be owned on every format available—which is all of them.
Album Review:
Unlike the band's first album, Mystery Garage, which was recorded during their live performances, and has a raw, grittiness about it, "Ways to Hang On" was recorded in the studio and has a bit more of a polish and sweetness to it.  It's a feast of Power Pop goodness with a delicious aftertaste that leaves you licking your lips and wanting more.
You can throw this album on and let it play all the way through without skipping any tracks.  It is filled to the brim with dazzling vocal harmonies, catchy hooks, and charming guitar solos.  The way the songs are ordered is genius; the two songwriters sandwiched their respective songs; Jeff's are the odd numbers and Matt's are the even numbers.  The album starts off with the track that will get stuck in your head most frequently; "Get U Back."  The hook will "stick around" with you for days after listening, and it's only by listening to another track on the album that you can get it out.  Brilliantly enough, they also ended the album with the other most catchy, stick-around-in-your-head song ever.  With such a powerfully addicting opening and closing, the band really captured how to hook you immediately and then leaving you drooling and wanting more when it ends.  Every song in between is also delicious and infectious. Start to finish it's a sonically pleasing experience, but if one had to choose highlights they might be the first and last track, "Man of Action", "All I can Take", "What Was Comin", and "Falling Down On You"….I know, that's 6 out of 10 tracks, and even that was painful to narrow down; just a testament to how pleasing to the ears the album truly is. Quite simply, "Ways to Hang On" is a decadent dessert for the ears, start to finish.
Live Shows Review:
After enjoying this nicely recorded gem of an album, I wanted to put it to the true test.    I traveled to Lansing for the Stick Arounds' "Ways to Hang On" album release show so I could see and hear it performed live in its entirety, and hopefully be granted the opportunity to interview the band with burning questions about their new release.
In the early afternoon the band played their first ever acoustic live set at The Record Lounge, a charismatic little record store in the Reo Town part of Lansing.  The band performed songs from both of their albums to an enthusiastic crowd who all packed like sardines into the tiny record store.  I had previously tried to imagine what their songs might sound like played acoustic and I was pleasantly surprised at how versatile the songs were and just how well they also worked "unplugged."  The highlight of the show was when Jeff's 12-year old son (and drummer of 3 years) Weber accompanied the band on tambourine, and in my opinion, totally stole the show.  I have a feeling I'm going to be writing a story about a band of his sooner rather than later.
As nightfall descended upon the City of Lansing we absconded to The Avenue Café where The Stick Arounds would soon debut their labor of love to fans, friends and family from all over the tristate area.
After the four outstanding opening bands had thoroughly entertained everyone and got the crowd in total rock mode, it was time for the main event.  The time had finally come for everyone to hear all ten tracks from the yet-to-be-released and highly anticipated "Ways to Hang On."
From the opening guitar note in "Get U Back" to the last note of "Falling Down on You," the crowd was engaged and enthusiastically receptive to the ten new tracks.  Though the recorded album contains the frilly bells and whistles of the studio, these 5 guys and just their instruments performed the absolute hell out of the record.  I was in total awe of how dynamically they relayed those tracks live to which I'd been digitally betrothed for months.  The live performance offers something that the studio recording doesn't: the aesthetics of watching these guys perform.
The Stick Arounds' live performances are high-spirited and vivacious.  They genuinely appear to be having the absolute best time when they play their songs to a live audience.  Lead guitarist Jason Lantrip probably puts roughly 10 miles of wear on his shoes (which match his shirt perfectly) during each set.  Watching him play makes me feel like I just worked out, which is nice, because I don't want to actually work out.
Matt, Jeff, and Ian's random smiles (and Joel's "drum faces") throughout the show, both at each other as well as at the crowd, are contagious, and they truly do make it impossible not to have the time of your life during their set.
The band flawlessly delivered all ten tracks and the audience was more than gratified.  There were hugs and congrats as they guys came off stage and the celebration continued into the night.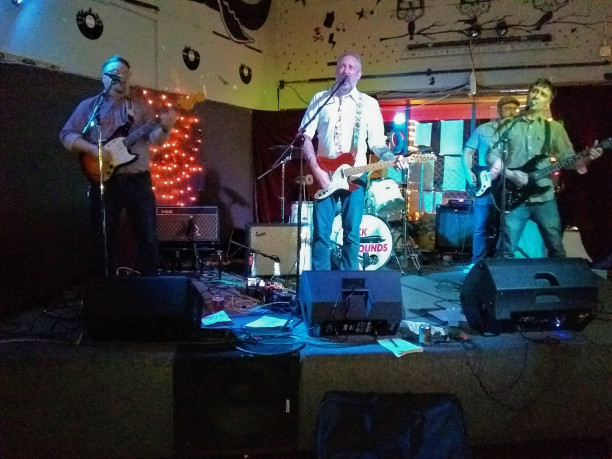 I knew that after the show family and friends would want to hang out with the band, so pre show (but post pre-show beers), I got a few minutes to chat with the band about the new album.
Amy: The first album, "Mystery Garage," was recorded live.  Your new one, "Ways to Hang On" was recorded in the studio.  Can you tell me a little bit about the recording process, how long did it take, where did you record it, who recorded it, how long did it take to write it; give me the background.
Matt (guitar/vocals):  It took more time to record it and have it pressed than it took us to write it.  The songs came together relatively quickly; we actually recorded 16, but only 10 songs ended up on the record.
Amy: Why not more?
Matt:  We wanted to make a record that was short and sweet.
Jeff:  We wanted to make a power pop record, and this one times out roughly at 35 or 36 minutes, which is perfect.
Ian:  I'm a subscriber to the notion of leaving people wanting more, than keep playing forever and that applies to shows and to records, so I think that 35 minutes is a sweet spot for an album.  If it's long it becomes an effort to listen to a record and this should feel like, "Bam!" and hits you, and before you know it, the ride's over and you want to hop on again.
Amy: How long from when you decided to write a new album until you went in the studio to record?
Ian:  Two months?
Amy:  You wrote 16 songs in two months??
Matt:  No, over the course of about 6 months, Jeff and I had been bringing songs, then Kernel (Joel) brought a song, and this all kind of blossomed at the end of the summer of 2017.  We realized in August or September that we had a record rehearsed for the most part that we had in October we started pre-production notes and we decided, "Ok, in December we can record…
Matt:  We realized in August or September that we had a record rehearsed for the most part that we had learned pretty well,  In October we started pre-production notes, and December we recorded drums and did things piecemeal from there.
Ian:  You guys had stuff demoed from 6 months before I joined the band
Jeff:  2 of the songs predate even this band; two of my songs. "Shakes" and "What was Comin'."
Matt:  None of mine predate this band.  I did not know "What Was Comin'" predated this band!
Joel:  "Shakes," I might have guessed, but not "What Was Comin'."
Amy:  Who recorded it, where did you record it, and how long did it all take?
Jason:  That is something similar to the first record in that we enlisted as many friends that we could to help out.
Ian:  As far as the overall record, by the time the release date happens, it will have been 10 months almost to the day that we started tracking.
Matt:  About 6 months on the actual work and 4 months waiting for production.
Jeff:  We don't have money, so we wanted to get as many favors as we could….
Matt:  We know talented people, who are suckers (everyone laughs)
Ian:  To be fair, we did do a lot of it ourselves. I mean, 3 of the 5 of us have home studios. We did a ton of the work at my house, Jason did a ton of his guitars at his place, and Matt did some stuff at home and brought it all together
Amy:  So you guys did a lot of it separately?
Joel:  Initially Johnny Aimcrier helped us out—we did the drums over at Johnny's.
Ian:  They turned out fantastic and we couldn't be happier.  The nice thing about it is that he has a great space for it, and again, doing it ourselves gave us the opportunity to be like, "Hey, Matt, we are working on one of your songs, do you want to come over and work on the vocal for that tune after work tonight?" And we'd just spend 2 hours and just do it in little chunks; versus if you go to someone else's studio you have to dedicate an 8-hour chunk, or maybe a week at a time.
Matt:  The songs could breathe a bit and we could take essentially what we would play live and then you could take that really rough version and say, "Ok I hear this keyboard part or a horn part or here's another backing vocal part we could try…." So it was really great to be able to do that after making a live record where essentially it was what 5 people could do in a room, all at once, in front of an audience. This was a lot more –there is a lot more nuance to it; more layers. And it was also nice to do something that was basically the polar opposite of the other record.
Ian:  One song in particular on the record that sort of comes to mind as one that we kind of wrote as we recorded it, I mean Jeff had the song written, and when we recorded the drums, Kernel pretty much –
Me (interrupting): Which song?
Jeff and Matt in unison:  "Hazlewood."
Ian: Yeah, with Hazlewood we had next to no idea---
Jeff: We had never played it as a band before we recorded it.
Matt:  There are actually 2 songs on this record that we had never played as a band beforehand.
Amy:  What was the other?
Matt:  "Better off Like This;" the 2nd song on the album.
Ian:  That process to me is why I like recording records—yeah, recording songs we know and play live, that's a lot of fun, but having those cool moments of exploration, like wondering what Hazelwood was going to sound like, what do we want here?  We know we want a guitar solo here, but what the heck is that going to be?
Amy: Admittedly, I did not have any idea who that was before I heard your song and I looked him up and read about him, and now I know!
Matt:  As far as I'm concerned that's the greatest thing this track can do….
Jeff:  I mean, when he beached the Exxon Valdez, I was like, "I gotta write a song about this guy." (laughter) (The song is NOT about "that" Hazelwood, but producer Lee Hazlewood)
Amy:  Jeff and Matt have the same amount of lead vocal tracks on the album; there are 5 Matt songs and 5 Jeff songs; and they are sandwiched all the way through; it starts with a Jeff song and ends with a Matt song.  Was that on purpose, or was that just kind of how it turned out?
Joel:  That's why my song didn't make the record (hysterical laughter).
Jeff:  Yes, that was intentional.  When Matt and I sat out to write songs for this album we said, "Let's do like a Husker Du kind of thing where each songwriter, we just go back and forth."
Joel:  Who is Bob Mould and who is Grant Hart?
Matt:  Who gives a fuck!?  (Explosive laughter all around)
Amy: But yeah, other bands might have different people singing at different times, but this seemed very much structured in a specific and intentional way…
Matt:  We talked about it on the front end and we had decided that the 10 best songs we would put on the album.  If that would have been 7 Jeff songs and 3 Matt songs or vice versa
Jeff:  That wouldn't have happened.  There are too many egos in this band. (Scattered, uncomfortable laughter)
Matt:  My point is, that if the best songs didn't wind up in order 'A,B,A,B,' we would have…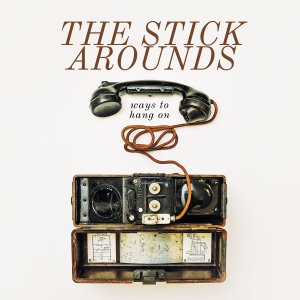 Jeff:  We had it set in our minds that we wanted 5 and 5 but we also planned not necessarily on them being back and forth.  It just kind of worked out that it sounded really good doing that, in that order.  We put a couple of track lists together that were NOT back and forth.
Jason:  There is a lot of St. Pepper/Penny Lane kind of shit going on, you know, Paperback Writer type of shit (laughing from group)…
Jeff:  How dare you.
Jason:  but, I think it's entirely my fault.  (Laughter) Like, all these little seeds that you guys planted, I just like, some of them sound like double sided singles –you see motifs pop up now and again.
Amy:  This isn't a question, more so a comment, but it's really cool, after hearing and getting extremely familiar with both of your albums, one can tell within about 3 seconds whether it is a Matt song or a Jeff song – which is cool; if you really get to know it, you can immediately tell.
Joel:  The Stick Arounds Challenge!
Amy:  I would totally win that challenge!
Matt:  That's not a prize anyone wants to win (explosive laugher from all)
Jeff:  That's like being the last person to get syphilis at an orgy (more laughter).
Matt:  None of the Stick Arounds have ever been invited to an Orgy besides Jason (more laughter).
Amy:  Oh my God…
(The recording conveniently cut out during this moment of the interview)
Ian: I do think that your comment about how it is half and half and back and forth, if you check out any of our shows, it's not a hard rule, but there is an effort I think made for it to be equitable, split.  Jeff jokes about there being too many egos in the band but this is --
Jeff: I don't really believe that…
Ian:  I know you don't, and I have played with lots of musicians in my lifetime and this is one of the lowest ego groups I have ever played with.
Matt:  And he's in a band with ME!
Jeff:  With the first album, I sang 80% of the songs and that's how it was live, too.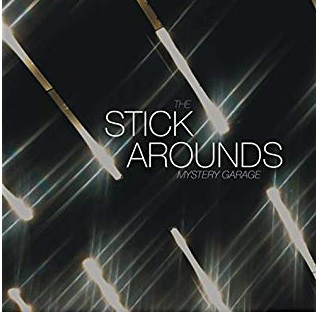 Amy: It seems like Mystery Garage is slightly... "heavier" whereas "Ways" is kind of a little more "poppy?" Was that intentional? Would you just say that that is your style evolving? Or are you going for intentionally different vibes for different records? Both albums sound unmistakably "you guys" yet they are rather different from each other in a good way. I guess kind of talk about the evolution of your sound between the first and second albums.
Matt: There was never any intention of making a "poppier" sounding record. Certainly some of the sonic shift is just the natural state of our tastes at the time we made the record. We envisioned this band when we started it as a power pop band and because we recorded 'Mystery Garage' live, it had a power and grit to it. Plus, those songs were just heavier, which was due in part to the fact that Jeff wrote the majority of the songs on that record, and my contributions often tend to be a little lighter or more "poppy" than Jeff's. Being able to stretch out in the studio and add acoustic guitars, organs, loads of harmonies and synths helped to make the record sound more polished. I think 'Man of Action' is a great example of how different our songs can sound live and on the record. Live, it's hooky and propulsive and powerful. On the record it's layered in acoustic guitars, harmony parts and organ. Having the freedom and the time to play with melodic ideas in the studio took these songs in interesting directions and that is probably the biggest reason for the difference between those two albums.
Amy:  One question I have is about your videos.  I wanted to ask background on those...Mystery Garage was recorded live, and to my knowledge, you didn't make any videos for those songs.  But the new album, you did a video for "Get U Back," "Great America," and a live video of "All I Can Take."  Who did the videos for you, where did the ideas come from for the videos?  (Those kids with those masks in Great America freak me the hell out)  What is that venue in the All I Can Take video?
Sticks: No videos were made for Mystery Garage. That album was a whirlwind experience and we were new to pressing vinyl, so we didn't know where to focus our energies and we just kinda let things take their own course. With Ways to Hang On we are definitely doing a bit more steering of the ship to get responses and make certain things happen. The videos were initially Matt's idea. He's really great with video and photo software so he's the brains behind the "Get U Back" and "Great America" videos. He found some creepy public domain stuff and spliced it together to make, what I feel, are some pretty fantastic images. We filmed 6 live songs at The Fledge, which is a maker-space and performance venue in downtown Lansing. Jerry Norris, the owner, has been a big supporter of us, and of the local scene, and when we asked about using his space he was all for it. Some friends of ours run a film company called Biddle City Project. They are real pros and made us look great. Some of the performances, sound-wise, are not so great, and that is due to the band's performance that day. However, there were definitely some usable songs to come out of the session. We've now released live videos for "All I Can Take" and "Man of Action."
Amy: Do you (each, individually) have a favorite song on the new record?  What is your favorite to play live?
Jeff:  My favorite song is "Get U Back," because I think it's one of the best songs I've written with this band. My favorite to play live is one of Matty's songs, the last one on the album, "Falling Down on You," because my guitar part is really fun to play. As a band, I feel Get U Back and Great America are favorites for sure; it's why we chose them as videos and singles. Our favorite cover to play is probably "That's How I Got to Memphis" by Tom T. Hall.
Amy: The Stick Arounds just played their first live acoustic set.  How did that show come about and how did that feel for you when you were performing live and unplugged? Is that something you'd want to do again, or was it a one-time treat?
Sticks: We wanted to promo the show as much as possible, and Heather Frarey at Record Lounge has always been a supporter of our band and local music in general, and since we were releasing vinyl we thought a record store show would be in order. We've played those songs soooo often together it didn't seem too different. We knew we could pull it off. And yes, in fact we are doing it again at Satellite Records in Kalamazoo.
Amy: How and when did you guys get involved with GTG Records?
Sticks: GTG has been around for a long while now... 10 years I think. We've known the folks who run it for a long time and Isaac Vander Schuur (*Author's shout out to The Hat Madder!), who engineered our live record, Mystery Garage, is a GTG founding member (the Mystery Garage itself was a GTG exclusive venue). So going with them was kind of a natural move. They are incredibly supportive of the local scene.  Hell, I'd even argue that they ARE the local scene. Anyhow, the scene would certainly be far poorer without them. We loved how they worked with touring bands and how they built up their community. So much in a music scene can turn negative and these were people who were doing positive things for Lansing, so, we wanted in.
Amy: You guys threw a couple of big album release shows in different Michigan cities, with a lot of talented bands supporting.  Did you know all of these bands previously/had you played with all of them before?  What went into the selection of supporting bands for the release shows?
Sticks: For our Lansing release we chose bands with which we've had a good musical relationship, and good personal friendships, we knew we wanted that one to be special. We were very fortunate that Indonesian Junk happened to be touring at that time and needed a Michigan date, because they are a band we would've chosen anyhow. We play with Gashounds and E.Z. Duhzit & the Soul Jar pretty regularly throughout the year because they are some of our favorite bands and there is a mutual respect there. La La Delivery is a new band on the Lansing scene, but we've known the band members from other bands, and they're great musicians and good people, so we wanted them on board.  For Kalamazoo we had to have our friends Fire, It's Sirius. We played with them once and knew we would be good friends. Their style is quite different from ours, but in the end, it's all rock n' roll, plus you won't find a nicer bunch of fellas. The other band on that bill, Nothing New, is definitely something new for us as we've never played with them. But the guys in FiiS recommended them, so that was enough for us.    In Saginaw we're at White's Bar. That's where we had our very first show back in 2009, and we've probably played there as much or more than any other venue. It's a great live, local music venue. Anyhow, we decided for that show to go with a trusted band we'd played with a number of times, The White Oranges, and we wanted to try a band I knew of but never had the chance to play with, The Conspiracy. These are both creative rock bands that really focus on music craft. Unfortunately White Oranges had to drop from the bill last minute, but we have other music ready to go in their place.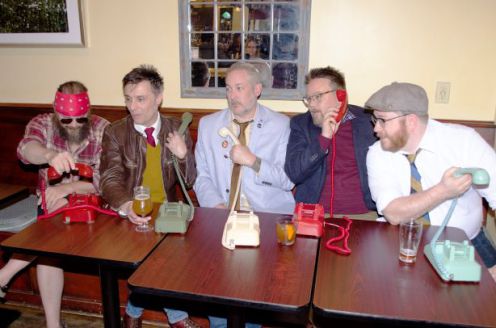 Amy: Your new record comes out October 26th, you've had release shows, you've made videos; what is next for The Stick Arounds?  Do you have any sort of touring goals, etc. for 2019?
Sticks: We are all middle-aged men with families (except baby Ian), so proper touring is not really something that will happen. However, we do plan to do short jaunts around the Great Lakes region; long weekends essentially where we play cities that are a reasonable distance from one another, and from home. We started doing this last year and found it quite enjoyable, and we've met some great people doing it... like our friend Amy Foxworthy with whom I am corresponding now.  (He really said that—I swear!  I did not just stick that in here hoping he wouldn't notice) We're also planning to release several "singles" over the course of 2019. We're calling it our "single of the month club" or something equally silly. During the "Ways to Hang On" recording sessions, we actually recorded 16 songs.  So those that did not make the album will be released as part of the singles of the month. We're hoping that is something that will keep people listening and interested in our music.
Thank you to The Stick Arounds, all of their friends and families, and to the City of Lansing for such a great experience.  Make sure you check out this album; it gets my seal of approval and is my overall favorite release of 2018.  If you are in Indy in January, check them out at The Melody Inn on January 20th with GTG label mates Jeremy Porter and The Tucos, and local support from Tracksuit Lyfestyle.
Stick Arounds Facebook | Website | YouTube | GTG Records
---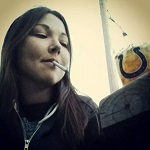 Amy Foxworthy is a writer, activist, music junkie, and professional hell-raiser. There is probably no truth to any other rumors you may have heard about her.
Blog comments powered by

Disqus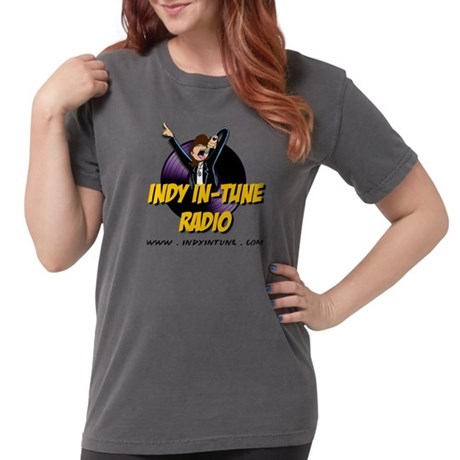 Ladies, don't you hate buying generic (unisex) T-shirts? We've got you covered with a line of womens'-fit clothing in a variety of styles and colors. Check Out Our Specials This Week...
Solicitations and Submissions
Solicitations for blog posts can be made by sending and email to "blog -at- indyintune -dot- com" and should follow these guidelines:
Local (Indianapolis-based) acts always have priority.
Visisting acts playing a bill with one or more local acts are also considered.
We generally don't like to repeat content found on other sites. If your request already has a lot of coverage on other sites, it will be considered low-priority unless you can give us an exclusive angle.
For obvious reasons, we don't do solicited album reviews, though we do appreciate you letting us know when you have a new release. Consider coming in and talking about the album yourself live on the air or a podcast.
All of our staff writers are unpaid enthusiasts. All requests for blog posts are entirely at their descretion.
As such, they generally need a lot of lead-time to put something out -- we're talking weeks of lead time, not hours.
That said, individual authors have full authority to ignore the following guidelines and write whatever they want ... if you can convince them to.
In addition, feel free to write your own post and submit it for posting as a "guest blogger." Those almost always get accepted.
Finally, regional or national acts submitting without meeting the above guidelines are generally ignored. We're not trying to be dicks, but if you send us a generic form-letter with your press release, and it doesn't even remotely concern a local artist or event, then you're not part of our core focus.