M.O.R. Episode 3 -- Michael Dryburgh
By: Ben Cannon, Bram Epstein, and Darrin Snider
Sunday, June 6, 2021
---
M.O.R. Episode 2 -- Ian Thomson
By: Ben Cannon, Bram Epstein, and Darrin Snider
Sunday, May 23, 2021
---
M.O.R. Episode 1 -- Mark Kelly
By: Ben Cannon, Bram Epstein, and Darrin Snider
Sunday, May 16, 2021
---
An In-Snide Look: I Think I Could Get Used to this Life Sometimes
By: Darrin Snider
Sunday, June 7, 2020
---
Getting Down to Earth with mOOnMen
By: Amy Foxworthy
Sunday, February 16, 2020
---
The Musical Journey of Jethro Easyfields
By: Amy Foxworthy
Tuesday, February 11, 2020
---
Monday Mixtape: Etwasprog
By: Darrin Snider
Monday, February 10, 2020
---
Monday Mixtape: Excerpts from the Summer of 2014
By: Darrin Snider
Monday, January 20, 2020
---
Mix Tape Monday: Mashin' it Up
By: Darrin Snider
Monday, January 13, 2020
---
Mix Tape Monday: Back to the Gym Workout
By: Darrin Snider
Monday, January 6, 2020
Three Negative Behaviors That Are Killing Local Music
By: Lizzy B (lizzyb at indyintune dot com)
Thursday, January 3, 2019 7:00:00 PM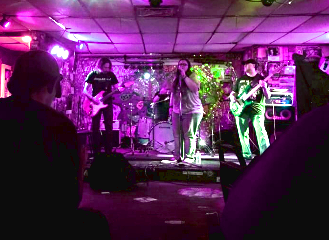 I've been writing about Indianapolis music for, let's just say, a few years now. I've been a fan and attendee of local shows for even longer. During this time I've seen the scene go through more highs and lows than a bi-polar teenager on Facebook who just broke up with her boyfriend. I know first-hand about both the Razz Ma Tazz and Club Lynhurst. I've leaned against the monitors at shows by both Push Down and Turn and Victor Puppybone. Many people are decrying the present day as the lowest point and final death knell for local music. Who can blame them, really? Venues have closed, record stores have vanished, and audiences continue to dwindle year after year. Bands don't seem to be quite as special as they once were ... kinda like Mumford and Sons. Is this the inevitable end of the independent artist, or is this all just the inevitable consequence of basic attitudes and habits that we should be adjusting? This week we'll examine three toxic behaviors that are hurting the local music scene. (In reality, I had "Ten Commandments," but #7 involved making long-winded, self-righteous tirades when brevity and bullet points would have been more-effective and held people's attention longer, so I rethought that plan.)
3. Ignoring the Positive of the Present as You Cling to a Mythical "Golden Age" of the Past
You can't start a discussion about the current state of Indianapolis' music scene without first drawing attention to the ongoing miserere nobis of local music veterans and long-time fans – I'll shorthand this and call them "old farts" just to save on word count. Much like your grandparents grousing about how the Great Depression and subsequent global world war were, "Oh, so much better than the way things are now," attempt to discuss local music with anyone over the age of 35 and you will get the lecture about how much better The Patio, Bentley's Live, Piccadilly, and Locals Only were than whatever venue you're currently standing in. While I could go on for days about the psychological drive that forces people to marginalize the present in favour of the past, let's just say this has more to do with their feeling like a middle-aged gelding ready to run home and relieve the baby sitter at 10:30, when (back in those days) 10:30 meant they were just getting ready to leave the house and hit the stud farm. The truth of the matter is, the Patio had possibly the shittiest, ears-bleeding sound and miserably obstructed view of any venue since; prison showers probably had less groping and sexual harassment than Piccadilly; Bentley's Live was hotter than balls and smelled like them too; and Local's Only was less a hotspot than it was a classified CIA safehouse where you go an hide when you want to get away from it all. We can only assume it's closed. Nobody knows where it was, so nobody can go fact check me and see if it's still there. Margo didn't lie. The "Golden Age of Indianapolis Music" consisted mostly of Broad Ripple's endless supply of boring cover bands and a few "more trendy" venues spread out in neighborhoods where you would normally go to bury a body or assemble your meth lab. All-in-all, aside from a complete lack of parking in Fountain Square and Mass Ave (look for my hard-hitting espouse on the secret conspiracy to between the City, ParkMobile, and Satan to take possession of my money and my car in a few weeks), the location and quality of Indy music venues today are infinitely better than they used to be. Okay, we could definitely use a few more, but we'll address that later on.
2. Downplaying Regional and Touring Acts
There's probably only one thing harder than drumming up enthusiasm for your band in your hometown, and that's drumming up enthusiasm for your local band in someone else's town. At least when you play locally, you presumably have friends and family that might show up, right? Being on the road is at best lonely; at worst, a terrifying mission behind enemy lines. Still, a regular rotation of regional and touring acts are vital to a thriving music scene. Not only do the smart ones rely on local talent as openers and closers in order to drum up some fan support for their show, but when they return home after what is hopefully a successful and happy gig, they also serve as springboards for getting Indianapolis acts into out-of-town markets. In reality, most bands come through town and play to a venue's disinterested residual crowd and a handful of "in-the-know" fans of theirs and return to their hometown with a very disgruntled opinion of Indianapolis and its support of independent music. Meanwhile, Indianapolis is fixated on complaining about how the next tier of bands refers to our fair city as "a nice place to get a burrito and take a dump when you're driving from Chicago to Cincinnati." I submit that, instead of complaining that local venues and media outlets show a preference for booking regional bands and spend more money promoting regional bands at the expense of local bands, you should be attending as many of these shows as possible and showing these bands a great time. If you're a local artist, you should preferably be carrying a couple of demos and large faction of your fanbase in tow, in order to show these regional acts what kind of following you have and why they should be sharing bills with you both here in Indy and back in their home town. Even if you don't get the gig, at the very least, they might spread the word about you to their friends in other bands who they think might be a better fit. Really, exposure to someone who can take your music out of town in any form can't hurt, and it does wonders for their perception of our city and our scene ... unless you're a jerk to them or something.
Speaking of being a jerk …
1. Publicly Airing Your Band Drama
Ah, yes, now we come to the big one. How many times have you seen this: Band has unsuccessful gig. Band goes on Facebook and bitches about tone-deaf sound man, lack of proper promotion by venue, negative (or non-existent) review by local indie press outlet, poor attitude of band member who just quit/got fired, or the general uncaring nature of the average citizen of Indianapolis towards their music (they'll say "local music," but they really mean "my music"). Maybe you have a legitimate gripe. Maybe you're right and nothing is ever your fault. On the other hand, maybe the reason you're not as famous as you want to be is that your band just isn't that good, or interesting, yet. Sure, you like the tons of thumbs-up and comments you get when you air this dirty laundry out on social media. You probably feel empowered. "I'm a MAN! I just got six bands and 150 people to stop going to Venue X!" Self-gratification can be addictive, and yes, this has worked in the past as a means to cause venues to lose significant business and eventually close. Sometimes this is a good thing. Sometimes it's just petty. The result now is we have far fewer venues and far fewer people interested in opening a venue. Incorrect behaviors are easily corrected, incorrect perceptions due to slander rarely are. Case in point, those worst offenders of "public band drama" eventually suffer the same fate, as other venues avoid doing business with them out of fear of a similar fate, and local press now blantantly shuns them for fear of encouraging this behavior from others. In fact, I know of at least three venue owners who won't even consider having live music at all specifically citing the unprofessional behavior and general hostility of the local musicians they've talked to. Apparently, neither a TouchTunes jukebox nor DJ Laptop has a general habit of complaining on Facebook when the venue owner doesn't shell out a couple hundred bucks to buy them a crowd. So in this case, I guess we get what we deserve.
Is this it? Is this the end? Am I really going to end this on a bitchy downer note? Fear not. Under the Pavlovian premise that it is easier to enforce positive behavior than it is to punish negative behavior, next time I will present a number of little things we can all do to help boost and revive the local music scene. Stay tuned.
---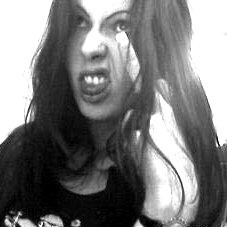 Lizzy B is a New Yorker lost in Indianapolis. She holds a degree in Broadcast Journalism and has worked as a TV news reporter, PR/Marketing rep, and freelance (PAPER?!) magazine writer. She enjoys a strong rum and coke and good metal band to spit it on.
Blog comments powered by

Disqus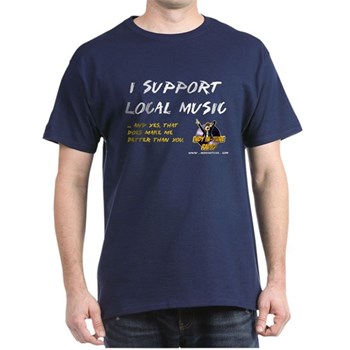 Back by popular demand for a limited time only, "I support local music ... and yes, that does make me better than you." Show the world that you, too, are a proud elitist music snob! Get yours before time runs out...
Solicitations and Submissions
Solicitations for blog posts can be made by sending and email to "blog -at- indyintune -dot- com" and should follow these guidelines:
Local (Indianapolis-based) acts always have priority.
Visisting acts playing a bill with one or more local acts are also considered.
We generally don't like to repeat content found on other sites. If your request already has a lot of coverage on other sites, it will be considered low-priority unless you can give us an exclusive angle.
For obvious reasons, we don't do solicited album reviews, though we do appreciate you letting us know when you have a new release. Consider coming in and talking about the album yourself live on the air or a podcast.
All of our staff writers are unpaid enthusiasts. All requests for blog posts are entirely at their descretion.
As such, they generally need a lot of lead-time to put something out -- we're talking weeks of lead time, not hours.
That said, individual authors have full authority to ignore the following guidelines and write whatever they want ... if you can convince them to.
In addition, feel free to write your own post and submit it for posting as a "guest blogger." Those almost always get accepted.
Finally, regional or national acts submitting without meeting the above guidelines are generally ignored. We're not trying to be dicks, but if you send us a generic form-letter with your press release, and it doesn't even remotely concern a local artist or event, then you're not part of our core focus.