An In-Snide Look: I Think I Could Get Used to this Life Sometimes
By: Darrin Snider
Sunday, June 7, 2020
---
Getting Down to Earth with mOOnMen
By: Amy Foxworthy
Sunday, February 16, 2020
---
The Musical Journey of Jethro Easyfields
By: Amy Foxworthy
Tuesday, February 11, 2020
---
Monday Mixtape: Etwasprog
By: Darrin Snider
Monday, February 10, 2020
---
Monday Mixtape: Excerpts from the Summer of 2014
By: Darrin Snider
Monday, January 20, 2020
---
Mix Tape Monday: Mashin' it Up
By: Darrin Snider
Monday, January 13, 2020
---
Mix Tape Monday: Back to the Gym Workout
By: Darrin Snider
Monday, January 6, 2020
---
Top Ten Most Annoying Types of Music Fans
By: Darrin Snider
Saturday, January 4, 2020
---
Album Review: Sietch Ramshackle "U.R.//Nctrl"
By: Amy Foxworthy
Saturday, December 28, 2019
---
Mix Tape Monday: Darrin's Favorite Discoveries of 2019
By: Darrin Snider
Monday, December 16, 2019
Show #037: The Night Owls
By: Darrin Snider (darrin at indyintune dot com)
Wednesday, May 6, 2009 8:00:00 PM

This week's show marks a new tact in creating podcasts for me ... and you know I love to change things up. When Ben Bledsoe (ex Memory Thief) contacted me and offered to meet me up at "Studio C" for an interview, I took a quick listen to his stuff, decided he knew what he was doing and wasn't just some crank, then immediately took him up on his offer. As such, this show is about as off-the-cuff and live as you can get. In fact, you will hear that I am listening to the tracks for the first time as the show is being recorded. This method is a bit more nerve-wracking going in, but on the other hand, editing afterwards is extremely easy -- and I hate the editing process, as you probably know.

Ben Bledsoe is a prolific songwriter who joins a list of distinguished front men who are attempting to break from the "rock band format" and break into a new, somewhat softer, format that showcases lyrics and songwriting of a small trio over the flash and brute force of a larger group. With the strength and diversity he shows in the four tracks he's shared on this episode, we have no doubt he'll quickly find success and a following for his music.


Links referenced in the show:
The Night Owls are so new that they do not yet have a MySpace page or web site.
The tracks heard this show were recorded at Alex Kercheval's Scientia Studios in Noblesville.
Jim Kinckaid (Sons of Fire, ex Wisebloods) also joins us briefly. You can hear his music on his own MySpace page.
Currently, the Night Owls' only gig is June 2 at Barley Island in Noblesville, at which their first CD, and T-Shirts, will be made available.
To book the Night Owls, you may call manager Heather Bauer at 317-850-0660.
Alex Kercheval (ex Memory Thief) recently finished work on a movie called Something Missie in the Life of Jordan Bank.
Congratulations to Tim in Whiteland who won the Shelby Kelly CD contest, and Sarah in Brownsburg who won our April Prize Pack. You to can be a winner simply by creating a profile and entering at http://indyintune.com/contests.
---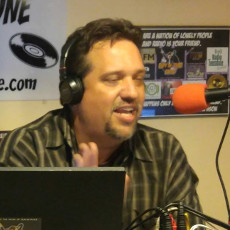 Darrin Snider is the OCD music nerd responsible for creating Indy In-Tune. By day he's a cloud engineer and business analyst, but he still hopes to someday be an overnight freeform disc jockey married to the local weathergirl who happens to be a former eastern-European supermodel.
Blog comments powered by

Disqus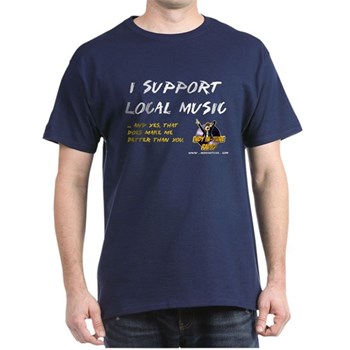 Back by popular demand for a limited time only, "I support local music ... and yes, that does make me better than you." Show the world that you, too, are a proud elitist music snob! Get yours before time runs out...
Solicitations and Submissions
Solicitations for blog posts can be made by sending and email to "blog -at- indyintune -dot- com" and should follow these guidelines:
Local (Indianapolis-based) acts always have priority.
Visisting acts playing a bill with one or more local acts are also considered.
We generally don't like to repeat content found on other sites. If your request already has a lot of coverage on other sites, it will be considered low-priority unless you can give us an exclusive angle.
For obvious reasons, we don't do solicited album reviews, though we do appreciate you letting us know when you have a new release. Consider coming in and talking about the album yourself live on the air or a podcast.
All of our staff writers are unpaid enthusiasts. All requests for blog posts are entirely at their descretion.
As such, they generally need a lot of lead-time to put something out -- we're talking weeks of lead time, not hours.
That said, individual authors have full authority to ignore the following guidelines and write whatever they want ... if you can convince them to.
In addition, feel free to write your own post and submit it for posting as a "guest blogger." Those almost always get accepted.
Finally, regional or national acts submitting without meeting the above guidelines are generally ignored. We're not trying to be dicks, but if you send us a generic form-letter with your press release, and it doesn't even remotely concern a local artist or event, then you're not part of our core focus.