An In-Snide Look: I Think I Could Get Used to this Life Sometimes
By: Darrin Snider
Sunday, June 7, 2020
---
Getting Down to Earth with mOOnMen
By: Amy Foxworthy
Sunday, February 16, 2020
---
The Musical Journey of Jethro Easyfields
By: Amy Foxworthy
Tuesday, February 11, 2020
---
Monday Mixtape: Etwasprog
By: Darrin Snider
Monday, February 10, 2020
---
Monday Mixtape: Excerpts from the Summer of 2014
By: Darrin Snider
Monday, January 20, 2020
---
Mix Tape Monday: Mashin' it Up
By: Darrin Snider
Monday, January 13, 2020
---
Mix Tape Monday: Back to the Gym Workout
By: Darrin Snider
Monday, January 6, 2020
---
Top Ten Most Annoying Types of Music Fans
By: Darrin Snider
Saturday, January 4, 2020
---
Album Review: Sietch Ramshackle "U.R.//Nctrl"
By: Amy Foxworthy
Saturday, December 28, 2019
---
Mix Tape Monday: Darrin's Favorite Discoveries of 2019
By: Darrin Snider
Monday, December 16, 2019
Show #065: Bashiri Asad
By: Darrin Snider (darrin at indyintune dot com)
Sunday, November 15, 2009 7:00:00 PM

Obviously, the main goal of what we do here is to expose artists (particularly up-and-coming ones) to a broader audience. Secondary to that, however, is the idea of introducing audiences to styles of music that they may not be overly familiar with. Granted the majority of our guests are rock bands or singer/songwriters -- just by the nature of their prominence around the city -- but, once in a while, we get the chance to diverge into the realms of jazz, R&B, and in the case of this week's guest, soul. Now, of course we're all familiar with at least the core of soul music, however I was shocked to find, when doing a bit of research of the interview, there are no less than a dozen different varieties of soul music. The more modern forms, particularly those that incorporate contemporary influences like hip hop, are not something I was familiar with all. I've mentioned several times before, as a middle-aged white suburban male, I don't listen to much hip hop, beyond the mainstream stuff, since much of it doesn't speak to me personally. I suspect many of you out there are in a similar position. I think we all, however, have a great respect for "good music" played by "great players," and there are obviously many examples of the genre that I do appreciate, particularly those that address universal themes and emotions -- the way Bashiri Asad's does.

Like most forms of music, soul has absorbed elements of many different styles over the decades: funk, jazz, and most recently hip hop. Bashiri skillfully embraces all of these influences, occasionally mixing them; other times keeping them separated. The core of his music, and the element that really helped me to identify with him, however, was what he offhandedly termed, "music that is pleasing to the soul." Sure, I enjoy rocking out with a good metal band, or quietly studying a jazz or classical piece, but there was something very fulfilling about just kicking back with a couple glasses of wine that night and just letting Bashiri's voice (and the work of some of Indy's finest players) wash over me. I suggest all of you get out and experience this as well.

Links referenced in the show:
Bashiri Asad can be found here: MySpace | Facebook | Reverb Nation | Twitter.
His "Heart Spoken" project (where all of tonight's tracks are taken) was produced by Pariah da Poetic who also acts as MC on the album. It was recorded at Pariah's Under Par Productions in Lawrence, Indiana, and is available for download via Soundclick.
They are joined by background vocalist Candice Boyd.
His band, Xenobia Green, has an EP coming out soon and combines musicians from many fine local bands.

Bass player Brandon Meeks is also known for fronting his own jazz quartet.
Drummer Richard "Sleepy" Floyd, plays with many great artists around town. Most significantly to listeners of Indy In-Tune, he is the drummer for former guests Finer (Show #039).
Guitarist Pancho Benton has played with many of the great artists from Owl Studios (among others).
Chicago-born keyboardist Angelo Bridges is known throughout the gospel, R&B, and jazz circles in Indy.
Reggie Bishop is one of the great treasures in Indianapolis' jazz, hip hop, R&B, and electronica circles, where he is a sought-after producer and keyboard player. He occasionally sits in with Xenobia Green, including the night this interview was recorded.

Bashiri counts the River Bend Winery in Lousivlle, KY as his favorite venue to play thus far.
Bashiri has also worked with Allen Imagery and Fighting Words Poetry (Web Site | MySpace), who (among other places) can be found regularly at Midtown Arts and Coffee at 38th and Central.
He is also worked on a musical called "The Birth of Soul" with Joyce Licorish.
He got his start with New Day Entertainment Group at the Therapy Night Club on Market Street.
Tonight's promo is for the "Chillin' With LoveSprials" podcast, which gives you an interesting behind-the-scenes look at the life of an independent artist.
This interview was recorded live at Urban Element, hence the ambiance of sirens, passersby, cars, and wind.
Don't forget to be gearing up for the Podcast Battle of the Bands.
---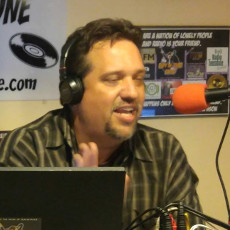 Darrin Snider is the OCD music nerd responsible for creating Indy In-Tune. By day he's a cloud engineer and business analyst, but he still hopes to someday be an overnight freeform disc jockey married to the local weathergirl who happens to be a former eastern-European supermodel.
Blog comments powered by

Disqus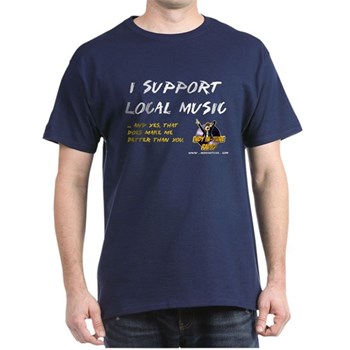 Back by popular demand for a limited time only, "I support local music ... and yes, that does make me better than you." Show the world that you, too, are a proud elitist music snob! Get yours before time runs out...
Solicitations and Submissions
Solicitations for blog posts can be made by sending and email to "blog -at- indyintune -dot- com" and should follow these guidelines:
Local (Indianapolis-based) acts always have priority.
Visisting acts playing a bill with one or more local acts are also considered.
We generally don't like to repeat content found on other sites. If your request already has a lot of coverage on other sites, it will be considered low-priority unless you can give us an exclusive angle.
For obvious reasons, we don't do solicited album reviews, though we do appreciate you letting us know when you have a new release. Consider coming in and talking about the album yourself live on the air or a podcast.
All of our staff writers are unpaid enthusiasts. All requests for blog posts are entirely at their descretion.
As such, they generally need a lot of lead-time to put something out -- we're talking weeks of lead time, not hours.
That said, individual authors have full authority to ignore the following guidelines and write whatever they want ... if you can convince them to.
In addition, feel free to write your own post and submit it for posting as a "guest blogger." Those almost always get accepted.
Finally, regional or national acts submitting without meeting the above guidelines are generally ignored. We're not trying to be dicks, but if you send us a generic form-letter with your press release, and it doesn't even remotely concern a local artist or event, then you're not part of our core focus.