M.O.R. Episode 3 -- Michael Dryburgh
By: Ben Cannon, Bram Epstein, and Darrin Snider
Sunday, June 6, 2021
---
M.O.R. Episode 2 -- Ian Thomson
By: Ben Cannon, Bram Epstein, and Darrin Snider
Sunday, May 23, 2021
---
M.O.R. Episode 1 -- Mark Kelly
By: Ben Cannon, Bram Epstein, and Darrin Snider
Sunday, May 16, 2021
---
An In-Snide Look: I Think I Could Get Used to this Life Sometimes
By: Darrin Snider
Sunday, June 7, 2020
---
Getting Down to Earth with mOOnMen
By: Amy Foxworthy
Sunday, February 16, 2020
---
The Musical Journey of Jethro Easyfields
By: Amy Foxworthy
Tuesday, February 11, 2020
---
Monday Mixtape: Etwasprog
By: Darrin Snider
Monday, February 10, 2020
---
Monday Mixtape: Excerpts from the Summer of 2014
By: Darrin Snider
Monday, January 20, 2020
---
Mix Tape Monday: Mashin' it Up
By: Darrin Snider
Monday, January 13, 2020
---
Mix Tape Monday: Back to the Gym Workout
By: Darrin Snider
Monday, January 6, 2020
Rock and Roll Lives, And It's Sleeping with Verona Red
By: Tracy Kreuser (tracy at groundwm dot com)
Monday, October 4, 2010 12:00:00 AM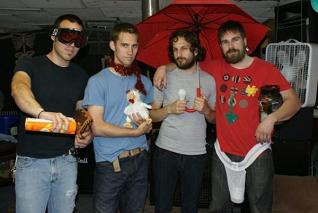 Chicago's most exciting rock group, Verona Red, is playing Bear's Place in Bloomington on Friday, October 8. Joining them on-stage will be local rockers Casket Sharp, The Constants and The 8's.
As part of Chicago's music scene for more than three years, Verona Red is dually recognized for their refreshing sound and contagious live energy. Filled with bass-drum climbing, floor grinding, instrument swapping and insults to your mother, their live performance always receive praise from venues, bands, and drunkards alike. Verona Red's unique blend of blues, dance and sexually-thunderous sing-alongs provides the perfect soundtrack to drinking, dancing and making questionable life decisions.
Verona Red's music has been recognized by the nationally celebrated blog Consequence of Sound, Chicago Deli Magazine, Chicago Innerview, the Chicago RedEye, XRT radio, Indianapolis' ZapTown Magazine, and Chicago's AV Club. I included some press quotes below for your reference, and also a link to the band's EPK on other websites.
WHERE: Bear's Place, 1316 E 3rd St
WHEN: Friday, October 8. Doors at 9:30.
COST: $5
WHO:
The 8's (http://www.myspace.com/the8smusic) 10-10:30
The Constants (http://www.myspace.com/theconstantsindy) 10:45-11:15
Verona Red (http://www.myspace.com/veronared) 11:30-12
Casket Sharp (http://www.myspace.com/casketsharp) 12:12-30

SHOW: 21+
You can read more about Verona Red at:
Website @ http://www.veronared.com
MySpace @ http://www.myspace.com/veronared
Press Kit @ http://veronaredblog.blogspot.com/p/epk.html
Twitter @ http://www.twitter.com/veronared
Bandcamp @ http://veronared.bandcamp.com/
Verona Red Reviews
"You don't expect a totally familiar vibe from a band you've never heard before, but there it was. With warm guitar, a well-pounded tambourine, and bongo drums laid over the full percussion, Verona Red played a set that I felt a high-school-music affection for. Lead singer Chris Balzer danced in a way that made his music seem as if it came up from the shoes of his soul. Anyone who hasn't seen this local Chicago band is missing out." –Consequence of Sound, Live Review, May 2010
"When it comes to bands kicking ass, only the truth comes out, and Verona Red is the best Chicago band you must hear, Faithful Reader, hands down… Their sense of humor couldn't be mistaken, and for the first time in a while, it was a breath of fresh air to see a band so jolly and happy, ego-free and friendly, but who could also play some fantastic music." –Consequence of Sound, Live Review, January 2010
Verona Red creates a "dark, yet uplifting, bluesy sound that is both nostalgic and cutting-edge. Expect to witness a grossly satisfying night of live music that's sure to be high in energy, talent, and pure entertainment." –ZapTown Magazine
"Their live shows are energetic, fun and exciting. Anything to loosen up the crowd seems to be well within bounds, although their main objective is clearly to get you to dance." -Chicago Innerview
"It's rare to get actual twists and turns in indie rock these days (other than the contrived pre-determined ones of twisty turny-core bands), so hearing this band shift gears between hard, slinky, bouncy, ominous, rootsy, and points in between is refreshing." -Roctober Magazine
---
Blog comments powered by

Disqus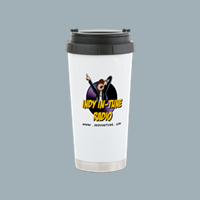 As seen on the webcam. Are you one of those people who can't survive without copious amounts of coffee in the morning? You definitely need one of our stainless steel travel mugs. Give your caffeine the gift of style...
Solicitations and Submissions
Solicitations for blog posts can be made by sending and email to "blog -at- indyintune -dot- com" and should follow these guidelines:
Local (Indianapolis-based) acts always have priority.
Visisting acts playing a bill with one or more local acts are also considered.
We generally don't like to repeat content found on other sites. If your request already has a lot of coverage on other sites, it will be considered low-priority unless you can give us an exclusive angle.
For obvious reasons, we don't do solicited album reviews, though we do appreciate you letting us know when you have a new release. Consider coming in and talking about the album yourself live on the air or a podcast.
All of our staff writers are unpaid enthusiasts. All requests for blog posts are entirely at their descretion.
As such, they generally need a lot of lead-time to put something out -- we're talking weeks of lead time, not hours.
That said, individual authors have full authority to ignore the following guidelines and write whatever they want ... if you can convince them to.
In addition, feel free to write your own post and submit it for posting as a "guest blogger." Those almost always get accepted.
Finally, regional or national acts submitting without meeting the above guidelines are generally ignored. We're not trying to be dicks, but if you send us a generic form-letter with your press release, and it doesn't even remotely concern a local artist or event, then you're not part of our core focus.