M.O.R. Episode 3 -- Michael Dryburgh
By: Ben Cannon, Bram Epstein, and Darrin Snider
Sunday, June 6, 2021
---
M.O.R. Episode 2 -- Ian Thomson
By: Ben Cannon, Bram Epstein, and Darrin Snider
Sunday, May 23, 2021
---
M.O.R. Episode 1 -- Mark Kelly
By: Ben Cannon, Bram Epstein, and Darrin Snider
Sunday, May 16, 2021
---
An In-Snide Look: I Think I Could Get Used to this Life Sometimes
By: Darrin Snider
Sunday, June 7, 2020
---
Getting Down to Earth with mOOnMen
By: Amy Foxworthy
Sunday, February 16, 2020
---
The Musical Journey of Jethro Easyfields
By: Amy Foxworthy
Tuesday, February 11, 2020
---
Monday Mixtape: Etwasprog
By: Darrin Snider
Monday, February 10, 2020
---
Monday Mixtape: Excerpts from the Summer of 2014
By: Darrin Snider
Monday, January 20, 2020
---
Mix Tape Monday: Mashin' it Up
By: Darrin Snider
Monday, January 13, 2020
---
Mix Tape Monday: Back to the Gym Workout
By: Darrin Snider
Monday, January 6, 2020
An Even Bigger Show
By: Darrin Snider (darrin at indyintune dot com)
Tuesday, April 9, 2013 6:00:00 AM

A little history was made this week. Most of you probably didn't even know about it; others of you probably followed my posts a bit befuddled; the coolest of you joined me in rooting it on. I just figured, since I'm due for a blog post anyway, I might as well recap the week for you. Monday morning I got a Tweet from one of my favorite radio shows asking me to support the "Even Bigger Show" in their attempt to break the world record and stay on the air for 80 consecutive hours. Now, before you ask why a terrestrial radio station needs promotional help from a streaming Internet radio station, I should probably add that the radio station in question is located in Doncaster, England. Before you ask why I would have even put myself on the radar of a local radio station in a foreign country, I should probably add that the show is called "Dave Brock Buttered My Cat." (Light bulb.) The 5% of you who know who Dave Brock is are with me now; the rest of you are rolling your eyes and just assuming the music nerd side of my brain has found kindred spirits on the other side of the globe. Meanwhile, the rest of the world is bemoaning a major economic power where 95% of the population goes deer-in-the-headlights at a good sci-fi-based prog rock reference. Anyway, challenge in hand, I passed the word on like a good trooper and, just for grins, tuned in to Mark Kelly and Simon Saynor once I sat down at my desk. By lunch time, I was completely inspired.
By way of history, I discovered radio as a kid living in various small college towns back in the 70's. This was a magic era for radio. AM was waning, but still pretty popular. FM was still finding its legs, and thus largely experimental. Most importantly, and probably the most difficult part for anyone under the age of 30 to understand, the Feds had not yet deregulated ownership of radio stations, so the "Great Satans" like Clearchannel and Infinity with their mantras of "less talk; more commercials" did not exist. It was an amazing time when every radio station was different, and they were all competing for your ear. This was the era when it was all about crazy personalities called (finger quotes) "disk jockeys" doing crazy publicity stunts to get the town talking about them and tuning in to their station to see what was going to happen next. I know this is a foreign concept to you youngsters who have only known three types of pre-formatted radio stations and radio personalities who are spit out of machines in four prepackaged, completely predictable, flavors. Mark and Simon, however, were spontaneous, genuine, and knew their shit when it came to music ... of any genre (any they played just about all of them). I spent the afternoon feeling like I was nine years old again.
For three and a half days I wandered around with my earbuds in, refusing to go anywhere where I couldn't be close to an electrical outlet for recharging or free WiFi to keep the battery from draining too quickly. People were getting annoyed with having only half my attention ... especially my bosses. Sheesh, come on, radio history is being made here -- either that or one of these dudes is going to snap and strangle the other live on the air. Either way, I ain't missin' any of it. Meanwhile the guys were giving sporadic shout outs to everyone who was texting, Tweeting, or Facebooking in. I got a chuckle every time I heard the name of an Indianapolis musician in the middle of the mix. (Converts!) At one point, after a shout out from Jack Barkley, they apparently went out to YouTube and played a track from Whoa!Tiger, unsolicited, on the air. I mean, seriously, did you ever hear that happen here? Okay, maybe during the "specially designated" time every week when the corporate overlords allow their little trained minions to have a "local hour" ... which is really 36 minutes after commercials.
By the last night, you could tell 65 hours of sleeplessness was taking its toll. Fortunately, what was 2AM over there was barely the start of the weekly open mic over here. Once now "International Superstar Jack Barkley" and I got the gang caught up as to what was going on, we pulled the SineFM webcam up on an iPad and spent the evening passing it around the bar, taking pictures of it, and Tweeting them across the pone one every few songs -- just so good ol' Mark and Simon knew people actually were awake and rooting for them. We even videoed a song-dedication and posted it to Facebook for the guys, though that got butchered and finally showed up three hours later with the sound out of synch. We did get a little sporadic banter going, but obviously the guys were kinda busy over there, and 140 characters is hardly a conversation medium. In the end, we cleared up a few misconceptions about things, like "cockles" versus "clams." For example: in landlocked Indiana, clams are for sauces, chowder, or deep frying. Over there, clams are ubiquitous snacks that apparently get pickled, served with vinegar, or made into ice cream.
In the end, they guys reclaimed their world record after 80 sleepless hours on the air. My faith was restored that there were still real personalities on the airwaves that can unite a community, fire the imagination, and inspire some of us to try to out-crazy them. Best of all, and it may sound corny, I loved that a group of people got pulled into a shared experience that was focused around music and radio. That's the kind of thing that, in my humble opinion, made the medium great back in its heyday, has been largely forgotten by corporate radio today, and is a completely foreign concept to a younger audience who seek out perfect playlists, computerized music recommendations, and the isolation of earbuds. To them I say, "Shut down the Pandora and do a little exploring on Tunein. Let a human introduce you to new music for a change." I know I'll never go back.
Hats off to Mark and Simon! Thanks for the ride!
---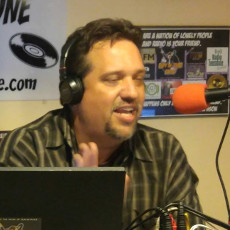 Darrin Snider is the OCD music nerd responsible for creating Indy In-Tune. By day he's a cloud engineer and business analyst, but he still hopes to someday be an overnight freeform disc jockey married to the local weathergirl who happens to be a former eastern-European supermodel.
Blog comments powered by

Disqus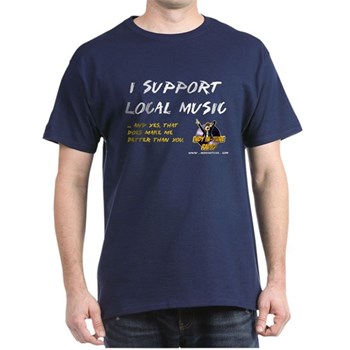 Back by popular demand for a limited time only, "I support local music ... and yes, that does make me better than you." Show the world that you, too, are a proud elitist music snob! Get yours before time runs out...
Solicitations and Submissions
Solicitations for blog posts can be made by sending and email to "blog -at- indyintune -dot- com" and should follow these guidelines:
Local (Indianapolis-based) acts always have priority.
Visisting acts playing a bill with one or more local acts are also considered.
We generally don't like to repeat content found on other sites. If your request already has a lot of coverage on other sites, it will be considered low-priority unless you can give us an exclusive angle.
For obvious reasons, we don't do solicited album reviews, though we do appreciate you letting us know when you have a new release. Consider coming in and talking about the album yourself live on the air or a podcast.
All of our staff writers are unpaid enthusiasts. All requests for blog posts are entirely at their descretion.
As such, they generally need a lot of lead-time to put something out -- we're talking weeks of lead time, not hours.
That said, individual authors have full authority to ignore the following guidelines and write whatever they want ... if you can convince them to.
In addition, feel free to write your own post and submit it for posting as a "guest blogger." Those almost always get accepted.
Finally, regional or national acts submitting without meeting the above guidelines are generally ignored. We're not trying to be dicks, but if you send us a generic form-letter with your press release, and it doesn't even remotely concern a local artist or event, then you're not part of our core focus.