M.O.R. Episode 3 -- Michael Dryburgh
By: Ben Cannon, Bram Epstein, and Darrin Snider
Sunday, June 6, 2021
---
M.O.R. Episode 2 -- Ian Thomson
By: Ben Cannon, Bram Epstein, and Darrin Snider
Sunday, May 23, 2021
---
M.O.R. Episode 1 -- Mark Kelly
By: Ben Cannon, Bram Epstein, and Darrin Snider
Sunday, May 16, 2021
---
An In-Snide Look: I Think I Could Get Used to this Life Sometimes
By: Darrin Snider
Sunday, June 7, 2020
---
Getting Down to Earth with mOOnMen
By: Amy Foxworthy
Sunday, February 16, 2020
---
The Musical Journey of Jethro Easyfields
By: Amy Foxworthy
Tuesday, February 11, 2020
---
Monday Mixtape: Etwasprog
By: Darrin Snider
Monday, February 10, 2020
---
Monday Mixtape: Excerpts from the Summer of 2014
By: Darrin Snider
Monday, January 20, 2020
---
Mix Tape Monday: Mashin' it Up
By: Darrin Snider
Monday, January 13, 2020
---
Mix Tape Monday: Back to the Gym Workout
By: Darrin Snider
Monday, January 6, 2020
Local Depends Largely on Where You're Coming From
By: Darrin Snider (darrin at indyintune dot com)
Tuesday, July 2, 2013 7:00:00 PM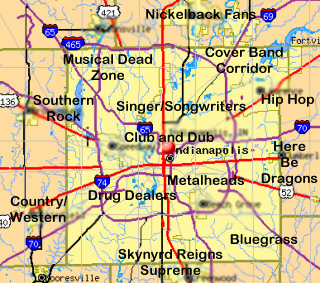 I'm not one for whiny, preachy, or even overly-serious blog posts. Self-indulgent, yes, but I generally try to shy away from negativity (except in a few well-deserved cases, and almost always when I'm defending my opinion against someone who I fully believe is completely stupid ... er wrong ... in theirs). I read far too much crap designed to stir up readership through controversy to participate in such childish poo-flinging. That said, it's been an interesting morning of seemingly unrelated reads and events that somehow, while woofing down a tasty burrito at lunch, I suddenly realized were complete related … and then I decided to rant on it … in a constructive way.
First was a conversation I had with member of a band that I admire and enjoy, and whom I have been dying to get on the podcast for over a year now since they became one of the first bands to graciously donate their music to the cause that is Indy In-Tune Radio. I mentioned that I was very excited about the possibility, but obviously we are getting ready to enter into a four-month commitment as a sponsor of the Battle of Birdy's that is going to keep me extremely busy with those fifty or 60 bands. When asked if they might be interested in signing up for the battle, they politely replied that because it had been on a bit of a decline in recent years, they were steering clear of joining. Obviously, I can understand this sentiment, and their reasoning. Though I don't believe we've met in person, our mutual friends have nothing but nice things to say about this person, so by proxy I respect his opinion – and should he be reading this tirade, I hope he doesn't take it as an attack on or criticism of his position, when merely this is my way of elucidating my own in something more than the 140 character format I was confined to at the time.
Second was an article this morning in the Chicago Tribune wherein they laude themselves (go figure) for greatly expanding their broadcast empire by buying up operational rights to a large number of local television stations. Now, the amateur day-trader in me says, yes, this is a smart business move. It made ClearChannel a great deal of money and completely changed the way radio stations all over the country operate, after all. Sure, it means that local TV stations will soon be watered-down least-common-denominator commodities that are stamped and mass-produced to be exactly what Tribune thinks we want from a TV station -- instead of entities with personality, individuality, and a genuine stake in the concept of "local." It is, however, a sound business move that will no doubt keep the dying Tribune rolling long for another five or six years at least.
It certainly seems at times that local is dying. One need only pull off I-74 in Brownsburg, I-65 in Greenwood, I-465 in Castleton, or I-69 in Noblesville and see how once distinct neighborhoods are now carbon copies of sim-city-esque templates with the same franchise restaurants, architecture, billboards, filling stations, etc. Wal-Mart has long ago replaced the corner dime-store. Barnes and Noble and Best Buy have killed off mom-and-pop specialty book and record stores. Broad Ripple is now anchored by Starbucks and Firehouse Subs where local institutions like Broad Ripple Deli and Paco's Cantina reigned uncontested. Our radio stations feature pre-canned into four convenient flavors and playing the exact same playlist as their clones in every other major market in the country; our local TV channels feature less than 10% "local programming;" and this week we mourn the passing of Sammy Terry -- one of the last of a breed of local broadcasting icons that has never been, and likely never will be, replicated. (Seriously, when was the last time you stood in line to get a local TV star's autograph?) Each year, there is less and less to distinguish Indianapolis from St. Louis, or Cleveland, or Louisville. It's all gone bland.
In many ways, our attitudes are exacerbating the problem. I can think of very few people who actually want to see local businesses fail or for Wal-Mart reign supreme -- which is good. Yet, still, I see huge lines to get into Applebee's every Friday night while I'm driving to Shapiro's, or Dooley O'Tooles, or some other locally owned establishment for dinner, where I get immediate seating. I hear a lot of car stereos playing Nickelback while I'm on my way to catch Minute Details or No Pit Cherries play a show. Okay, I'll admit that, as a matter of budget, I buy groceries from Kroger instead of Good Earth (but many of you do support local grocery -- hats off to you), and the number of charges on my card to Amazon.com every month probably overshadow my purchases at Indy CD and Vinyl, Luna, or Vibes (though the former does employ a lot of people around town, and I do try to stop visit the later every couple of weeks at least). Just promise me, if you ever see me having a beer at Brothers, you will drag me outside and kick my ass.
Purchasing power aside, saving "local" requires a fundamental shift in attitudes. Local music scene, in particular, still wastes considerable energy bashing this company, or this venue, or that event, when we should be singing the praises of the ones that are doing a great job. Case in point: the night Locals Only closed last year, you couldn't park within a mile of the place. If we had all come out to celebrate its life the way we celebrated its death, it would probably still be there – as would half a dozen other venues in the last couple of years. Though there are some great musical cliques in this city that regularly support each other, we are still essentially divided into "this camp" or "that camp" or "Rock House bands" or "west side bands" or "coffee shop artists" when in reality it would be to our advantage to break out of those mindsets. The one that gets me every time, though: If local radio would just play more local music, then the scene would really take off – as if the aforementioned ClearChannel (which knows about as much about the "local" scene as I know about running a major multi-national corporation) is the only reason we're not all famous and drawing huge crowds. Look, if you are waiting for this to happen, then you are dreaming. And even if it did, I seriously doubt it would make the difference everyone things it will. We as a scene need to be supporting each other, not waiting for corporate America to grow a heart … because it won't … ever. Corporate America doesn't hear us. It doesn't care what we think. And it certainly is not going to make us all famous unless its cold calculating formulas show it a way it can make fast money off of us in return – and the fact that you can, at will, bring 50 people to your local bar four or five times a year does not even register on their radar. Do you know who does care about that? A local bar owner who can sell a few extra beers; the local restaurant owner next door that might serve them a dinner before the show; oh and the guy running a local radio station in his basement that can always use one more listener, and will happily share five of his for just one of yours. And you know what? We spend almost all that money here in town. It doesn't go back to a CEO in upstate New York to pay for the mortgage on his condo in Florida. It gets spent here -- usually in other locally-run establishments.
So what do we do, o preachy one? (Yes, sorry, I'm getting all soap-boxy.) For every artist that laments that the local music scene needs to unite, I ask: What have you done to make that happen? Do I see you attending other bands' shows even if you've never heard them or been in that venue before? Are you regularly telling the rest of us about these experiences on your Facebook page or Twitter? Are you dragging bands of completely different genres outside of their clique and onto your bills in order to cross-pollinate disparate fan bases? Are you organizing "event shows" or festivals in exciting new locations that bring together hard rock acts with hip hop artists, jam bands, or singer/songwriters? Do you ever do anything to stir things up, even if there's a good chance it will fail? Or are you booking the same show with the same two friend bands of yours at the same venue … and drawing the same 25 people you draw every time, then blaming the venue for not supplying you with an audience? Every time you lament that a venue or event has gone downhill, do you take it upon yourself to help find a way to help revitalize it with a new crowd? Or do you see this as the owner's problem, and just leave it to rot in order to validate your point, as if a venue that has supported you is suddenly some graffiti-ridden abandoned building at the end of the block? I'm not trying to shame anybody here, honestly, and I fully admit that some buildings should be condemned in order to make way for something new. I just think we need to pick our battles a little more carefully when deciding what can be saved, and what should be let go. We need to start thinking of local as a "neighborhood watch" instead of a "death watch." We need to be a scene, not a style. Most of all, we all need to spend more time supporting what we believe in, instead of bashing what we don't like.
I consider myself a content creator, as do most people in the local music scene. For me, that content has always been about "local." I've been at this "Indy In-Tune thing" for seven years now, and have accepted that I will never even begin to recoup my investment, to say nothing of my time. It's never been about success or money, though; It has always been about filling a void by creating the type of media and content that I wish someone else was creating – and hoping there were at least a few people who felt the same way. Sometimes people are on board with my ideas (a local music streaming radio station) and sometimes I get jeers (PodConcert #1: The great cross-genre experiment). Hey, I tried. No harm, no foul. There are a number of new initiatives being planned for the next two years, and I fully expect a few dismal failures, a couple of marked successes, and the largest percentage to be "meh." Rest assured though, it's always going to be entertaining, if not amusing, and while I do tend to lay back every once in a while and concentrate on the more mundane aspects of life and career out of necessity, it's never for very long.
---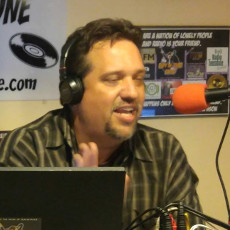 Darrin Snider is the OCD music nerd responsible for creating Indy In-Tune. By day he's a cloud engineer and business analyst, but he still hopes to someday be an overnight freeform disc jockey married to the local weathergirl who happens to be a former eastern-European supermodel.
Blog comments powered by

Disqus
Handy places to visit if you are part of, or want to know more about, our music scene ...
Solicitations and Submissions
Solicitations for blog posts can be made by sending and email to "blog -at- indyintune -dot- com" and should follow these guidelines:
Local (Indianapolis-based) acts always have priority.
Visisting acts playing a bill with one or more local acts are also considered.
We generally don't like to repeat content found on other sites. If your request already has a lot of coverage on other sites, it will be considered low-priority unless you can give us an exclusive angle.
For obvious reasons, we don't do solicited album reviews, though we do appreciate you letting us know when you have a new release. Consider coming in and talking about the album yourself live on the air or a podcast.
All of our staff writers are unpaid enthusiasts. All requests for blog posts are entirely at their descretion.
As such, they generally need a lot of lead-time to put something out -- we're talking weeks of lead time, not hours.
That said, individual authors have full authority to ignore the following guidelines and write whatever they want ... if you can convince them to.
In addition, feel free to write your own post and submit it for posting as a "guest blogger." Those almost always get accepted.
Finally, regional or national acts submitting without meeting the above guidelines are generally ignored. We're not trying to be dicks, but if you send us a generic form-letter with your press release, and it doesn't even remotely concern a local artist or event, then you're not part of our core focus.