M.O.R. Episode 3 -- Michael Dryburgh
By: Ben Cannon, Bram Epstein, and Darrin Snider
Sunday, June 6, 2021
---
M.O.R. Episode 2 -- Ian Thomson
By: Ben Cannon, Bram Epstein, and Darrin Snider
Sunday, May 23, 2021
---
M.O.R. Episode 1 -- Mark Kelly
By: Ben Cannon, Bram Epstein, and Darrin Snider
Sunday, May 16, 2021
---
An In-Snide Look: I Think I Could Get Used to this Life Sometimes
By: Darrin Snider
Sunday, June 7, 2020
---
Getting Down to Earth with mOOnMen
By: Amy Foxworthy
Sunday, February 16, 2020
---
The Musical Journey of Jethro Easyfields
By: Amy Foxworthy
Tuesday, February 11, 2020
---
Monday Mixtape: Etwasprog
By: Darrin Snider
Monday, February 10, 2020
---
Monday Mixtape: Excerpts from the Summer of 2014
By: Darrin Snider
Monday, January 20, 2020
---
Mix Tape Monday: Mashin' it Up
By: Darrin Snider
Monday, January 13, 2020
---
Mix Tape Monday: Back to the Gym Workout
By: Darrin Snider
Monday, January 6, 2020
An In-Snide Look #12
By: Darrin Snider (darrin at indyintune dot com)
Wednesday, December 11, 2013 5:45:00 PM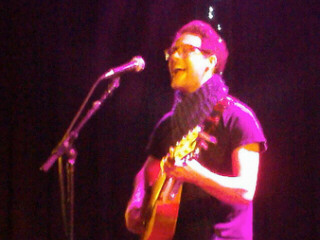 Cool happenstance last night. Tweeted one of my favorite Ryan M. Brewer lyrics from the show...

Innocence is like money in the dryer.
You weren't aware you had any of it prior.
Then you lose it; so now it's gone.
Tell me, how much are you out?

At least two people caught the reference and a third asked about it and vowed to check Ryan out today. Okay, so maybe in my own circle it isn't so unusual for someone to know the lyrics to a local artist's music, but on the other hand, I'd like to think I'm somewhat responsible for the fact that these people know who Ryan Brewer is and have heard his music. No? Well, maybe not. I'm not sure. I just said I'd like to think that. Shut up! At least I know I'm responsible for one of them.

For those of you too cool to follow my personal Facebook page, in other news, I read yesterday that the Hostelter compound is up for sale again, this time for a slashed price of only $1.3 mil for 55,000 square feet. It's actually in a great location, within the loop, easily accessible from the interstate, not far from Broad Ripple. Honestly, despite the fact that you'd spend almost that much in Lysol fumigating the place, and half again as much getting all of the tacky dolphin statuary, fountains, and chainsaw grizzly bears removed from the yard, this is a real bargain: 50 rooms, five separate houses joined together, ample parking. I'm thinking ten of us should take out 130,000 mortgages and split the place into ten, 5500 sq ft homes. Of course if I win the lottery tonight, that place becomes a recording studio, radio offices, concert venue, and musicians hospice by the end of the year, rest assured. The only real downsides I see are 1) no railings on any of the many balconies; 2) marble floors at the bottom of that short drop; and 3) a place so big that squatters could camp out in one of the wings and you'd probably never know about it. Still, I'll take the risk.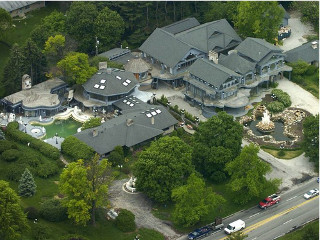 Short blog today, sorry. Up late again last night, this time because I was too tired to sleep. However, yes, I did get that proposal finished and out the door on time, thank you for asking, that was very considerate of you to worry about my well-being that way. No, I don't think I'm getting a little loopy and punchy from lack of sleep. No, I'm not talking to myself, I'm typing to myself. Anyway, plan is to catch a few Z's at Claude and Annie's open mic tonight. Should be a killer evening. I'm thinking big plate of chicken wings, couple beers, and I'll just curl up in the booth in the corner about the time Ben Myers goes on. Hope to see some of you guys out there.

---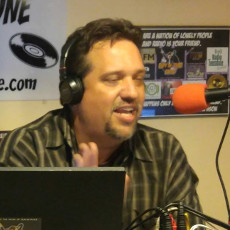 Darrin Snider is the OCD music nerd responsible for creating Indy In-Tune. By day he's a cloud engineer and business analyst, but he still hopes to someday be an overnight freeform disc jockey married to the local weathergirl who happens to be a former eastern-European supermodel.
Blog comments powered by

Disqus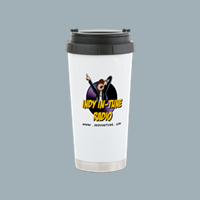 As seen on the webcam. Are you one of those people who can't survive without copious amounts of coffee in the morning? You definitely need one of our stainless steel travel mugs. Give your caffeine the gift of style...
Solicitations and Submissions
Solicitations for blog posts can be made by sending and email to "blog -at- indyintune -dot- com" and should follow these guidelines:
Local (Indianapolis-based) acts always have priority.
Visisting acts playing a bill with one or more local acts are also considered.
We generally don't like to repeat content found on other sites. If your request already has a lot of coverage on other sites, it will be considered low-priority unless you can give us an exclusive angle.
For obvious reasons, we don't do solicited album reviews, though we do appreciate you letting us know when you have a new release. Consider coming in and talking about the album yourself live on the air or a podcast.
All of our staff writers are unpaid enthusiasts. All requests for blog posts are entirely at their descretion.
As such, they generally need a lot of lead-time to put something out -- we're talking weeks of lead time, not hours.
That said, individual authors have full authority to ignore the following guidelines and write whatever they want ... if you can convince them to.
In addition, feel free to write your own post and submit it for posting as a "guest blogger." Those almost always get accepted.
Finally, regional or national acts submitting without meeting the above guidelines are generally ignored. We're not trying to be dicks, but if you send us a generic form-letter with your press release, and it doesn't even remotely concern a local artist or event, then you're not part of our core focus.