M.O.R. Episode 3 -- Michael Dryburgh
By: Ben Cannon, Bram Epstein, and Darrin Snider
Sunday, June 6, 2021
---
M.O.R. Episode 2 -- Ian Thomson
By: Ben Cannon, Bram Epstein, and Darrin Snider
Sunday, May 23, 2021
---
M.O.R. Episode 1 -- Mark Kelly
By: Ben Cannon, Bram Epstein, and Darrin Snider
Sunday, May 16, 2021
---
An In-Snide Look: I Think I Could Get Used to this Life Sometimes
By: Darrin Snider
Sunday, June 7, 2020
---
Getting Down to Earth with mOOnMen
By: Amy Foxworthy
Sunday, February 16, 2020
---
The Musical Journey of Jethro Easyfields
By: Amy Foxworthy
Tuesday, February 11, 2020
---
Monday Mixtape: Etwasprog
By: Darrin Snider
Monday, February 10, 2020
---
Monday Mixtape: Excerpts from the Summer of 2014
By: Darrin Snider
Monday, January 20, 2020
---
Mix Tape Monday: Mashin' it Up
By: Darrin Snider
Monday, January 13, 2020
---
Mix Tape Monday: Back to the Gym Workout
By: Darrin Snider
Monday, January 6, 2020
An In-Snide Look #15
By: Darrin Snider (darrin at indyintune dot com)
Saturday, December 14, 2013 8:30:00 AM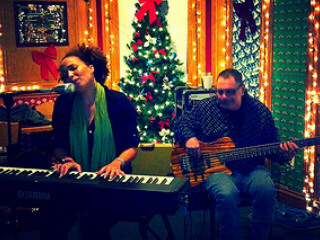 So, somewhere back in the temporary euphoria of everyone rallying to set a Guinness World Record the other day, I completely forgot to mention a great performance at Shine on the Rocks from the always astounding Jenn Cristy and greatly under-appreciated Al Paurazas. Had an interesting conversation about Jenn's new record label and the general frustration of putting one's career in the hands of other people who either don't know what to do, or worse, completely take advantage of the situation. Jenn's been in both of these situations across a couple of different labels (major and indie). We half-jokingly said we should start our own label and just sign a bunch of our favorite artists because, while we fully admit we don't know what we're doing, we could hardly do worse than EMI did for her, right? I even offered up "Jenndy In-Tune" as a possible name, though in keeping with the "publicity stunt" conversation we were having pretty much simultaneously, we decided that Jenn would have to bite the head off of a penguin (doves and bats are done). Now, it would be one of the littler ones, not like an Emperor or anything ... those really don't have much of a neck to speak of anyway. I'm thinking more like a Galapagos or Humboldt.

Satisfied my need to code, and to close out another card on the Springboard by throwing some search and filter capabilities on the blog archive page. Hopefully this will help you guys sift through the garbage (like these "From the Console" things) and find the good stuff. I should take the time here to publicly shame Brandon Cannon, Amy Foxworthy, Connie Cohen, and all those other people who said they'd be writing blogs and articles and such for this corner of the website, but have been slacking for the past month or so in getting anything done. To that end, I'll once again offer up that there is a posting form if anybody wants to take their hand at being an ace music writer. If the form gives you any grief, you can also email them to "submissions - at - indyintune - dot - com." Next feature to add I believe are the callouts for the local scene page. There's a ton of good content in there, but you can't get to some of it because the main page is dead/blank. I've got some ideas, maybe I can get them worked up tomorrow.

Spent last night pretty much snowed in at Claude and Annies for something like 10 hours. Really wanted to get out to the Rock House, but the weather and my car are too unpredictable for a 75-80 mile drive. Endured an entire evening of Karaoke. Sorry, I still don't get it. Mel is great as always, and there were a couple that were reasonably solid, but I just don't understand the ones that need to have the words in front of them, and they still get lost while singing. I mean, you guys HAVE heard the song before, right? Otherwise, why did you pick it? My biggest disappointment was that the guy at the bar with the Vanilla Ice haircut -- seriously ... complete with the stripes shaved into his sideburns -- didn't get up and sing.

---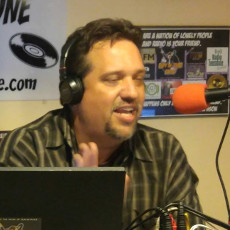 Darrin Snider is the OCD music nerd responsible for creating Indy In-Tune. By day he's a cloud engineer and business analyst, but he still hopes to someday be an overnight freeform disc jockey married to the local weathergirl who happens to be a former eastern-European supermodel.
Blog comments powered by

Disqus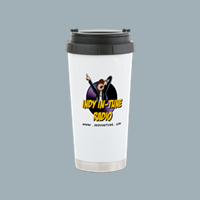 As seen on the webcam. Are you one of those people who can't survive without copious amounts of coffee in the morning? You definitely need one of our stainless steel travel mugs. Give your caffeine the gift of style...
Solicitations and Submissions
Solicitations for blog posts can be made by sending and email to "blog -at- indyintune -dot- com" and should follow these guidelines:
Local (Indianapolis-based) acts always have priority.
Visisting acts playing a bill with one or more local acts are also considered.
We generally don't like to repeat content found on other sites. If your request already has a lot of coverage on other sites, it will be considered low-priority unless you can give us an exclusive angle.
For obvious reasons, we don't do solicited album reviews, though we do appreciate you letting us know when you have a new release. Consider coming in and talking about the album yourself live on the air or a podcast.
All of our staff writers are unpaid enthusiasts. All requests for blog posts are entirely at their descretion.
As such, they generally need a lot of lead-time to put something out -- we're talking weeks of lead time, not hours.
That said, individual authors have full authority to ignore the following guidelines and write whatever they want ... if you can convince them to.
In addition, feel free to write your own post and submit it for posting as a "guest blogger." Those almost always get accepted.
Finally, regional or national acts submitting without meeting the above guidelines are generally ignored. We're not trying to be dicks, but if you send us a generic form-letter with your press release, and it doesn't even remotely concern a local artist or event, then you're not part of our core focus.