M.O.R. Episode 3 -- Michael Dryburgh
By: Ben Cannon, Bram Epstein, and Darrin Snider
Sunday, June 6, 2021
---
M.O.R. Episode 2 -- Ian Thomson
By: Ben Cannon, Bram Epstein, and Darrin Snider
Sunday, May 23, 2021
---
M.O.R. Episode 1 -- Mark Kelly
By: Ben Cannon, Bram Epstein, and Darrin Snider
Sunday, May 16, 2021
---
An In-Snide Look: I Think I Could Get Used to this Life Sometimes
By: Darrin Snider
Sunday, June 7, 2020
---
Getting Down to Earth with mOOnMen
By: Amy Foxworthy
Sunday, February 16, 2020
---
The Musical Journey of Jethro Easyfields
By: Amy Foxworthy
Tuesday, February 11, 2020
---
Monday Mixtape: Etwasprog
By: Darrin Snider
Monday, February 10, 2020
---
Monday Mixtape: Excerpts from the Summer of 2014
By: Darrin Snider
Monday, January 20, 2020
---
Mix Tape Monday: Mashin' it Up
By: Darrin Snider
Monday, January 13, 2020
---
Mix Tape Monday: Back to the Gym Workout
By: Darrin Snider
Monday, January 6, 2020
An In-Snide Look #35
By: Darrin Snider (darrin at indyintune dot com)
Friday, January 3, 2014 7:00:00 PM

Snowpocalypse: T Minus 2 Days. Here we go again. Already getting warnings about major snow and the coldest temperatures in 20 years next week, and I haven't even gotten around to shoveling the driveway after the one earlier this week. No doubt comparisons will soon be made to the blizzard of 78, which celebrates its 35th anniversary this month. Of course I'm failing to see how 8-10 inches of snow compares to drifts that were measured in feet, but whatever makes these kids feel important it seems. I remember '78, from the perspective of an 8-year-old kid who got to miss school for a couple of weeks, it was a blast. Although we didn't have "snow days" back then (I think they were invented because of that storm), so I'm sure that gap in my 3rd grade knowledge is why I've never been particularly good with long division.

All of that cynicism aside, the day job has already said we should expect to be working from home on Monday, owing to the -15 degree expected high temperature (that's -26c for my UK chums). I'm expecting to be cowering in a corner somewhere with the shakes because last time that happened the transformer in my front yard exploded and left me without power for twelve hours. Did you ever see a geek without electricity? I'll give you a hint, the thought process works like this:


Well, power's out, so I guess I'll go down to the basement and check my email.
Oh, wait, power's out, no lights.
Okay, I'll grab a flashlight.
Oh, wait, power's out, no computer.
Okay, I'll read a book.
Damn, Kindle is low on charge, what will I do when it runs out!?


Seriously, that's how it went down last time. At least I've learned how to pop the manual release on my automatic garage door opener so I can open the door by hand. Had Duke Electric not come and rescued me with glorious power later that day, I surely would have starved to death in my car for not knowing that vial piece of information.

So, enough of how I figure I'll be spending my life in the post-snowmageddon world, I should probably talk a bit about something remotely rated to music. Caught the first set and a half of Audiodacity playing the American Legion tonight. Always interesting to remember that this was a cover band for a long time. Also interesting to speculate if this is another key factor in their current popularity as an original band. Or maybe it's just the fact that they guys are great and know how to work a crowd. Either way, Lil' Q had a great time dancing, though she was a bit intimidated by a whole bunch of guys she didn't know paying attention to her all of a sudden, well, except for Foxdaddy. She was ALL about the drummer – but then, from what I've seen this is pretty much how Adam rolls with the ladies. Don't panic though, I have a few years left to instill my "no drummer" values into mine.
---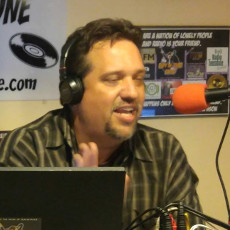 Darrin Snider is the OCD music nerd responsible for creating Indy In-Tune. By day he's a cloud engineer and business analyst, but he still hopes to someday be an overnight freeform disc jockey married to the local weathergirl who happens to be a former eastern-European supermodel.
Blog comments powered by

Disqus
Today on Indy In-Tune
Happy Hump Day!

* Schedule subject to change without notice. Sorry, but that's rock and roll.
Solicitations and Submissions
Solicitations for blog posts can be made by sending and email to "blog -at- indyintune -dot- com" and should follow these guidelines:
Local (Indianapolis-based) acts always have priority.
Visisting acts playing a bill with one or more local acts are also considered.
We generally don't like to repeat content found on other sites. If your request already has a lot of coverage on other sites, it will be considered low-priority unless you can give us an exclusive angle.
For obvious reasons, we don't do solicited album reviews, though we do appreciate you letting us know when you have a new release. Consider coming in and talking about the album yourself live on the air or a podcast.
All of our staff writers are unpaid enthusiasts. All requests for blog posts are entirely at their descretion.
As such, they generally need a lot of lead-time to put something out -- we're talking weeks of lead time, not hours.
That said, individual authors have full authority to ignore the following guidelines and write whatever they want ... if you can convince them to.
In addition, feel free to write your own post and submit it for posting as a "guest blogger." Those almost always get accepted.
Finally, regional or national acts submitting without meeting the above guidelines are generally ignored. We're not trying to be dicks, but if you send us a generic form-letter with your press release, and it doesn't even remotely concern a local artist or event, then you're not part of our core focus.