M.O.R. Episode 3 -- Michael Dryburgh
By: Ben Cannon, Bram Epstein, and Darrin Snider
Sunday, June 6, 2021
---
M.O.R. Episode 2 -- Ian Thomson
By: Ben Cannon, Bram Epstein, and Darrin Snider
Sunday, May 23, 2021
---
M.O.R. Episode 1 -- Mark Kelly
By: Ben Cannon, Bram Epstein, and Darrin Snider
Sunday, May 16, 2021
---
An In-Snide Look: I Think I Could Get Used to this Life Sometimes
By: Darrin Snider
Sunday, June 7, 2020
---
Getting Down to Earth with mOOnMen
By: Amy Foxworthy
Sunday, February 16, 2020
---
The Musical Journey of Jethro Easyfields
By: Amy Foxworthy
Tuesday, February 11, 2020
---
Monday Mixtape: Etwasprog
By: Darrin Snider
Monday, February 10, 2020
---
Monday Mixtape: Excerpts from the Summer of 2014
By: Darrin Snider
Monday, January 20, 2020
---
Mix Tape Monday: Mashin' it Up
By: Darrin Snider
Monday, January 13, 2020
---
Mix Tape Monday: Back to the Gym Workout
By: Darrin Snider
Monday, January 6, 2020
An In-Snide Look #57
By: Darrin Snider (darrin at indyintune dot com)
Saturday, January 25, 2014 7:00:00 AM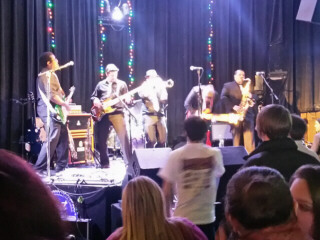 Fun night of great music, of course aren't' they all anymore? Started off at Claude and Annie's for their anniversary party celebrating 32 years in business. An 80's-themed event, so you know I'm all over that (he said sarcastically). Interesting thing here was the introduction of what will soon be a weekly event, Musical Bingo. Essentially it's a shuffled selection of song snippets that you check off of a bingo card. I must admit: sounds stupid; is actually a lot of fun. Would probably be even more fun if the clips were a bit shorter and the song titles were not included in the clip, just to make it more challenging. I did like that the host was picking stuff that was not exactly the typical 80's fare. Let's face it, who remembers White Lion's "Wait" that wasn't actually alive during those 15 minutes, and who recognizes Twisted Sister's "You're Gonna Burn in Hell," that isn't a Twisted Sister fan?

So we (sidekick Brandon Cannon and I) leave Claude's around 9:00 to catch Audiodacity's "America's Got Talent" audition shoot, but not before getting a good belly laugh out of some drunken idiot's attempt at parking.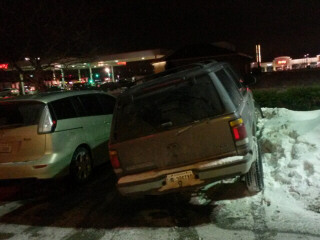 Honestly, the photo does not do justice to the size of that snow drift, nor the actual angle that SUV is tilted at. Fortunately the driver wasn't too drunk, and wasn't sporting a hot beverage in his drink holder, because the sight of a person lying in the parking lot with a cracked skull with third degree burns from hot coffee would have spoiled all of the laughter.

Audiodacity, as always, put on a hell of a show. Also on the killer bill were Breakdown Kings and Dell Zell. Attendance was better than average, I would say, though the "event" may have contributed to that. It's sad that this is what it takes to actually get people out, although considering the temperature and weather, I don't suppose we can fault everyone for staying indoors and hibernating. (Except for you ... where were you?!)

From Birdy's we journeyed to the south side to catch Minute Details doing their thing at the Rock House.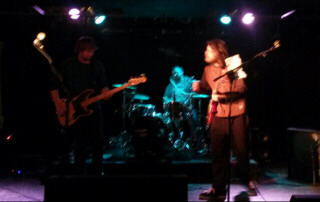 I don't get to the South Side very often these days. A couple of interesting discoveries: I saw Party Lines play for the first time -- absolutely blew me away. Amazing sound, great musicianship, killer compositions. Why is nobody else doing this kind of music!? Got to meet Will Lazyhawk for the first time -- not sure how it's possible, but our paths had just never crossed before. Also got to meet MP Cavalier, whom many have been touting as my "big rival" for the ears of the streaming music audience -- of which, as I blogged in an earlier post, nothing could be further from the truth. I have been nothing but enthusiastic and supportive of what Radio Free Indy have been trying to do since they launched, and we will be collaborating with them on a few things in the very near future.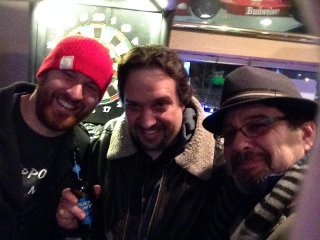 MP, on first impression, seems to be genuinely great guy and a fascinating personality who I hit it off with almost instantly -- which is good because I've actually partnered up and promoted some really dodgy dudes in the past.

The evening finished off back at Claude's (home base), where we bumped into sponsor Paul from Deep Pockets foods and got to watch the cops roust a few drunken "suburban gangstahs." I didn't bother to check to see if one was the aforementioned lousy parker. Does anybody see a gun rack in that picture?

---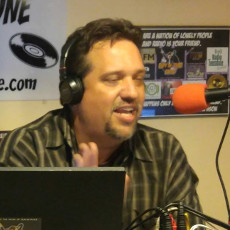 Darrin Snider is the OCD music nerd responsible for creating Indy In-Tune. By day he's a cloud engineer and business analyst, but he still hopes to someday be an overnight freeform disc jockey married to the local weathergirl who happens to be a former eastern-European supermodel.
Blog comments powered by

Disqus
Today on Indy In-Tune
Happy Hump Day!

* Schedule subject to change without notice. Sorry, but that's rock and roll.
Solicitations and Submissions
Solicitations for blog posts can be made by sending and email to "blog -at- indyintune -dot- com" and should follow these guidelines:
Local (Indianapolis-based) acts always have priority.
Visisting acts playing a bill with one or more local acts are also considered.
We generally don't like to repeat content found on other sites. If your request already has a lot of coverage on other sites, it will be considered low-priority unless you can give us an exclusive angle.
For obvious reasons, we don't do solicited album reviews, though we do appreciate you letting us know when you have a new release. Consider coming in and talking about the album yourself live on the air or a podcast.
All of our staff writers are unpaid enthusiasts. All requests for blog posts are entirely at their descretion.
As such, they generally need a lot of lead-time to put something out -- we're talking weeks of lead time, not hours.
That said, individual authors have full authority to ignore the following guidelines and write whatever they want ... if you can convince them to.
In addition, feel free to write your own post and submit it for posting as a "guest blogger." Those almost always get accepted.
Finally, regional or national acts submitting without meeting the above guidelines are generally ignored. We're not trying to be dicks, but if you send us a generic form-letter with your press release, and it doesn't even remotely concern a local artist or event, then you're not part of our core focus.