M.O.R. Episode 3 -- Michael Dryburgh
By: Ben Cannon, Bram Epstein, and Darrin Snider
Sunday, June 6, 2021
---
M.O.R. Episode 2 -- Ian Thomson
By: Ben Cannon, Bram Epstein, and Darrin Snider
Sunday, May 23, 2021
---
M.O.R. Episode 1 -- Mark Kelly
By: Ben Cannon, Bram Epstein, and Darrin Snider
Sunday, May 16, 2021
---
An In-Snide Look: I Think I Could Get Used to this Life Sometimes
By: Darrin Snider
Sunday, June 7, 2020
---
Getting Down to Earth with mOOnMen
By: Amy Foxworthy
Sunday, February 16, 2020
---
The Musical Journey of Jethro Easyfields
By: Amy Foxworthy
Tuesday, February 11, 2020
---
Monday Mixtape: Etwasprog
By: Darrin Snider
Monday, February 10, 2020
---
Monday Mixtape: Excerpts from the Summer of 2014
By: Darrin Snider
Monday, January 20, 2020
---
Mix Tape Monday: Mashin' it Up
By: Darrin Snider
Monday, January 13, 2020
---
Mix Tape Monday: Back to the Gym Workout
By: Darrin Snider
Monday, January 6, 2020
An In-Snide Look #82
By: Darrin Snider (darrin at indyintune dot com)
Wednesday, February 19, 2014 7:30:00 AM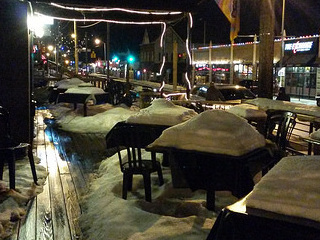 Okay, so my OCD only allows me to get out of bed when the time is evenly divisible by ten. My alarm clock snoozes in increments of seven minutes. I require a MINIMUM of three snoozes on mornings after I go see live music and one additional snooze for every drink after the fifth one. It takes 16 minutes to get to work. If I leave after 8, it only takes 12. I require an additional 6 minutes to buy coffee, cigarettes, and flirt with the cute cashier at the gas station, except on Thursdays when she doesn't work and it only takes me 3. Assuming it is less than 30 minutes from bed to car, what time should I have set my alarm for in order to make an 8:30 meeting?

Bonus question: Am I still going to die alone and friendless?

Went to Kolo Bell's Tuesday open mic last night at Sabbatical ... not to be confused with his Wednesday open mic at Claude and Annie's. Kolo is, without a doubt, a master at running open mics, as Brandon has blogged before. With the Tuesday Night open mic, however, he's taking an interesting angle: The first hour is dedicated showcase 2-3 musicians who are recorded playing their own original music. He then submits the recordings to us here at Indy In-Tune for consideration in adding them to the rotation -- thus ensuring that we always have a constant supply of fresh, new music from new artists to share with you. In addition to that, Kolo hit me last night with the idea of doing a weekly radio show and quarterly live performance dedicated to spotlighting the best of this up-and-coming talent.

We've said it before, but it definitely bears repeating, if you are an up-and-coming artist, you owe it to yourself to check out and get involved with whatever Kolo Bell is putting together, wherever he's putting it together. Honestly, there is probably not a better champion for the fledgling new artist in this city, and the list of people he's nurtured has some pretty impressive names on it.

That said, heard some great stuff last night from newcomer Richard Caudle, plus the cast of regulars we've all come to know and love -- Mike Myers, Jack Barkley, Brian Haan, Mannish Boy Tone, and Mark "The Arrogant Bastard." Of course this was in between running outside without a coat on, because I could! I'm thinking this was the first night above the freezing mark in three months, right? Seemed positively balmy. Now, normally I'm not a big outdoors guy, and I do normally enjoy winter much more than summer, but I've come to the realization that, more than anything, there are two things I'm missing: The first is outdoor dining, particularly at Sabbatical, but I'd settle for a beer on the rail at OPT's watching pretty people and drunken idiots pass by. The second: the sound of a baseball game. I don't care if I'm watching it, or who it playing, but I love the din of the crowd, the crack of a bat, and organ music. So I'm audio-centric ... sue me.

---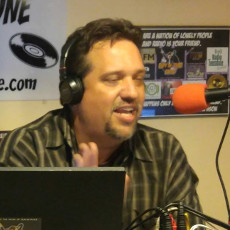 Darrin Snider is the OCD music nerd responsible for creating Indy In-Tune. By day he's a cloud engineer and business analyst, but he still hopes to someday be an overnight freeform disc jockey married to the local weathergirl who happens to be a former eastern-European supermodel.
Blog comments powered by

Disqus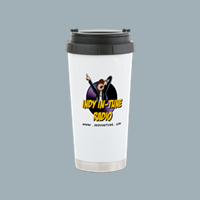 As seen on the webcam. Are you one of those people who can't survive without copious amounts of coffee in the morning? You definitely need one of our stainless steel travel mugs. Give your caffeine the gift of style...
Solicitations and Submissions
Solicitations for blog posts can be made by sending and email to "blog -at- indyintune -dot- com" and should follow these guidelines:
Local (Indianapolis-based) acts always have priority.
Visisting acts playing a bill with one or more local acts are also considered.
We generally don't like to repeat content found on other sites. If your request already has a lot of coverage on other sites, it will be considered low-priority unless you can give us an exclusive angle.
For obvious reasons, we don't do solicited album reviews, though we do appreciate you letting us know when you have a new release. Consider coming in and talking about the album yourself live on the air or a podcast.
All of our staff writers are unpaid enthusiasts. All requests for blog posts are entirely at their descretion.
As such, they generally need a lot of lead-time to put something out -- we're talking weeks of lead time, not hours.
That said, individual authors have full authority to ignore the following guidelines and write whatever they want ... if you can convince them to.
In addition, feel free to write your own post and submit it for posting as a "guest blogger." Those almost always get accepted.
Finally, regional or national acts submitting without meeting the above guidelines are generally ignored. We're not trying to be dicks, but if you send us a generic form-letter with your press release, and it doesn't even remotely concern a local artist or event, then you're not part of our core focus.