M.O.R. Episode 3 -- Michael Dryburgh
By: Ben Cannon, Bram Epstein, and Darrin Snider
Sunday, June 6, 2021
---
M.O.R. Episode 2 -- Ian Thomson
By: Ben Cannon, Bram Epstein, and Darrin Snider
Sunday, May 23, 2021
---
M.O.R. Episode 1 -- Mark Kelly
By: Ben Cannon, Bram Epstein, and Darrin Snider
Sunday, May 16, 2021
---
An In-Snide Look: I Think I Could Get Used to this Life Sometimes
By: Darrin Snider
Sunday, June 7, 2020
---
Getting Down to Earth with mOOnMen
By: Amy Foxworthy
Sunday, February 16, 2020
---
The Musical Journey of Jethro Easyfields
By: Amy Foxworthy
Tuesday, February 11, 2020
---
Monday Mixtape: Etwasprog
By: Darrin Snider
Monday, February 10, 2020
---
Monday Mixtape: Excerpts from the Summer of 2014
By: Darrin Snider
Monday, January 20, 2020
---
Mix Tape Monday: Mashin' it Up
By: Darrin Snider
Monday, January 13, 2020
---
Mix Tape Monday: Back to the Gym Workout
By: Darrin Snider
Monday, January 6, 2020
An In-Snide Look #136
By: Darrin Snider (darrin at indyintune dot com)
Monday, April 14, 2014 8:00:00 PM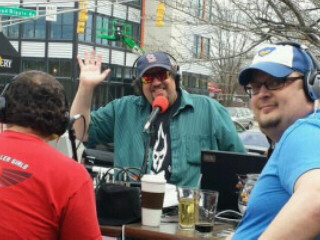 What can one say to so many great friends and supporters but ... Thank You! And, one can probably not say it enough. Radiothon 2014 has to rank as one of the most memorable and fun things that we've done since starting this overgrown hobby eight years ago this week. As is always the case when we're doing live shows or broadcasts, the brain is usually going full speed keeping up with Tweets and Facebook posts, arranging guests, watching the audio stream, getting emails, queueing up the next track, hunting for some obscure trivia tidbit on the Internet, answering questions from passers-by as to what we're doing, etc. Yesterday was the usual chaos times two. I literally had people come up and tell me it was good talking to me yesterday, but I really don't remember them even being there -- rule of thumb: If I'm not on mic, it means I've programmed just enough music to greet and thank the next artist on stage, hit the bathroom, buy a beer, collect the next radio guest, and sit back down. If there's one thing I hate, it's time limits. Drives me nuts. Says a lot for how I could know everything about a subject in class, but would freeze up every time they'd had me a test and say "You have one hour." Perfection? Least favorite game as a kid. The TV show 24? Almost put me into a catatonic state at times.

Of course a full list of thanks for those who supported is pretty much impossible without going back through the recorded audio from yesterday, so let me just give links and props where they are due ...

Pres Maxson -- For engaging our enthusiasm, and letting us run with his idea for a short "radio plug for National High-Five Day."



Brandon/Benjamin Cannon -- For managing the stage, herding the dust bunnies, and running sound ... effectively eliminating half of the stress from my day.


Irish -- For letting us auction him off and for just being the energetic little ginger garden gnome that we expect him to be.



Johnny Lyles -- For being the first to arrive, the last to leave, and for saying, "Tell me what ya need, bro," every fifteen minutes in between.

Jamie Jackson -- For being the local music scene, and supplying all of the toys we need to make shit work.



Dave, Kevin, Cory, and the staff of Sabbatical -- For letting us play in your yard, and not kicking us out when we get obnoxious.

Mark Kelley and Simon Saynor -- For setting the standard, providing inspiration, and reminding us that there's a world outside of I-465 ... which if Simon is any indication, is usually laying around naked in bed. Seriously, it's RADIO, the visual was extraneous.



MP Cavalier and Scott Tollin -- For being the Beatles to my Rolling Stones, re-defining "friendly rivalry," and being brothers in the crusade to raise awareness and appreciation of both streaming radio and local music support.

The local players who came out to support, even though they weren't on the bill -- Phil Sloan, Ryan Gibbons, Kolo Bell, Jethro Easyfields, Henry French, Molly June, Grant McClintock, Caleb Spicer, Brian Haan, Jon Knight, Chris Burch, Daren Brush, and Ray Wyatt.



The fans of the local scene who came out to support -- Jay DeVinney, Dee, Kitty, Nick Wengler, Derreck Ramsey, Jeff Dill, Laura Prout, Chris Schneider, and Chris Wodoc.

The best compliment cof the day I think came from Dave, owner of Sabbatical, who asked when we could do it again. "There are lots of great charities out there. We can do this every week!" I think there were enough lessons learned that we could do this even bigger, sure. Next time though, 24 hours -- Saturday evening to Sunday evening ... and I'm thinking rooftop.

---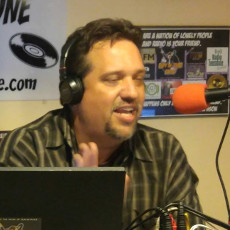 Darrin Snider is the OCD music nerd responsible for creating Indy In-Tune. By day he's a cloud engineer and business analyst, but he still hopes to someday be an overnight freeform disc jockey married to the local weathergirl who happens to be a former eastern-European supermodel.
Blog comments powered by

Disqus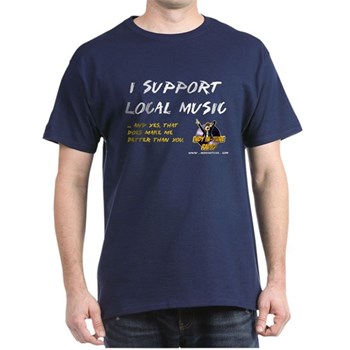 Back by popular demand for a limited time only, "I support local music ... and yes, that does make me better than you." Show the world that you, too, are a proud elitist music snob! Get yours before time runs out...
Solicitations and Submissions
Solicitations for blog posts can be made by sending and email to "blog -at- indyintune -dot- com" and should follow these guidelines:
Local (Indianapolis-based) acts always have priority.
Visisting acts playing a bill with one or more local acts are also considered.
We generally don't like to repeat content found on other sites. If your request already has a lot of coverage on other sites, it will be considered low-priority unless you can give us an exclusive angle.
For obvious reasons, we don't do solicited album reviews, though we do appreciate you letting us know when you have a new release. Consider coming in and talking about the album yourself live on the air or a podcast.
All of our staff writers are unpaid enthusiasts. All requests for blog posts are entirely at their descretion.
As such, they generally need a lot of lead-time to put something out -- we're talking weeks of lead time, not hours.
That said, individual authors have full authority to ignore the following guidelines and write whatever they want ... if you can convince them to.
In addition, feel free to write your own post and submit it for posting as a "guest blogger." Those almost always get accepted.
Finally, regional or national acts submitting without meeting the above guidelines are generally ignored. We're not trying to be dicks, but if you send us a generic form-letter with your press release, and it doesn't even remotely concern a local artist or event, then you're not part of our core focus.