An In-Snide Look: I Think I Could Get Used to this Life Sometimes
By: Darrin Snider
Sunday, June 7, 2020
---
Getting Down to Earth with mOOnMen
By: Amy Foxworthy
Sunday, February 16, 2020
---
The Musical Journey of Jethro Easyfields
By: Amy Foxworthy
Tuesday, February 11, 2020
---
Monday Mixtape: Etwasprog
By: Darrin Snider
Monday, February 10, 2020
---
Monday Mixtape: Excerpts from the Summer of 2014
By: Darrin Snider
Monday, January 20, 2020
---
Mix Tape Monday: Mashin' it Up
By: Darrin Snider
Monday, January 13, 2020
---
Mix Tape Monday: Back to the Gym Workout
By: Darrin Snider
Monday, January 6, 2020
---
Top Ten Most Annoying Types of Music Fans
By: Darrin Snider
Saturday, January 4, 2020
---
Album Review: Sietch Ramshackle "U.R.//Nctrl"
By: Amy Foxworthy
Saturday, December 28, 2019
---
Mix Tape Monday: Darrin's Favorite Discoveries of 2019
By: Darrin Snider
Monday, December 16, 2019
Show #034: Shelby Kelley
By: Darrin Snider (darrin at indyintune dot com)
Friday, March 27, 2009 7:30:00 AM

One of the cool things about doing this show is going out to cool remote locations, enduring the bewildered stares and questions of people who are not yet podcast-savvy, and annoying the audiophiles and broadcasting professionals who think I should be locked in a booth somewhere with sound-cushioning foam on the walls and speaking in deep, over-enunciated tones. For those of you "get" the idea of organic media -- and who keep track of the background ambiance for each show, or occasionally come out to watch a recording session -- the echoes, slamming doors, and clanking dishes this week are courtesy of the Fountain Diner on the outskirts of downtown, where I haven't recorded since meeting Gentleman Caller there almost three years ago. The only difference is, this time instead of space-cadet headsets, I've got nice, big microphones on big black stands. I'm not sure which is stranger-looking, but the microphones do a much better job of picking up the background.
Someday, I'll be brave enough to try to record in the bowling alley.
This week's guest, Shelby Kelly, is a very talented singer/songwriter who first cut his teeth in the alternative/underground rock band Creepin' Charley and the Boneyard Orchestra, a long-time staple at the Melody Inn, Radio Radio, and most of the popular clubs in the city. His first solo project, Alone, is about as far from that particular brand of music as you can get. The eight track CD showcases Shelby's talents as a lyricist and singer who is full of passion, wit, and charm. Not quite folk, not quite rock and roll -- but accessible to both audiences -- these songs will appeal to any fan of good music, solid vocals, and poetic lyrics.
Links referenced in the show:
Shelby Kelley can be found here: MySpace.
In addition to his music, Shelby is also a talented artist. Check out samples of his art work here: MySpace, or on the cover of Otis Gibbs' latest CD.
His first CD, Alone, is available at his shows. You can catch him soon at the Indianapolis Songwriters Cafe (who can be heard on Show #032), or at Birdy's Live with Mandy Marie on April 28th opening for the Dexter Romweber Duo (a great band out of North Carolina whose name we butchered during the show).
If you are an out-of-towner, you can purchase the CD by emailing "

shelbykelleymusic at gmail dot com

"
At one point, I made a comparison between Shelby and punk poet Patrik Fitzgerald -- more in tone, style, and perception than any actual musical similarity, I suppose. There was some interest in learning more about Patrik, who is stall an active musician. Some of his work can be found here: MySpace / Web Site / Unknown Soldier Biog.
During the interview, we get thrown off when Ryan "Sweaty B" Williams walks by the window next to us. Ryan hosts the Indianapolismusic.net Podcast which has a slightly larger circulation and much slicker production values than this show.
Registered members of Indy In-Tune are eligible to enter and win a copy of "Alone," graciously donated by Shelby Kelley.

---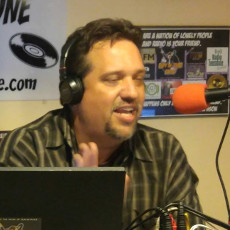 Darrin Snider is the OCD music nerd responsible for creating Indy In-Tune. By day he's a cloud engineer and business analyst, but he still hopes to someday be an overnight freeform disc jockey married to the local weathergirl who happens to be a former eastern-European supermodel.
Blog comments powered by

Disqus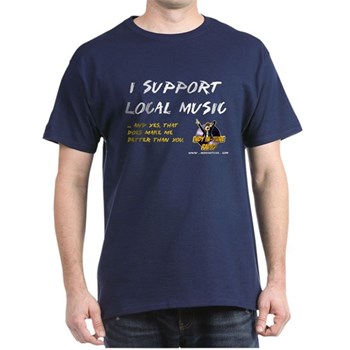 Back by popular demand for a limited time only, "I support local music ... and yes, that does make me better than you." Show the world that you, too, are a proud elitist music snob! Get yours before time runs out...
Solicitations and Submissions
Solicitations for blog posts can be made by sending and email to "blog -at- indyintune -dot- com" and should follow these guidelines:
Local (Indianapolis-based) acts always have priority.
Visisting acts playing a bill with one or more local acts are also considered.
We generally don't like to repeat content found on other sites. If your request already has a lot of coverage on other sites, it will be considered low-priority unless you can give us an exclusive angle.
For obvious reasons, we don't do solicited album reviews, though we do appreciate you letting us know when you have a new release. Consider coming in and talking about the album yourself live on the air or a podcast.
All of our staff writers are unpaid enthusiasts. All requests for blog posts are entirely at their descretion.
As such, they generally need a lot of lead-time to put something out -- we're talking weeks of lead time, not hours.
That said, individual authors have full authority to ignore the following guidelines and write whatever they want ... if you can convince them to.
In addition, feel free to write your own post and submit it for posting as a "guest blogger." Those almost always get accepted.
Finally, regional or national acts submitting without meeting the above guidelines are generally ignored. We're not trying to be dicks, but if you send us a generic form-letter with your press release, and it doesn't even remotely concern a local artist or event, then you're not part of our core focus.