M.O.R. Episode 3 -- Michael Dryburgh
By: Ben Cannon, Bram Epstein, and Darrin Snider
Sunday, June 6, 2021
---
M.O.R. Episode 2 -- Ian Thomson
By: Ben Cannon, Bram Epstein, and Darrin Snider
Sunday, May 23, 2021
---
M.O.R. Episode 1 -- Mark Kelly
By: Ben Cannon, Bram Epstein, and Darrin Snider
Sunday, May 16, 2021
---
An In-Snide Look: I Think I Could Get Used to this Life Sometimes
By: Darrin Snider
Sunday, June 7, 2020
---
Getting Down to Earth with mOOnMen
By: Amy Foxworthy
Sunday, February 16, 2020
---
The Musical Journey of Jethro Easyfields
By: Amy Foxworthy
Tuesday, February 11, 2020
---
Monday Mixtape: Etwasprog
By: Darrin Snider
Monday, February 10, 2020
---
Monday Mixtape: Excerpts from the Summer of 2014
By: Darrin Snider
Monday, January 20, 2020
---
Mix Tape Monday: Mashin' it Up
By: Darrin Snider
Monday, January 13, 2020
---
Mix Tape Monday: Back to the Gym Workout
By: Darrin Snider
Monday, January 6, 2020
Interview Prep Sheet
By: Darrin Snider (darrin at indyintune dot com)
Saturday, April 1, 2006 8:00:00 AM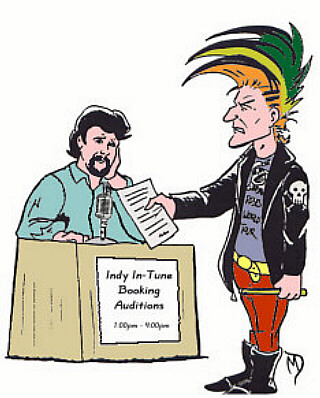 Okay, for those of you who will be appearing on Indy In-Tune in the near future, here are some guidelines we put together. Remember that it's your show though, so if you've got a crazy idea for a new format, run it by us, odds are we'll let you run with it, or at least give you a good reason why we can't.
Pick four of your original songs to share with the audience (no covers, we'll get sued) … you can make them songs that are representative of your band, or you can pick four different-sounding ones to show off your diversity. Your choice.
Make sure you sell us a copy of your CD before the interview (if you have one), or give us MP3's of the songs we will be playing on the show. If you want to give one (or more) additional CD's away to fans, we'll gladly hold a contest and make it a prize for a lucky listener -- but we insist on paying for at least one CD from every guest.
The format of the show is very loose. Think of it as a conversation amongst friends in your living room. The more you talk -- and the less the host(s) talk -- the better. Don't be afraid to go off on any tangent or topic that's dear to your heart, and feel free to project whatever type of image you want – serious, wild, funny, deep, personable … whatever works for you. Don't be afraid to tell jokes, share weird stories, make fun of each other, etc. Audiences love that stuff. If things don't seem to be flowing (sometimes it happens, not your fault), we can always fall back on "stock interview questions" … we just don't like to. The following is a breakdown of a typical show … think of all of the bold numbered items as markers we need to hit, and all of the non-bold stuff as being mere guidelines if you can't think of something more interesting to talk about.

Song #1 – First thing they hear, so make sure it's an attention-getter.
Welcomes, introbabble, and introductions
Interview Set #1 – (7 to 10 Minutes)

Talk about song #1
Talk about history/roots/influences of the band
Set up Song #2

Song #2
Interview Set #2- (7 to 10 Minutes)

Talk about current project – who's involved, any cool stories?
Set up song #3

Song #3
Interview Set #3 -- (7 to 10 Minutes)

Talk about songwriting/performing process, share any cool anecdotes
Set up and play song #4

Song #4
Interview Set #4 -- (7 to 10 Minutes)

Talk about future plans or talk about great accomplishments in the past
List off upcoming appearances

Outrobabble, thank yous, disclaimer, and sign-off
Record a Bumper – (15 Seconds)
A Few Last-Minute Tips
If you've never done an interview before, don't be nervous. This is a friendly, independent, amateur production. You're not going to be grilled by Katie Courric for the 6:00 news.
If we're recording with headset mics, try not to speak over each other as your mic is always on and we record to one channel mono, (so we can't split you out). Also, if you have to cough or sneeze, remember to move the mic first. Some of us are wearing monitors and have sensitive eardrums.
If you screw up an answer, feel free to start over (we can edit it out)
If you don't want to answer a question, just wave it off (we'll move on to another topic)
You're not live. We'll edit everything around to make you sound wittier and cooler. We trim out pauses, "uuuuuhms," and "aaaahhhhs," and you get to hear and veto the final show before it goes out to the Internet -- so, don't stress out.
Profanity is okay, but we prefer you do not use it excessively if possible.
Say or talk about whatever you like. Our current policy is to not censor anything outright -- with one exception: Should you feel strongly enough make a disparaging remark about a another local band, musician, venue, or business, we will "bleep" the name (and only the name) out as a protection against libel and to avoid any ill-will with the community. (re: Ryan Shore and the great "##### are a Bunch of Turd-Snipers" incident of 2006).
Once the interview is complete, please allow a few weeks for editing. When the show is ready, we'll send you a link where you can hear it. We will remove or edit anything you don't like prior to posting, however, you have 48 hours from the time the link is sent to the time it posts in order to notify us.
When your show comes out, the following will happen:

We'll post a blog entry and bulletin on our Myspace page and add you to our top friends list.
We'll post a note on our Facebook page.
We'll post an announcement on our Twitter page.
We'll post a blog entry on our main page.

We'll create a permanent page for your show at

Within 24 hours our syndicate sites will pick up the show, this includes:

If we're not already on your mailing list, put us on it (darrin@indyintune.com). As a courtesy, we keep a calendar on our website of where former guests are playing, but we can only add a gig if we know about it. We also add a link to purchase your current release in our web store.

If you keep a blog, we'll occasionally publish a link your latest entry in the "past guest blog" section of our website. However, do email us from time to time (or post on our message board) to update us as to how you're doing, or if you have any special announcements you'd like us to share with the audience.
---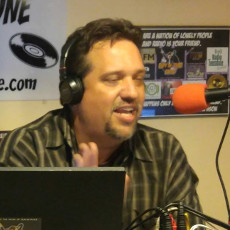 Darrin Snider is the OCD music nerd responsible for creating Indy In-Tune. By day he's a cloud engineer and business analyst, but he still hopes to someday be an overnight freeform disc jockey married to the local weathergirl who happens to be a former eastern-European supermodel.
Blog comments powered by

Disqus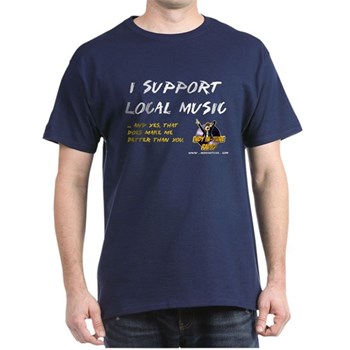 Back by popular demand for a limited time only, "I support local music ... and yes, that does make me better than you." Show the world that you, too, are a proud elitist music snob! Get yours before time runs out...
Solicitations and Submissions
Solicitations for blog posts can be made by sending and email to "blog -at- indyintune -dot- com" and should follow these guidelines:
Local (Indianapolis-based) acts always have priority.
Visisting acts playing a bill with one or more local acts are also considered.
We generally don't like to repeat content found on other sites. If your request already has a lot of coverage on other sites, it will be considered low-priority unless you can give us an exclusive angle.
For obvious reasons, we don't do solicited album reviews, though we do appreciate you letting us know when you have a new release. Consider coming in and talking about the album yourself live on the air or a podcast.
All of our staff writers are unpaid enthusiasts. All requests for blog posts are entirely at their descretion.
As such, they generally need a lot of lead-time to put something out -- we're talking weeks of lead time, not hours.
That said, individual authors have full authority to ignore the following guidelines and write whatever they want ... if you can convince them to.
In addition, feel free to write your own post and submit it for posting as a "guest blogger." Those almost always get accepted.
Finally, regional or national acts submitting without meeting the above guidelines are generally ignored. We're not trying to be dicks, but if you send us a generic form-letter with your press release, and it doesn't even remotely concern a local artist or event, then you're not part of our core focus.