M.O.R. Episode 3 -- Michael Dryburgh
By: Ben Cannon, Bram Epstein, and Darrin Snider
Sunday, June 6, 2021
---
M.O.R. Episode 2 -- Ian Thomson
By: Ben Cannon, Bram Epstein, and Darrin Snider
Sunday, May 23, 2021
---
M.O.R. Episode 1 -- Mark Kelly
By: Ben Cannon, Bram Epstein, and Darrin Snider
Sunday, May 16, 2021
---
An In-Snide Look: I Think I Could Get Used to this Life Sometimes
By: Darrin Snider
Sunday, June 7, 2020
---
Getting Down to Earth with mOOnMen
By: Amy Foxworthy
Sunday, February 16, 2020
---
The Musical Journey of Jethro Easyfields
By: Amy Foxworthy
Tuesday, February 11, 2020
---
Monday Mixtape: Etwasprog
By: Darrin Snider
Monday, February 10, 2020
---
Monday Mixtape: Excerpts from the Summer of 2014
By: Darrin Snider
Monday, January 20, 2020
---
Mix Tape Monday: Mashin' it Up
By: Darrin Snider
Monday, January 13, 2020
---
Mix Tape Monday: Back to the Gym Workout
By: Darrin Snider
Monday, January 6, 2020
Elmwood returns to Indianapolis
By: Shawn Radley (shawn at developingartist dot com)
Thursday, September 2, 2010 12:00:00 AM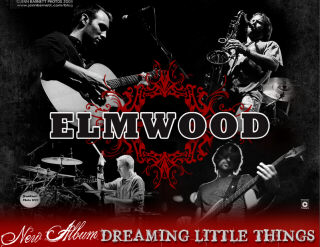 Nashville, Tennessee's Elmwood returns to Indianapolis at the Rathskeller on Thursday, September 9th.



2010 Update on Elmwood
Elmwood was direct support for O.A.R. fall 2009 tour in October & November.
Kicked off 2010 with Tea Leaf Green for two and half months January, February, part of March
Supported April 09' Tour with G. Love & Special Sauce
2010 festivals confirmed: Bonnaroo, Beale Street Music Festival, Warren Haynes Mt. Jam, and Cadott Rock Fest.
Confirmed on Dave Matthews Band side stage for two nights in Indianapolis in June. 
Supporting others such as Blues Traveler, The Wailers, and Grace Potter across the country.
Check out Elmwood Drummer Donnie Marple's solo that won him the guitar center drum competition.
Biography
Formed in 2008, Elmwood has quickly become one of the Southeast's most sought after live bands after dates in 2009 with G. Love and Special Sauce, Tea Leaf Green, Blues Traveler, Pat McGee Band and side-stage performances with the Dave Matthews Band. Ending the year on a high note Elmwood supported O.A.R. through October and November playing theaters and small arenas.

The story has continued to build in 2010 with a Tea Leaf Green tour in January through March, and highlights including dates with Grace Potter & The Nocturnals, Blues Traveler, The Wailers, being invited back for side stage performances with Dave Matthews Band, and festival performances such as Bonnaroo, Beale Street Music Festival, and Warrens Haynes' Mt. Jam.
Their music is hard to put in one category. Elements of rock, pop, funk, soul and jazz permeate the songs creating a different experience around every corner. The band however truly shines with their energetic live performance.

Singer and guitar player Rusty Kelly and bass player Nash Johnson met in college where they started performing together as an acoustic duo. Sax player Derek Haight and drummer Donnie Marple came on board after responding to craigslist ad's looking for musicians. Derek came from four years of international touring, playing over 50 countries, and Donnie coming from his 2007 win of the Guitar Center Drum-off (do yourself a favor and check out the mind-blowing video of his winning solo on youtube!) where he was crowned best drummer in the US.

Following in the footsteps of the many bands before them to build a career on the road, the Elmwood guys look forward to the next few years getting to know the inside of a van as they criss-cross the US bringing their mindblowing live show to anyone and everyone who will listen. If the reaction from fans in the first year is any indication it won't be long before you are converted after seeing their high energy and musically inspiring live show.

For more info:
Shawn Radley
Developing Artist Management and Booking
p. 617-497-8366
cell. 617-359-8634
e. shawn@developingartist.com
IM shawninboston

(Management for Howie Day / Elmwood / Rustic Overtones / Barefoot Truth)
---
Blog comments powered by

Disqus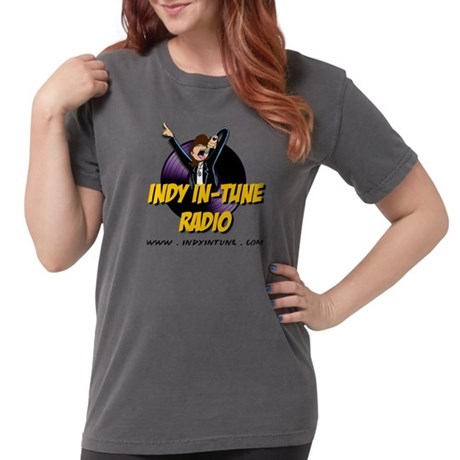 Ladies, don't you hate buying generic (unisex) T-shirts? We've got you covered with a line of womens'-fit clothing in a variety of styles and colors. Check Out Our Specials This Week...
Solicitations and Submissions
Solicitations for blog posts can be made by sending and email to "blog -at- indyintune -dot- com" and should follow these guidelines:
Local (Indianapolis-based) acts always have priority.
Visisting acts playing a bill with one or more local acts are also considered.
We generally don't like to repeat content found on other sites. If your request already has a lot of coverage on other sites, it will be considered low-priority unless you can give us an exclusive angle.
For obvious reasons, we don't do solicited album reviews, though we do appreciate you letting us know when you have a new release. Consider coming in and talking about the album yourself live on the air or a podcast.
All of our staff writers are unpaid enthusiasts. All requests for blog posts are entirely at their descretion.
As such, they generally need a lot of lead-time to put something out -- we're talking weeks of lead time, not hours.
That said, individual authors have full authority to ignore the following guidelines and write whatever they want ... if you can convince them to.
In addition, feel free to write your own post and submit it for posting as a "guest blogger." Those almost always get accepted.
Finally, regional or national acts submitting without meeting the above guidelines are generally ignored. We're not trying to be dicks, but if you send us a generic form-letter with your press release, and it doesn't even remotely concern a local artist or event, then you're not part of our core focus.