M.O.R. Episode 3 -- Michael Dryburgh
By: Ben Cannon, Bram Epstein, and Darrin Snider
Sunday, June 6, 2021
---
M.O.R. Episode 2 -- Ian Thomson
By: Ben Cannon, Bram Epstein, and Darrin Snider
Sunday, May 23, 2021
---
M.O.R. Episode 1 -- Mark Kelly
By: Ben Cannon, Bram Epstein, and Darrin Snider
Sunday, May 16, 2021
---
An In-Snide Look: I Think I Could Get Used to this Life Sometimes
By: Darrin Snider
Sunday, June 7, 2020
---
Getting Down to Earth with mOOnMen
By: Amy Foxworthy
Sunday, February 16, 2020
---
The Musical Journey of Jethro Easyfields
By: Amy Foxworthy
Tuesday, February 11, 2020
---
Monday Mixtape: Etwasprog
By: Darrin Snider
Monday, February 10, 2020
---
Monday Mixtape: Excerpts from the Summer of 2014
By: Darrin Snider
Monday, January 20, 2020
---
Mix Tape Monday: Mashin' it Up
By: Darrin Snider
Monday, January 13, 2020
---
Mix Tape Monday: Back to the Gym Workout
By: Darrin Snider
Monday, January 6, 2020
"The Instruction" to Play Melody Inn
By: Blake Sakal (theinstruction at hotmail dot com)
Friday, August 20, 2010 12:00:00 AM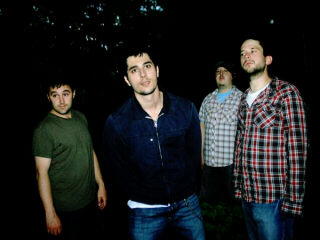 Louisville, Kentucky's "The Instruction" will be playing the Melody Inn this Saturday, August 27.
Biography
With often dark and introspective lyrics draped over eclectic guitar riffs, The Instruction (a foursome comprised of Blake Sakal, Wes Hawthorne, Jeremy Stein, and Brandon Terrell) has made its mark through relentless and energetic live shows, sharing the stage with everyone from These United States to Thao with the Get Down Stay Down, Mc Chris and The Features. The Instruction have had their songs songs "Stray" and "You're Mine" featured in the MTV series Sixteen And Pregnant as well as their "Into The Tomorrow" video played on Fuse On Demand Tv. With their SonaBLAST! Records debut, "Failure by Design", which is played frequently on Louisville's own 91.9 WFPK radio, the group is ready to move forward into the rest of the world.

Hailing from Louisville, KY, home to such enigmatic and diverse musical icons as Slint, Will Oldham, My Morning Jacket, Rachels and a wide array of 70s punk bands, it shouldn't be terribly surprising to find The Instruction's sound as something fresh in the face of an oversaturated indie rock market focused on gimmicks. This is perhaps never more true than with songs like Mayday, Hello Darlin' & Into the Tomorrow, which display the kind of raw emotion that would be right at home in both the indie charts and commercial radio. While you can sometimes feel vague nods to their influences, Failure by Design is at all times their own, dripping with eclectic guitar riffs, pinpoint transitions, pumping bass, and infectious choruses. The Instruction is founded on Stein and Terrell's hermetic rhythm section with guitars that are abrasive in all the right ways, and at the very core of their sound is Sakal's vocals, which bring to mind the grit and masculine sexuality of Jim Morrison. Tight production and years of playing together complete the package, and with a new release, a new record deal, a solid fan base and a series of music festivals on the bill, The Instruction is going to surprise and enrapture you. Listen, Learn, Love.

Instrumentation
Blake Sakal- Vocals/ Lead Guitar
Wes Hawthorne- Rhythm Guitar/ Keyboard
Jeremy Stein- Bass
Brandon Terrell- Drums

Discography
"Failure By Design" on sonaBLAST! Records- Available for Purchase 7/12/09. Extensive radio play on WFPK 91.9 in Louisville and recieving radio play in national markets.

Links
http://www.theinstruction.com
---
Blog comments powered by

Disqus
Handy places to visit if you are part of, or want to know more about, our music scene ...
Solicitations and Submissions
Solicitations for blog posts can be made by sending and email to "blog -at- indyintune -dot- com" and should follow these guidelines:
Local (Indianapolis-based) acts always have priority.
Visisting acts playing a bill with one or more local acts are also considered.
We generally don't like to repeat content found on other sites. If your request already has a lot of coverage on other sites, it will be considered low-priority unless you can give us an exclusive angle.
For obvious reasons, we don't do solicited album reviews, though we do appreciate you letting us know when you have a new release. Consider coming in and talking about the album yourself live on the air or a podcast.
All of our staff writers are unpaid enthusiasts. All requests for blog posts are entirely at their descretion.
As such, they generally need a lot of lead-time to put something out -- we're talking weeks of lead time, not hours.
That said, individual authors have full authority to ignore the following guidelines and write whatever they want ... if you can convince them to.
In addition, feel free to write your own post and submit it for posting as a "guest blogger." Those almost always get accepted.
Finally, regional or national acts submitting without meeting the above guidelines are generally ignored. We're not trying to be dicks, but if you send us a generic form-letter with your press release, and it doesn't even remotely concern a local artist or event, then you're not part of our core focus.