M.O.R. Episode 3 -- Michael Dryburgh
By: Ben Cannon, Bram Epstein, and Darrin Snider
Sunday, June 6, 2021
---
M.O.R. Episode 2 -- Ian Thomson
By: Ben Cannon, Bram Epstein, and Darrin Snider
Sunday, May 23, 2021
---
M.O.R. Episode 1 -- Mark Kelly
By: Ben Cannon, Bram Epstein, and Darrin Snider
Sunday, May 16, 2021
---
An In-Snide Look: I Think I Could Get Used to this Life Sometimes
By: Darrin Snider
Sunday, June 7, 2020
---
Getting Down to Earth with mOOnMen
By: Amy Foxworthy
Sunday, February 16, 2020
---
The Musical Journey of Jethro Easyfields
By: Amy Foxworthy
Tuesday, February 11, 2020
---
Monday Mixtape: Etwasprog
By: Darrin Snider
Monday, February 10, 2020
---
Monday Mixtape: Excerpts from the Summer of 2014
By: Darrin Snider
Monday, January 20, 2020
---
Mix Tape Monday: Mashin' it Up
By: Darrin Snider
Monday, January 13, 2020
---
Mix Tape Monday: Back to the Gym Workout
By: Darrin Snider
Monday, January 6, 2020
The Streets on Fire Coming to Melody INN
By: Mike Lenz (info at thestreetsonfire dot com)
Wednesday, September 8, 2010 12:00:00 AM

The Streets On Fire, a Chicago based post punk band will be making their Indianapolis debut Sept 15th at Melody Inn with Beta Male. Also on the bill is LA's Voxhaul Broadcast.
The Streets On Fire released their debut full lenth album, This is Fancy, on July 20th. It has spent the last 6 weeks on CMJ's top 200 charting to #77. The band's MySpace features sample tracks from both This is Fancy and their first EP Hot Weekend .
The Streets On Fire
Myspace - http://www.myspace.com/thestreetsonfire
Band Site - http://www.thestreetsonfire.com
Beta Male - http://www.myspace.com/betamale
Voxhaul Broadcast - http://www.myspace.com/voxhaulbroadcast
Some Recent Press
"The Streets On Fire are not messing around on This Is Fancy. This is straight-up, menacing rock. The band's sound may lean towards the darker side of things, but on their raw debut album, The Streets On Fire still manage to have fun while rocking your face off." "Chadwick is the flashiest, most entertaining factor in This Is Fancy, but he's certainly not working alone. "Chadwick Shut Up!" allows a long, pedal-altered guitar solo to erupt out of its hard, rhythmic foundations, a bit of space rock wedged in a post-punk carryall." "'This is Fancy' …makes you want to move. Not exactly dance, but move in a way that might attract attention and genuinely worry the people around you, who may even ask if you're alright. You'll tell them you're fine, but they may try to give you juice and ask you to sit down for a moment…" "It's time to grit your teeth, suck in your last bit of fresh air, and prepare to have the shit shook out of you through a drastic post-punk explosion.." "This Chicago band made several local publications "bands to watch" lists early this year and after checking out their debut This Is Fancy, you will know why. Their post-punk sound is dirty, grinding, guitar driven and an outright 30 minutes of fun." "With its lo-fi garage rock, The Streets on Fire slink around like The Cramps, jumps out of its own skin like The Stooges and fires up a post-punk dance rock frenzy similar to that of Talking Heads." "While Hot Weekend was the crazed drunk Saturday night party album, This Is Fancy just might be the week-long bender with a side of hallucinogens throw in for good measure." "Could a record this janky, greasy, and outright fun be any good for me? Probably not. It's an indulgence, like the deep dish pizza of the band's hometown. If you don't mind getting your hands dirty, This Is Fancy could become one of your go-to spins when the chips are down and it's time to fuck shit up." "It is furious, raw, raggedy-assed rock and roll that leaves you with a big smile on your face, grease on your hands, and sweat dripping from the walls. And sometimes that's just what the doctor ordered." "Post punk with a bit of rock and roll thrown in, they take the past and strangle it, wring it, and rob it of everything it's worth and then chuck it aside... Angular, raw, and speedy, these guys hurry their way through songs as if someone was out to get them. This is Fancy sounds like its going to be a paranoid delight." "It's post-punk dance rock like !!! with some Pixies thrown in. It's like the Czech band Sunshine. And there's even hints of the Fall. It's angular, odd, but banging along with a rough-and-ready dance rhythm."
Show Detail
Melody Inn
Wednesday Sept 15th 21+ $5
Doors at 8pm; Show at 9pm.
Beta Male
The Streets On Fire
Voxhaul Broadcast 
---
Blog comments powered by

Disqus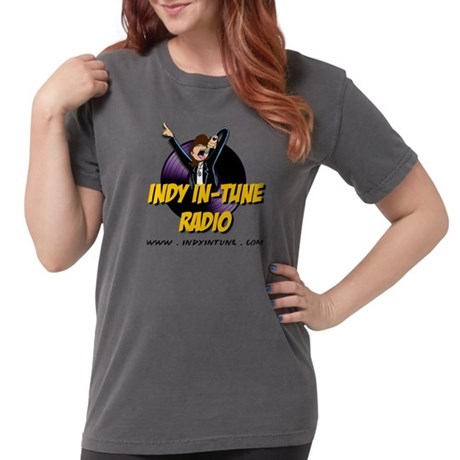 Ladies, don't you hate buying generic (unisex) T-shirts? We've got you covered with a line of womens'-fit clothing in a variety of styles and colors. Check Out Our Specials This Week...
Solicitations and Submissions
Solicitations for blog posts can be made by sending and email to "blog -at- indyintune -dot- com" and should follow these guidelines:
Local (Indianapolis-based) acts always have priority.
Visisting acts playing a bill with one or more local acts are also considered.
We generally don't like to repeat content found on other sites. If your request already has a lot of coverage on other sites, it will be considered low-priority unless you can give us an exclusive angle.
For obvious reasons, we don't do solicited album reviews, though we do appreciate you letting us know when you have a new release. Consider coming in and talking about the album yourself live on the air or a podcast.
All of our staff writers are unpaid enthusiasts. All requests for blog posts are entirely at their descretion.
As such, they generally need a lot of lead-time to put something out -- we're talking weeks of lead time, not hours.
That said, individual authors have full authority to ignore the following guidelines and write whatever they want ... if you can convince them to.
In addition, feel free to write your own post and submit it for posting as a "guest blogger." Those almost always get accepted.
Finally, regional or national acts submitting without meeting the above guidelines are generally ignored. We're not trying to be dicks, but if you send us a generic form-letter with your press release, and it doesn't even remotely concern a local artist or event, then you're not part of our core focus.