M.O.R. Episode 3 -- Michael Dryburgh
By: Ben Cannon, Bram Epstein, and Darrin Snider
Sunday, June 6, 2021
---
M.O.R. Episode 2 -- Ian Thomson
By: Ben Cannon, Bram Epstein, and Darrin Snider
Sunday, May 23, 2021
---
M.O.R. Episode 1 -- Mark Kelly
By: Ben Cannon, Bram Epstein, and Darrin Snider
Sunday, May 16, 2021
---
An In-Snide Look: I Think I Could Get Used to this Life Sometimes
By: Darrin Snider
Sunday, June 7, 2020
---
Getting Down to Earth with mOOnMen
By: Amy Foxworthy
Sunday, February 16, 2020
---
The Musical Journey of Jethro Easyfields
By: Amy Foxworthy
Tuesday, February 11, 2020
---
Monday Mixtape: Etwasprog
By: Darrin Snider
Monday, February 10, 2020
---
Monday Mixtape: Excerpts from the Summer of 2014
By: Darrin Snider
Monday, January 20, 2020
---
Mix Tape Monday: Mashin' it Up
By: Darrin Snider
Monday, January 13, 2020
---
Mix Tape Monday: Back to the Gym Workout
By: Darrin Snider
Monday, January 6, 2020
Companions Unobtrusive and Endless Compromises
By: Darrin Snider (darrin at indyintune dot com)
Sunday, May 5, 2013 5:00:00 PM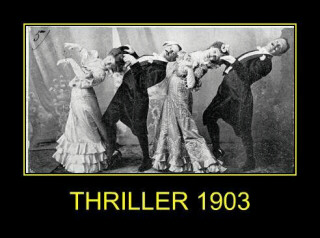 While there are no doubt a number of excellent music listening services out there, I think the real killer app, the one that makes me discard my allegiances to Amazon Cloud, TuneIn, Winamp, and most-recently Spotify and put everything under a single banner has yet to be developed. I know one thing though, it won't be coming from Yahoo! I've been a streaming music listener since the days of Spinner, MusicMatch, and LaunchCast. Seems like whenever I became a paid subscriber to one of them, Yahoo! would buy them up and either through neglect -- or worse, integration -- ruin everything completely. Does anybody remember that last fateful incarnation of Yahoo! Music which combined MusicMatch, Launchcast, Chat, eMail, and probably some SETI telemetry into a Frankenstein's monster that was so resource heavy and dependent on high speed bandwidth that by the time you got it to play a track, the guitarist had already ODed twice, the band had broken up, the VH1 Behind the Music special had aired, and reunions were in quiet negotiations. In fact, if you're enjoying a particular software package or service that I don't use, be thankful, because that means Yahoo! also isn't likely to swoop in and fuck it up for you in the near future. In fact, while I would probably sell out Indy In-Tune and everything I've spent seven plus years building up, rest assured it would be assimilated by the Satanic Madeline l'Engle collective at Clearchannel before I would get in bed with the "phat Yahoo! cash." Amusingly, after typing that, I just looked and it seems Yahoo! has already ditched the idea of developing their own player gotten in bed with Clearchannel's iHeartRadio. That's just swell. This means either the two most ruinous companies in the music industry will destroy each other with commodification and consolidation, or their combined forces will destroy music itself, pave the way for a world government run by MTV, and turn Rush's 2112 into a self-fulfilling prophesy.
Stepping back a couple of apocalyptic wars, this is also one reason why I waited so long to plunk money down in the Spotify camp. I hate relying on "music leasing" services, only to have them shut down a few years later leaving me with none of the music I've been enjoying in the meantime, and no real convenient way to even get a listing of those tracks, artists, and albums so that I might recreate the playlists on a different service. However, recent realities have forced me to bite the bullet, so to speak, and get back on the music service bandwagon with Spotify, which solves a few of my musical woes. To my knowledge though, there are still a few key features I would love to see that no app has managed to crack yet.
First off, subgenre radio. Yes, it's great that I can now eliminate Techno-Polka from my radio stations with the click of a button, and I know that no artist likes to be lumped into this genre and excluded from that genre, but can we be a little more specific than "Rock," "Jazz," "Country," etc. What if I only want to listen to Chicago-based bebop between 1945 and 1964? What if I want only the latest popular music, but nothing with female artists, because, while Zooey Dechannel is absolutely adorable, it's painful to look at her knowing that, were I ever to meet her in person, I would have to begrudgingly admit her music is very well done, but lacks sufficient edginess for my tastes?
Next, smarter "seed" playlists. Another small aside here. I know I've been threatening to record an album project for years now, and I keep getting sidetracked by things like starting a radio station … or drinking beer … but I've got two major problems: 1) Most of the music in my head is beyond my capability to play, and 2) I have an idea for a particular style of music that combines the lush tones and synthetic feel of modern dubstep and drum-and-bass, but humanizes it with real musicians, improvisation, and virtuosic solos found in fusion jazz. My extensive computer programming skills and limited music ability should just be able to pull this off, and I would love to convey the concept to other musicians so we have a common frame of reference to work from, but unfortunately I don't know enough about club music or modern jazz to know where to begin to show them similar music. I built a playlist out of Chick Corea, Al DiMeola, Skream, and Source Direct, hoping Pandora would somehow figure out what I'm asking for, but instead it came back with Herbie Hancock and Andrew Bird – erm, no. Could I at least get in and tweak the algorithm a bit? I'm certain I didn't invent this genre and somebody, somewhere in the world is playing it, but I just don't know what to call it or how to find these people.
Finally, more and better socialization. Come on, we've already discussed how the ability to see what you friends are listening to at any given moment is more than a little bit creepy in that Norman Bates kind of way. On the other hand, I believe every site should be offering real-time interaction among visitors who choose to meet like-minded people. We're a social society after all. Wouldn't it be cool if, for example when I discovered the group Washed Out the other day, there was a little chat room I could have pulled up that was filled with people who were listening to the exact same song at the exact same time -- and who could have explained to me right away that Washed Out is actually the stage name of one guy, not a band's name, and saved me a bit of embarrassment later on when I was talking to people. Not to mention, they could have also pointed me to similar artists they are listening to who are doing similar things with a lot more accuracy than the frustrating algorithm that is so sure that, because I like Yes' 2011 release "Fly from Here," that I would rather be listening to Jethro Tull's "Aqualung." Let's face it, computers are really great at pulling up music really quickly when we ask for it. For obvious reasons, they suck at picking out music we want to listen to, or recommending stuff we'll like – which is probably a good thing since the search is half the fun.
---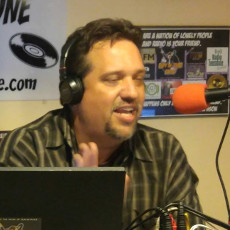 Darrin Snider is the OCD music nerd responsible for creating Indy In-Tune. By day he's a cloud engineer and business analyst, but he still hopes to someday be an overnight freeform disc jockey married to the local weathergirl who happens to be a former eastern-European supermodel.
Blog comments powered by

Disqus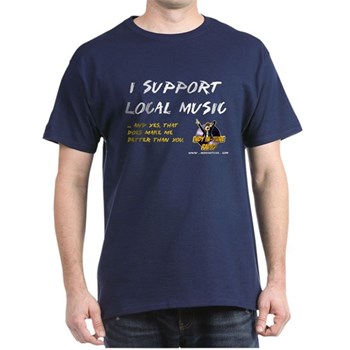 Back by popular demand for a limited time only, "I support local music ... and yes, that does make me better than you." Show the world that you, too, are a proud elitist music snob! Get yours before time runs out...
Solicitations and Submissions
Solicitations for blog posts can be made by sending and email to "blog -at- indyintune -dot- com" and should follow these guidelines:
Local (Indianapolis-based) acts always have priority.
Visisting acts playing a bill with one or more local acts are also considered.
We generally don't like to repeat content found on other sites. If your request already has a lot of coverage on other sites, it will be considered low-priority unless you can give us an exclusive angle.
For obvious reasons, we don't do solicited album reviews, though we do appreciate you letting us know when you have a new release. Consider coming in and talking about the album yourself live on the air or a podcast.
All of our staff writers are unpaid enthusiasts. All requests for blog posts are entirely at their descretion.
As such, they generally need a lot of lead-time to put something out -- we're talking weeks of lead time, not hours.
That said, individual authors have full authority to ignore the following guidelines and write whatever they want ... if you can convince them to.
In addition, feel free to write your own post and submit it for posting as a "guest blogger." Those almost always get accepted.
Finally, regional or national acts submitting without meeting the above guidelines are generally ignored. We're not trying to be dicks, but if you send us a generic form-letter with your press release, and it doesn't even remotely concern a local artist or event, then you're not part of our core focus.