M.O.R. Episode 3 -- Michael Dryburgh
By: Ben Cannon, Bram Epstein, and Darrin Snider
Sunday, June 6, 2021
---
M.O.R. Episode 2 -- Ian Thomson
By: Ben Cannon, Bram Epstein, and Darrin Snider
Sunday, May 23, 2021
---
M.O.R. Episode 1 -- Mark Kelly
By: Ben Cannon, Bram Epstein, and Darrin Snider
Sunday, May 16, 2021
---
An In-Snide Look: I Think I Could Get Used to this Life Sometimes
By: Darrin Snider
Sunday, June 7, 2020
---
Getting Down to Earth with mOOnMen
By: Amy Foxworthy
Sunday, February 16, 2020
---
The Musical Journey of Jethro Easyfields
By: Amy Foxworthy
Tuesday, February 11, 2020
---
Monday Mixtape: Etwasprog
By: Darrin Snider
Monday, February 10, 2020
---
Monday Mixtape: Excerpts from the Summer of 2014
By: Darrin Snider
Monday, January 20, 2020
---
Mix Tape Monday: Mashin' it Up
By: Darrin Snider
Monday, January 13, 2020
---
Mix Tape Monday: Back to the Gym Workout
By: Darrin Snider
Monday, January 6, 2020
An In-Snide Look #32
By: Darrin Snider (darrin at indyintune dot com)
Tuesday, December 31, 2013 10:30:00 PM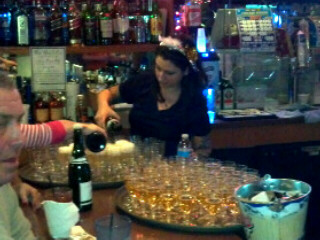 Ah, New Year's Eve. Seems like a few years ago, this was my favorite holiday since it really didn't involve anything other than having a bunch of friends over and drinking a lot. These days, it's really just the last annoying holiday to close out the season and seems to reflect on sitting around, drinking by yourself, and reflecting on all those things you planned to get done this year but never quite got around to. Maybe you'll struggle for a few hours trying to remember what last year's resolution was ("write a song a week … record album of the best 24") and what it was that distracted you away from doing it ("wasted too much time with forays into music promotion"). You try real hard not to count how many years in a row you've fallen short on your plans, or how many years you likely have left to get it right. I think the real pisser for New Years for me is, everybody's busy. Most active bands I know have a gig tonight, so it's back to that issue of having to choose between your friends. Most of my non-band friends are staying home with the kids this year, which is generally what I would prefer, as I hate driving on "amateur night."

No, instead I've schlepped the laptop up here to Claude and Annie's, which is surprisingly empty all things considered. There's a halfway decent prime rib dinner for $16, a nice comfy bar stool to sit on, free WiFi, and a big-assed beer to drink. So far I've managed to get two podcasts edited and out the door, and hopefully I can get started on a third real quick once I'm caught up on my blogging. Now, that's the way to be productive. If I could only convince the boss at the day job that all of my best work is done in bars. Man, I miss being self-employed sometimes (… just sometimes).

On the other hand, there is an abundance of mouth-breathing rednecks who act like they've never seen a horn, whistle, or blower (Tangent: Did you know that's what those curly-cue horns that you blow into and unroll are called? Yeah, I had to look it up.) before with the way they're clamoring over them. I mean, seriously there's still a couple of hours to go, you don't want to wear it out, do you? Save some for the ball drop.

I'm playing around with a few New Year's resolutions this year … or at least goals. Obviously putting the world record longest radio broadcast back in the hands of a rock-and-roll station is a priority (or at least some kind of old-timey traditional radio publicity stunt), as is finishing the remodel work in Studio B and the "back office." I think the international band exchange idea is pretty much dead due to lack of realistic ability to fund/make money from it. The album project, "Infinite Nun's Frothy Deed" is still another dream that I will do someday, although I'm likely getting ready to commit to a new band next week, so there's a good possibility that one will be held for another year yet again. I suppose we'll just have to wait and see how things shake out in 2014.

Happy New Year, guys! Make it count.

---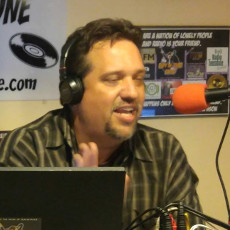 Darrin Snider is the OCD music nerd responsible for creating Indy In-Tune. By day he's a cloud engineer and business analyst, but he still hopes to someday be an overnight freeform disc jockey married to the local weathergirl who happens to be a former eastern-European supermodel.
Blog comments powered by

Disqus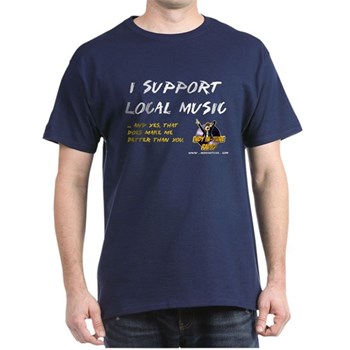 Back by popular demand for a limited time only, "I support local music ... and yes, that does make me better than you." Show the world that you, too, are a proud elitist music snob! Get yours before time runs out...
Solicitations and Submissions
Solicitations for blog posts can be made by sending and email to "blog -at- indyintune -dot- com" and should follow these guidelines:
Local (Indianapolis-based) acts always have priority.
Visisting acts playing a bill with one or more local acts are also considered.
We generally don't like to repeat content found on other sites. If your request already has a lot of coverage on other sites, it will be considered low-priority unless you can give us an exclusive angle.
For obvious reasons, we don't do solicited album reviews, though we do appreciate you letting us know when you have a new release. Consider coming in and talking about the album yourself live on the air or a podcast.
All of our staff writers are unpaid enthusiasts. All requests for blog posts are entirely at their descretion.
As such, they generally need a lot of lead-time to put something out -- we're talking weeks of lead time, not hours.
That said, individual authors have full authority to ignore the following guidelines and write whatever they want ... if you can convince them to.
In addition, feel free to write your own post and submit it for posting as a "guest blogger." Those almost always get accepted.
Finally, regional or national acts submitting without meeting the above guidelines are generally ignored. We're not trying to be dicks, but if you send us a generic form-letter with your press release, and it doesn't even remotely concern a local artist or event, then you're not part of our core focus.