M.O.R. Episode 3 -- Michael Dryburgh
By: Ben Cannon, Bram Epstein, and Darrin Snider
Sunday, June 6, 2021
---
M.O.R. Episode 2 -- Ian Thomson
By: Ben Cannon, Bram Epstein, and Darrin Snider
Sunday, May 23, 2021
---
M.O.R. Episode 1 -- Mark Kelly
By: Ben Cannon, Bram Epstein, and Darrin Snider
Sunday, May 16, 2021
---
An In-Snide Look: I Think I Could Get Used to this Life Sometimes
By: Darrin Snider
Sunday, June 7, 2020
---
Getting Down to Earth with mOOnMen
By: Amy Foxworthy
Sunday, February 16, 2020
---
The Musical Journey of Jethro Easyfields
By: Amy Foxworthy
Tuesday, February 11, 2020
---
Monday Mixtape: Etwasprog
By: Darrin Snider
Monday, February 10, 2020
---
Monday Mixtape: Excerpts from the Summer of 2014
By: Darrin Snider
Monday, January 20, 2020
---
Mix Tape Monday: Mashin' it Up
By: Darrin Snider
Monday, January 13, 2020
---
Mix Tape Monday: Back to the Gym Workout
By: Darrin Snider
Monday, January 6, 2020
An In-Snide Look #89
By: Darrin Snider (darrin at indyintune dot com)
Wednesday, February 26, 2014 11:30:00 AM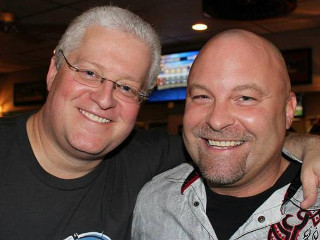 Recorded Show #154 tonight with the boys from the Brother Brother Beercast. This marks my second foray recently into the world of free-form open-format podcasting. Again, I have to say, I have nothing but admiration for guys like Chris Brake, Rob Branson, and Johnny Lyles who can pull that off week after week. Personally, I just can't "force" myself to be funny or interesting at will like they can. I have to start with my cheat sheet and a rough format. I have no problem with throwing both out five minutes into the show if the conversation goes off on a crazy tangent, but it's like a touch-point ... or maybe a starting block in that when I don't have it handy, I always feel the runner came out of the starting gate a little bit sideways. Still, I think we can make something of it in the edit. There were a couple of good stories and a few yucks in there.

Big weekend for music coming up, and I'm always excited about those you know. Thursday night, Audiodacity plays Shine on the Rocks at the 86th Street Pub. Not sure what they have in store, but generally speaking, those shows are stripped down acoustic-type numbers, so I bet it's going to be a slightly different format from what you're used to. Frankly, I'm kind of excited to see what they come up with.

Friday night is a big show. Square Social Circle, which is now something like a Venn diagram containing two-thirds of Swig will be playing Birdy's along with Coyote Armada, Dell Zell, and Trackless. The former two are consistently excellent bands to see live, and Trackless, if you haven't yet had the pleasure (they don't play Indy all that often), is the band that, when Audiodacity heard them at the Battle of the Bands, at least one member was quoted as saying, "Suddenly I don't feel so certain we're going to win this thing..." Trackless was a judge favorite, and did take second place that round without any sort of fan base at the show. Would Audiodacity have been toppled if Trackless hadn't withdrawn from the battle? Show up on Friday and judge for yourself.

Saturday night, there's only one party, and we've been waiting for it for months now. Veseria releases Voyager, their second (really, third) album with a gala fete at the Irvington Theatre over in my old stomping grounds. As you're getting ready for the show, be sure to tune into Indy In-Tune Radio, where starting around 6PM, we'll be simulcasting the VIP/Listening party live to you, just to get you in the mood. We'll be spinning the album in its entirety, and the band will be on hand to give us a few insights into the new tracks. There may be a few more surprises; even I don't know what's going to happen.

Sunday I'm thinking we're going to open up Studio B for another one of our Radiothons. The magic fridge will be restocked by then, I've got a few very cool guests lined up, the usual suspects will be hanging out in the studio audience, and I'll even spring for a bag of Barbecue Ruffles to munch on. If you know how to get to Studio B, drop on by and say "hello." If you don't know where Studio B is, drop me a line for directions and I'll get you there. All are welcome to come hang out, a snacky item or six-pack to share would be welcome, but certainly not required. I'm thinking we'll get started around 11, and run 'til about 6, when it's time to head to Shine at the Castleton grill, eat a little dinner, and cap the weekend off listening to Blake Miller flex his songwriting muscles.

Regardless, remember that it's all about the scene, folks. Whether you follow my suggestions for a fun-filled weekend or not, please get out at least once, see a local band, and tell them how much you appreciate what they do.

---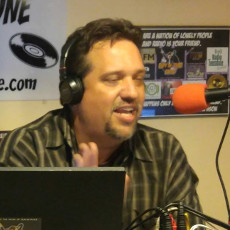 Darrin Snider is the OCD music nerd responsible for creating Indy In-Tune. By day he's a cloud engineer and business analyst, but he still hopes to someday be an overnight freeform disc jockey married to the local weathergirl who happens to be a former eastern-European supermodel.
Blog comments powered by

Disqus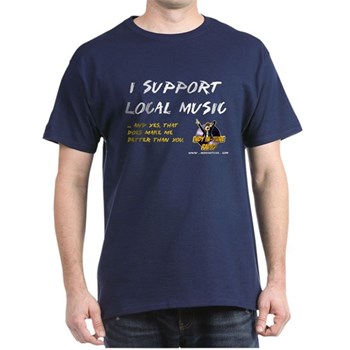 Back by popular demand for a limited time only, "I support local music ... and yes, that does make me better than you." Show the world that you, too, are a proud elitist music snob! Get yours before time runs out...
Solicitations and Submissions
Solicitations for blog posts can be made by sending and email to "blog -at- indyintune -dot- com" and should follow these guidelines:
Local (Indianapolis-based) acts always have priority.
Visisting acts playing a bill with one or more local acts are also considered.
We generally don't like to repeat content found on other sites. If your request already has a lot of coverage on other sites, it will be considered low-priority unless you can give us an exclusive angle.
For obvious reasons, we don't do solicited album reviews, though we do appreciate you letting us know when you have a new release. Consider coming in and talking about the album yourself live on the air or a podcast.
All of our staff writers are unpaid enthusiasts. All requests for blog posts are entirely at their descretion.
As such, they generally need a lot of lead-time to put something out -- we're talking weeks of lead time, not hours.
That said, individual authors have full authority to ignore the following guidelines and write whatever they want ... if you can convince them to.
In addition, feel free to write your own post and submit it for posting as a "guest blogger." Those almost always get accepted.
Finally, regional or national acts submitting without meeting the above guidelines are generally ignored. We're not trying to be dicks, but if you send us a generic form-letter with your press release, and it doesn't even remotely concern a local artist or event, then you're not part of our core focus.