M.O.R. Episode 3 -- Michael Dryburgh
By: Ben Cannon, Bram Epstein, and Darrin Snider
Sunday, June 6, 2021
---
M.O.R. Episode 2 -- Ian Thomson
By: Ben Cannon, Bram Epstein, and Darrin Snider
Sunday, May 23, 2021
---
M.O.R. Episode 1 -- Mark Kelly
By: Ben Cannon, Bram Epstein, and Darrin Snider
Sunday, May 16, 2021
---
An In-Snide Look: I Think I Could Get Used to this Life Sometimes
By: Darrin Snider
Sunday, June 7, 2020
---
Getting Down to Earth with mOOnMen
By: Amy Foxworthy
Sunday, February 16, 2020
---
The Musical Journey of Jethro Easyfields
By: Amy Foxworthy
Tuesday, February 11, 2020
---
Monday Mixtape: Etwasprog
By: Darrin Snider
Monday, February 10, 2020
---
Monday Mixtape: Excerpts from the Summer of 2014
By: Darrin Snider
Monday, January 20, 2020
---
Mix Tape Monday: Mashin' it Up
By: Darrin Snider
Monday, January 13, 2020
---
Mix Tape Monday: Back to the Gym Workout
By: Darrin Snider
Monday, January 6, 2020
An In-Snide Look #158
By: Darrin Snider (darrin at indyintune dot com)
Tuesday, May 6, 2014 8:00:00 PM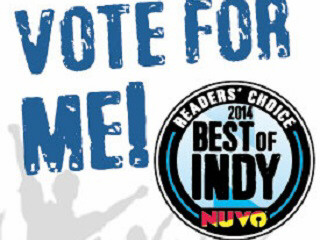 Honestly, I hadn't realized NUVO was such a polarizing force in the local music scene. All this time, I thought it was just me. Do a quick search of NUVO on Facebook or Twitter today, and you will see there are three types of posts flooding the net today:

People who were nominated for "Best of Indy" yesterday, asking their friends to vote for them.


People who weren't nominated telling the people in group 1 to shut up.


People bashing NUVO for obviously not knowing anything about local music, since they never show up to any local shows, and half the bands they nominated for "Best of Indy" are mis-categorized, misspelled, broken up, or hardly ever play shows locally.
Thinking about it, I kind of support all three of those stances. In that spirit, for my obligatory "NUVO Best of Indy Post," I'm just going to say, "Hey, I got nominated twice. That's all I really wanted. Why don't we back WTTS and Matthew Socey and get them up to the top of the list this year?" I will then dedicate the remainder of my 750 words to pointing several of my good friends who actually do stand a chance of winning, and whom I also think deserve your vote. You probably weren't aware, that several nominated businesses and individuals in non-music categories have close ties to Indy In-Tune, and definitely deserve some love and support from members and fans of the local music scene. For example:

Brett Wiscons, currently nominated for "Best Local Author" holds the record for most appearances on Indy In-Tune (as a solo artist, as a member of the Michaels, and with his former group Great Scott!). He's a wonderful guy who has been a big supporter of ours for years. I must admit that I own both of his Bear Whitman books, but haven't read them yet. I'm going to very soon though, because I'm sure they're awesome! Because Brett is awesome! Well ... for a Cubs fan.


Woodhouse Day Spa, nominated for "Best Local Spa." It seems to be a reasonably well-kept secret, but our very own Mighty Mia Kileen works as a masseuse here in what little spare time she has. It'd be nice to give them some recognition for keeping her off the streets, don't you think?


Pole Harmony, nominated for "Best Local Gym/Fitness Joint." Again, a well-kept secret, but after a battle with the jack-booted thugs at ASCAP, their management plays exclusively local, independent music during their classes. This has proved quite popular, and as a result, they have probably helped generate more interest in your music than I have been able to.


Deep Pocket Foods, nominated for "Best Local Artisan/Maker/Craftperson(s): Food and Drink." Picture it. Two old drinking buddies of mine decide to start an empanada empire. Who is the first person they sponsor and team up with to get the world's greatest bar food alongside the worlds greatest music in venues that formerly had neither? That's right, Indy In-Tune.


Flat 12 Bierwerks, nominated for "Best Indiana Brewery." Our partners for the Battle of Birdy's last year (and again this year), and also a sponsor of our High 5 Radiothon. Granted, I still don't have a kegerator of Walkabout in Studio B (despite my offer to end every sentence I say on the air with "Buy Flat 12."), but honestly, these guys are tried and true supporters of local music.
Then there are some gray areas where I know everyone has their go-to favorites, but just in case you're on the fence, let me persuade you...

Sam Ash, nominated for "Best Local Instrument/Gear Shop." Guys, it's Jamie Jackson! Enough said. If I haven't told you the story of how he supplied a small SUV load of equipment to Studio B, ask me about it sometime.


Grizzly Music, nominated for "Best Recording Studio," is one of a few places our own Brandon/Benjamin Cannon works during the day. Also co-sponsors with us at the Battle of Birdy's last year.


"Best Open-Mic Night" is a very tricky category. Both Sabbatical and Claude and Annie's are run by our dear friend Mr. Kolo Bell, and both are excellent, well-run open stages that have given rise to several great acts in this city. Kolo is certainly deserving of all of our recognition, and either venue is worthy of your vote.
(* Note: I'm not going to tell you who to vote for in the music-related categories, and please don't ask me who I voted for. I do this every year, and it's like being forced to pick my favorite child.)
---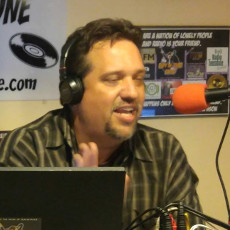 Darrin Snider is the OCD music nerd responsible for creating Indy In-Tune. By day he's a cloud engineer and business analyst, but he still hopes to someday be an overnight freeform disc jockey married to the local weathergirl who happens to be a former eastern-European supermodel.
Blog comments powered by

Disqus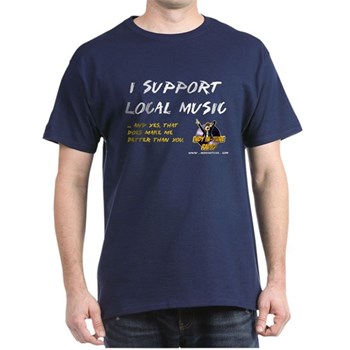 Back by popular demand for a limited time only, "I support local music ... and yes, that does make me better than you." Show the world that you, too, are a proud elitist music snob! Get yours before time runs out...
Solicitations and Submissions
Solicitations for blog posts can be made by sending and email to "blog -at- indyintune -dot- com" and should follow these guidelines:
Local (Indianapolis-based) acts always have priority.
Visisting acts playing a bill with one or more local acts are also considered.
We generally don't like to repeat content found on other sites. If your request already has a lot of coverage on other sites, it will be considered low-priority unless you can give us an exclusive angle.
For obvious reasons, we don't do solicited album reviews, though we do appreciate you letting us know when you have a new release. Consider coming in and talking about the album yourself live on the air or a podcast.
All of our staff writers are unpaid enthusiasts. All requests for blog posts are entirely at their descretion.
As such, they generally need a lot of lead-time to put something out -- we're talking weeks of lead time, not hours.
That said, individual authors have full authority to ignore the following guidelines and write whatever they want ... if you can convince them to.
In addition, feel free to write your own post and submit it for posting as a "guest blogger." Those almost always get accepted.
Finally, regional or national acts submitting without meeting the above guidelines are generally ignored. We're not trying to be dicks, but if you send us a generic form-letter with your press release, and it doesn't even remotely concern a local artist or event, then you're not part of our core focus.