An In-Snide Look: I Think I Could Get Used to this Life Sometimes
By: Darrin Snider
Sunday, June 7, 2020
---
Getting Down to Earth with mOOnMen
By: Amy Foxworthy
Sunday, February 16, 2020
---
The Musical Journey of Jethro Easyfields
By: Amy Foxworthy
Tuesday, February 11, 2020
---
Monday Mixtape: Etwasprog
By: Darrin Snider
Monday, February 10, 2020
---
Monday Mixtape: Excerpts from the Summer of 2014
By: Darrin Snider
Monday, January 20, 2020
---
Mix Tape Monday: Mashin' it Up
By: Darrin Snider
Monday, January 13, 2020
---
Mix Tape Monday: Back to the Gym Workout
By: Darrin Snider
Monday, January 6, 2020
---
Top Ten Most Annoying Types of Music Fans
By: Darrin Snider
Saturday, January 4, 2020
---
Album Review: Sietch Ramshackle "U.R.//Nctrl"
By: Amy Foxworthy
Saturday, December 28, 2019
---
Mix Tape Monday: Darrin's Favorite Discoveries of 2019
By: Darrin Snider
Monday, December 16, 2019
Show #006: Gentleman Caller
By: Darrin Snider (darrin at indyintune dot com)
Saturday, May 20, 2006 5:00:00 PM

So, this week it isn't software that's driving me nuts. It's hardware. Sadly, while trying out some new equipment on Saturday, I blew the sound card in the laptop. The soundcard, as you have probably guessed, is a somewhat critical part of doing this show. Not to fear, however, everything should be under warranty, and I have several shows already recorded, so there shouldn't be any interruption to the flow of things around here. I just felt the need to vent. Yeah, I know, it's always something with me and this silly project of mine.

On the other hand, this week's guests are Kenny Childers and Jim Robinson of Gentleman Caller. Two great guys who gave us four wonderful tracks and a great interview that covered a wide spectrum of topics and issues.

Important links from the show:
The message board is in beta with a few friends of the show and should be up for general use early this week on the web site.
Special thanks to Jeffrey T. at the Good Beer Show for his assistance and advice. (Sorry about the joke about being my Podfather ... couldn't resist.)
As mentioned, the featured interview this week is Gentleman Caller.
Their latest CD, Until We are Missing is available at CD Baby.
Or you can win a free copy by leaving a message on our voice mail line, (317) 489-4175. Just leave a message of any kind, but be sure to include your email address. If the messages are interesting enough, and there is sufficient time (which hasn't yet occurred), we MAY play the best ones on the show. We certainly won't include your email, and if you don't want your message played just say so. It won't count against you.
And of course the story that has us geeks divided. Was Lucas re-releasing the original, undoctored trilogy a good or bad thing. Jim and I seem to differ on this.
More information about the NSA's wiretapping policies and AT&T's selling out of its customer's information can be found at the Electronic Frontier Foundation's website.
Internet Neutrality is one of those very important issues that is constantly buried in media because it's somewhat confusing, doesn't really have any helpless victims that reporters can exploit on camera, and everyone just assumes that the government will come in and fix things before major damage is done to our communications infrastructure. I recommend Geek News Central and their wonderful podcast for a better explanation of the issues than I can give.
Everyone loves Zombies, and everyone loves great independent music. Check out Jonathan Coulton's Re: Your Brains. Then subscribe to his Thing-a-Week podcast and get a brand new, original song in your podcatcher every week. A favorite of mine.
---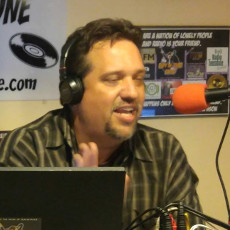 Darrin Snider is the OCD music nerd responsible for creating Indy In-Tune. By day he's a cloud engineer and business analyst, but he still hopes to someday be an overnight freeform disc jockey married to the local weathergirl who happens to be a former eastern-European supermodel.
Blog comments powered by

Disqus
Today on Indy In-Tune
Happy Hump Day!

* Schedule subject to change without notice. Sorry, but that's rock and roll.
Solicitations and Submissions
Solicitations for blog posts can be made by sending and email to "blog -at- indyintune -dot- com" and should follow these guidelines:
Local (Indianapolis-based) acts always have priority.
Visisting acts playing a bill with one or more local acts are also considered.
We generally don't like to repeat content found on other sites. If your request already has a lot of coverage on other sites, it will be considered low-priority unless you can give us an exclusive angle.
For obvious reasons, we don't do solicited album reviews, though we do appreciate you letting us know when you have a new release. Consider coming in and talking about the album yourself live on the air or a podcast.
All of our staff writers are unpaid enthusiasts. All requests for blog posts are entirely at their descretion.
As such, they generally need a lot of lead-time to put something out -- we're talking weeks of lead time, not hours.
That said, individual authors have full authority to ignore the following guidelines and write whatever they want ... if you can convince them to.
In addition, feel free to write your own post and submit it for posting as a "guest blogger." Those almost always get accepted.
Finally, regional or national acts submitting without meeting the above guidelines are generally ignored. We're not trying to be dicks, but if you send us a generic form-letter with your press release, and it doesn't even remotely concern a local artist or event, then you're not part of our core focus.