M.O.R. Episode 3 -- Michael Dryburgh
By: Ben Cannon, Bram Epstein, and Darrin Snider
Sunday, June 6, 2021
---
M.O.R. Episode 2 -- Ian Thomson
By: Ben Cannon, Bram Epstein, and Darrin Snider
Sunday, May 23, 2021
---
M.O.R. Episode 1 -- Mark Kelly
By: Ben Cannon, Bram Epstein, and Darrin Snider
Sunday, May 16, 2021
---
An In-Snide Look: I Think I Could Get Used to this Life Sometimes
By: Darrin Snider
Sunday, June 7, 2020
---
Getting Down to Earth with mOOnMen
By: Amy Foxworthy
Sunday, February 16, 2020
---
The Musical Journey of Jethro Easyfields
By: Amy Foxworthy
Tuesday, February 11, 2020
---
Monday Mixtape: Etwasprog
By: Darrin Snider
Monday, February 10, 2020
---
Monday Mixtape: Excerpts from the Summer of 2014
By: Darrin Snider
Monday, January 20, 2020
---
Mix Tape Monday: Mashin' it Up
By: Darrin Snider
Monday, January 13, 2020
---
Mix Tape Monday: Back to the Gym Workout
By: Darrin Snider
Monday, January 6, 2020
An In-Snide Look #301 -- Wherein Lost ... Hope Is
By: Darrin Snider (darrin at indyintune dot com)
Friday, September 26, 2014 5:00:00 PM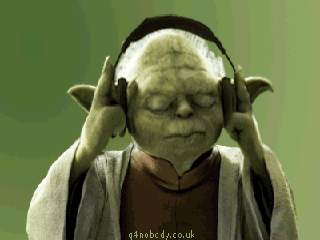 We begin with quoting four of Darrin's lesser-referenced Credo's...
#74: On line dating sites are pointless.
#75: You will never meet anyone who meets your impossibly high musical standards.
#76: Try not to be such a snob about #75. Just make sure she doesn't listen to too more Taylor Swift than is average and socially acceptable for her demographic.
#77: With 3.5 billion females on the planet, at least one is a musical Yoda. You just haven't met her yet ... thankfully.
I read an interesting blog post yesterday about the whole online dating thing as it relates to music. Granted, despite what you think you know or gleaned from the webcam about the "super-secret recording project" (which doesn't exist, by the way), I mostly abandoned online dating about a month after I signed up for it. Why this is a multi-billion-dollar industry with seemingly hundreds of clones of Monster.com for meeting people, I will never understand. You only need to pick three of these sites at random, and you'll quickly find that they're populated by the same core group of 60 lonely people, with another 20 or so profiles being impossibly attractive people you instantly believe would be lonely enough to sign up for on-line dating. When you try talking to them, they point you to their profile on whatever site they were planted by.
I recently discovered the musical-centric version of this, a site called "Tastebuds.fm." Tastebuds looked interesting at first. Though not strictly a dating site, it certainly leaves that up as an option, probably to its detriment. It will let you search for "single females between the ages of 25 and 50 interested in dating who live within 50 miles of Indianapolis," which you can then sort by musical compatibility. That last step was where I grabbed a bottle of wine, went fetal, and finally accepted that I will die alone ... probably listening to a Mt. Ossa album and chronologically adjusting the lyrics to Love Jam. (No, that joke wasn't cerebral. It was just bad. Unfortunately, this is the Friday rant. First rule of Friday rant: Don't stop typing until you hit 500 words. Second rule of Friday rant: No editing for content.)
Now that I think about this, however, I did find the aforementioned blog post and its author via Tastebuds, and this did make for an evening of interesting reading as I combed through her entire social media output for the past few years. Of course, if she has trackbacks enabled on her blog, she'll probably find this page where I've linked to her ... and is probably reading this right now ... and no doubt thinks I'm some kind of creepy Internet stalker. Hopefully we have at least one mutual friend in the local music scene who will vouch that, while I am creepy, I'm only crazy in harmless ways. See? Again, this is why I will die alone.
Personally, much like looking for dates on-line, or winning the lottery, I've given up on ever finding someone who shares my forbidden love of 50's bebop, 60's blues, 70's prog, 80's alt pop, 90's industrial, 00's indie, and current local music. Hell, I've only ever found a couple of dudes who can go in the weeds with with me on my music (that phrase doesn't sound at all gay in this context, doesn't it?) and most of them were the ones that introduced me to it in the first place. I've actually written several times about my "musical Yodas" ... those people who can figure out where I'm at musically and just haphazardly see a golden path to where I didn't even know I wanted to go (wait, that was Leto, not Yoda). "You like band A and B? Okay, try G, H, and I. I is a offshoot of some of the members of K, but you can see where they lost the blues influence there, so if that bothers you, then try M, N, and O. If O isn't your thing because of the synthy drums, try S and T which came from that same school of thinking as B, but are actually Scandinavian, so you get a lot of D and E's influence in there ..." Seriously these have been some of the best conversations of my life as I feverishly write stuff down. As much as I love Spotify, just stalking someone's playlist loses that charm. Not that I'm above it, mind you, but sometimes it's not about what music someone likes, it's why they like it and how they found the road got them there.
I lost my last musical Yoda about 13 months ago; about the same time my last relationship ended. (Coincidence? Probably. That's what the word means, after all.) Thus far, all of my Yoda's -- I figure there have been about a dozen -- have all been men. I'm sure female Yodas exist, but so few women have any kind of taste for, and knowledge of eclectic music. Sure there are a few strong candidates; these fall into one of two categories. 1) Disk jockeys -- considered unattainable, as no matter how perfect you may be for them, you're a fan, and fans aren't friends. 2) The elusive hot indie music chicks? Yeah, right. Those have a lifespan of about a semester as they usually get picked off by Nickelback fans, then whisked away to suburban middle-classed homes where they quickly conform with the rest of society and start listening to DMB and Jimmy Buffet in order to maintain their social status. Nah, for all intents and purposes, the female Yoda may be a Jamaican Rock Iguana. I'm actually kind of thankful for this. Why? Because should I ever meet a female Yoda, I'm convinced I will fall head over heels in love and do all that really stupid stuff I normally make fun of other guys for doing. Not to say there haven't been close calls, and not to say I won't ever give up on the dream. I just don't count on it ever happening.
---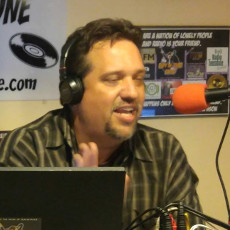 Darrin Snider is the OCD music nerd responsible for creating Indy In-Tune. By day he's a cloud engineer and business analyst, but he still hopes to someday be an overnight freeform disc jockey married to the local weathergirl who happens to be a former eastern-European supermodel.
Blog comments powered by

Disqus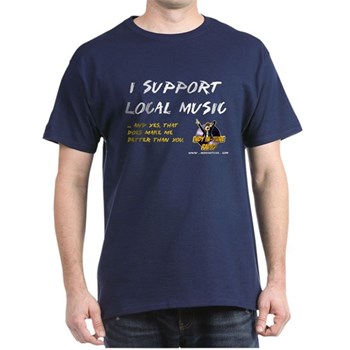 Back by popular demand for a limited time only, "I support local music ... and yes, that does make me better than you." Show the world that you, too, are a proud elitist music snob! Get yours before time runs out...
Solicitations and Submissions
Solicitations for blog posts can be made by sending and email to "blog -at- indyintune -dot- com" and should follow these guidelines:
Local (Indianapolis-based) acts always have priority.
Visisting acts playing a bill with one or more local acts are also considered.
We generally don't like to repeat content found on other sites. If your request already has a lot of coverage on other sites, it will be considered low-priority unless you can give us an exclusive angle.
For obvious reasons, we don't do solicited album reviews, though we do appreciate you letting us know when you have a new release. Consider coming in and talking about the album yourself live on the air or a podcast.
All of our staff writers are unpaid enthusiasts. All requests for blog posts are entirely at their descretion.
As such, they generally need a lot of lead-time to put something out -- we're talking weeks of lead time, not hours.
That said, individual authors have full authority to ignore the following guidelines and write whatever they want ... if you can convince them to.
In addition, feel free to write your own post and submit it for posting as a "guest blogger." Those almost always get accepted.
Finally, regional or national acts submitting without meeting the above guidelines are generally ignored. We're not trying to be dicks, but if you send us a generic form-letter with your press release, and it doesn't even remotely concern a local artist or event, then you're not part of our core focus.