M.O.R. Episode 3 -- Michael Dryburgh
By: Ben Cannon, Bram Epstein, and Darrin Snider
Sunday, June 6, 2021
---
M.O.R. Episode 2 -- Ian Thomson
By: Ben Cannon, Bram Epstein, and Darrin Snider
Sunday, May 23, 2021
---
M.O.R. Episode 1 -- Mark Kelly
By: Ben Cannon, Bram Epstein, and Darrin Snider
Sunday, May 16, 2021
---
An In-Snide Look: I Think I Could Get Used to this Life Sometimes
By: Darrin Snider
Sunday, June 7, 2020
---
Getting Down to Earth with mOOnMen
By: Amy Foxworthy
Sunday, February 16, 2020
---
The Musical Journey of Jethro Easyfields
By: Amy Foxworthy
Tuesday, February 11, 2020
---
Monday Mixtape: Etwasprog
By: Darrin Snider
Monday, February 10, 2020
---
Monday Mixtape: Excerpts from the Summer of 2014
By: Darrin Snider
Monday, January 20, 2020
---
Mix Tape Monday: Mashin' it Up
By: Darrin Snider
Monday, January 13, 2020
---
Mix Tape Monday: Back to the Gym Workout
By: Darrin Snider
Monday, January 6, 2020
September Sky Returns Keeps a Firm Foundation but Adds a Few Surprises
By: Brandon Cannon (brandon at indyintune dot com)
Wednesday, September 4, 2013 7:00:00 PM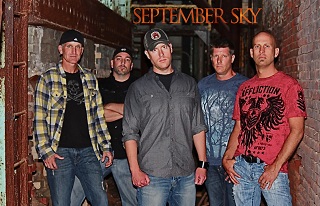 (with Darrin Snider)

Mindful heavy metal group, September Sky returns with a new album this week, and a CD release party Saturday, September 7 at Birdy's. Thus a new chapter is marked in their modern tales of epic bombast-ery. On Letter to Fear, the remarkable second EP release, the guys refuse to hold back, brazen in duplicitous use of their utterly measured, raw musical tendencies, and talents.
Fans of their first album, Bright Skies to Dark Days, will hear a lot of familiar elements in solid, driving tracks such as My Ending and Letter to Fear. Tobias Konnersman finds a very steady, comfortable fit as the new keeper of the lower register alongside drummer Martin Baker. The two of them keep the songs firmly rooted in a down-tuned modern hard-rock style, playing something of a musical tug-of-war with the dual attack of Larry Criag and new lead guitarist Mark Lenz (ex Outer Sanctum) who takes advantage of the entire fret board with a flash and melodic sensibility that is more reminiscent of the music a few decades prior (see also: the last 30 seconds of Wind and Waves). Singer Scott Bernhardt tones down a lot of the screaming found in the first album, though he does still a couple tasty ones in on tracks like Fallacy. This time around the use of harmony seems much more prominent and does a lot towards moving the vocals from "angry young man" to a hrefined, matured eeriness. The result is a hybrid of modern hard rock and classic metal that should appeal to fans of A Perfect Circle and Disturbed as much as it does to fans of classic Iron Maiden and Ozzy Osbourne.

This isn't a band that needs to cover up its lack of songwriting skills with sonic razzle-dazzle. Sure, there's accoutrement, but it's all just dressed up subtext. The main course is the melody and it turns out their skills stink of authenticity. September Sky has the right chemistry and passion for success and Letter to Fear stands as the best version of themselves to date.
---

Brandon Cannon is a founding member of the band Spanking Shakespeare, the visionary behind the "Shine: Local Music Spotlight" series, and Editor-in-Chief of the Indy In-Tune blog.
Blog comments powered by

Disqus
Handy places to visit if you are part of, or want to know more about, our music scene ...
Solicitations and Submissions
Solicitations for blog posts can be made by sending and email to "blog -at- indyintune -dot- com" and should follow these guidelines:
Local (Indianapolis-based) acts always have priority.
Visisting acts playing a bill with one or more local acts are also considered.
We generally don't like to repeat content found on other sites. If your request already has a lot of coverage on other sites, it will be considered low-priority unless you can give us an exclusive angle.
For obvious reasons, we don't do solicited album reviews, though we do appreciate you letting us know when you have a new release. Consider coming in and talking about the album yourself live on the air or a podcast.
All of our staff writers are unpaid enthusiasts. All requests for blog posts are entirely at their descretion.
As such, they generally need a lot of lead-time to put something out -- we're talking weeks of lead time, not hours.
That said, individual authors have full authority to ignore the following guidelines and write whatever they want ... if you can convince them to.
In addition, feel free to write your own post and submit it for posting as a "guest blogger." Those almost always get accepted.
Finally, regional or national acts submitting without meeting the above guidelines are generally ignored. We're not trying to be dicks, but if you send us a generic form-letter with your press release, and it doesn't even remotely concern a local artist or event, then you're not part of our core focus.